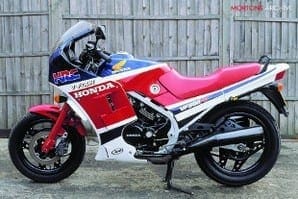 Jaundiced contributors to the pocket-sized bike mags moan about 25-year-old Honda fours as if they're singing from the same hymn sheet: flaky ignition, self-destructing camshafts and cam-chain adjusters and self-seizing brake calipers.
No matter that these bikes have been often sadly neglected by halfwit owners who've failed to observe the need for 1500-mile oil and filter change intervals and the basic attention necessary to keep them in trim. Just as sad is that these owners would most likely never have known just how good these bikes were when they were new.
And so it is, only more so, with Honda's early V-fours. The passage of time has done nothing if not heightened their reputation for unreliability, even though corrective measures were taken by the factory early on in their life.
Honda's first shot with a V-four was in 1982 with the VF750S, a peculiarly soft shaft-drive machine that might now be classed as a cruiser. It was an inauspicious debut and tainted by its early camshaft problems. It also lulled riders into thinking that Honda had lost the plot.
After all, memories were still strong of the NR500 racer debacle, a failed attempt between 1979 and 1981 to compete in the world road racing Grands Prix against the all-conquering two-strokes with a complex 500cc V-four with oval pistons, 32 valves and a 20,000rpm red-line that was as ear-splitting as it was awkward to ride. By 1982 the factory had seen the light and switched to a simpler and faster 500cc two-stroke triple which, in the hands of Freddie Spencer, scored a few victories, but not enough to win the title.
But the tide was turning in other ways. Honda's engineers still believed that the future lay with V-four road bikes. At the end of 1982 they revealed at the Cologne Show that the factory would be launching another V-four roadster, but this time a 400cc sports bike that was the antithesis of its predecessor.
By then, Honda's enthusiastic designers had made a stab at just about every possible engine layout and configuration: in-line fours with single and double overhead camshafts, twins, singles, water-cooled two-strokes, V-twins, turbocharging and even, in the dim-and-distant past, a BMW-style flat twin in, of all things, a scooter.
But the 400 moniker struck a chord with sporty European riders who fondly remembered the little CB400F launched back in 1974. Many thought the 750 and 500 fours too cumbersome and gentlemanly: certainly they were too expensive. But the CB400F was just right: nimble, lively and affordable. Best of all, it looked like a sports bike with a four-into-one exhaust, a slab-sided tank and a slim seat.
Suzuki had tried to emulate the Honda in 1982 with its GSX400F but that, too, missed the target. Despite offering an exotic spec with a dohc engine and 16 valves, it was big for the capacity.
Honda's VF400F V-four was something else altogether.
The VF400F was a machine that rewrote the rules of motorcycle design. Discarding conventions built around in-line fours, the new V-four engine layout was squashed tightly into a tubular steel duplex-loop frame with all the design features of Freddie Spencer's 500cc GP racer.
Although built around a 55.7in wheelbase, it felt small, squat and purposeful, and so solid it might have been carved from a chunk of marble. Its diminutive size was enhanced by a tiny 16in front wheel that was almost completely filled by what looked like a huge drum brake but was actually an inboard disc of the same type first used on the conventional but very compact CBX550F four of 1982. Adding to the impression of solid technology, the wheels – the front was matched by an 18in rear – were the latest version of Honda's fabricated light-alloy Comstars.
First available from April 1983, the VF400F provided an even bigger shock when you swung a leg over the wrap-round seat and eyeballed the instruments. The red line was at phenomenal 12,500rpm, the territory normally dominated by racing bikes. Reach forward to the bars, squint over the tiny screen and you could let your imagination run riot.
Yet it wasn't necessary. Ease out the smooth, hydraulically actuated clutch, feed in the power and suddenly the engine was pulling from almost nothing, almost like a modest commuter bike. Snick through the gears and you were at 70mph before you knew it. Somehow the engine felt lazy, with none of busy feel of the straight fours, yet it was spinning at what the rev counter showed as crazy levels: around 7000rpm at the legal limit.
But it didn't stop there. Change down, wind it up more and that 12,500rpm red line was hit with ease in fourth before changing up – twice – to find yourself cruising at an easy 100mph with 10,000 on the clock. And the power was almost seamless with no sign of a power band. Amazingly, for all the bike's heady performance, it sounded just like highly-strung watch with an exhaust note more like a car's.
Most might regard that as a flaw, but by now you'd have been seduced by the VF-F's sublime handling. We talk now of bikes that can be stabbed into corners with precision, but the VF was one of the first to get it right without any sacrifice in high-speed stability or roadholding.
Suspension, a stocky front fork augmented by a single rear shock, was air-assisted and smoothly damped enough to maintain composure in corners. A clever feature was an anti-dive device on the fork leg that was operated by brake action. But, apart from the air pressure and rear preload, there wasn't any additional adjustment.
With 55bhp on tap, giving what was at the time one of the highest specific power levels for a four-stroke at 137.5bhp per litre, and a tanked-up weight of 413lb, I'd expected the VF to turn in a good show during our performance tests at MIRA's proving ground, but it was still a shock.
Sitting bolt upright as you might on a motorway cruise, it could hold a true 105mph with almost 110mph on the clock. That was more than the old CB400F with me flat on the tank and wringing the nuts off the engine.
So there was more, much more, to come. On the first flat-out run, the VF clocked more than 117mph and was so consistent that there was no need to record more than four runs, with a two-way average top speed of 115.85mph. The acceleration tests were just as consistent, with the standing quarter-mile times diverging no more than 0.4sec on the 'uphill' runs and 0.11sec 'downhill' (the elevation on MIRA's timing straight differed by about 10ft over 1500 yards). The average was 13.68sec with a terminal speed of 96.2mph, putting it ahead of every other 400cc four-stroke by miles and better than the first Yamaha RD350LC. But not the RD350LC YPVS we tested on that same day in May 1983. With 59bhp on tap and weighing just 357lb, it zipped up to 119mph and ripped through the quarter-mile in 13.2sec. But hey, it's a two-stroke.
The Honda's Jekyll-and-Hyde mixture of civility and potency extended to its brakes – predictable and powerful – and fuel consumption was around 51mpg giving a range of about 160 miles on the 17-litre tank.
Now some might suggest that the VF400F's performance envelope could be matched by any number of bikes. But these would have bigger engines and be unable to match the Honda's peerless handling.
What remained was the price. And, ouch, at £1895, the VF400F was £200 more than Yamaha's 350 twin and some £500 more than the other 400cc four-strokes. Which is why Honda only sold the machine Japan and Europe, and by the next model year it was history.
For 1984 Honda extended its range of V-fours with a sporty 750cc model – the VF750F – the air-cooled CBX750 and a pair of 998cc models, the VF1000F and the VF1000R, which offered the extra cachet of an engine with gear drives for the camshafts.
Just as new, however, was the VF500F V-four. Based on the 400's engine, the 399cc capacity was opened up to 498cc, giving a claimed 70bhp at 11,000rpm. By now Honda was riding high, Freddie Spencer having won the world 500cc championship by pipping Kenny Roberts at the final round in Sweden.
Style was everything, too, and with aluminium-alloy frames coming into vogue, the VF500F chassis aped this with a silver-finished loop frame in square section steel and a racing style full fairing. Also new were conventional triple disc brakes.
The range was launched in South Africa early in 1984 with the opportunity to ride the bikes at the Kyalami GP circuit after a road tour east to the mountains of the Kruger National Park.
Now, given the chance to ride brand-new machines on an almost-clear motorway across the plains of Africa with no signs of police, what would you do? Of course, so with most of the new bikes with less than 250 miles clocked, the group set off at a cautious ton-plus clip. Soon enough, VF1000R riders found that it would top out at 155mph, but the 500 wasn't far behind with 130mph on the clock.
Handling of the 500 was just as good as the 400, the rear single shock offering better control. But, by the time we reached the mountains after 150 miles of flat-out thrashing, signs were that the 500 was suffering from top-end problems, the engine clattering badly.
At this time, news of weakness in the valve gear of Honda's V-fours had yet to surface, so the 500's afflictions were regarded as no more than a one-off. I wasn't able to test the 500 at MIRA, having by then moved to Motorcycling Weekly, which didn't have access. But performance tests on US versions showed that it was much quicker than the 400, with a quarter-mile (albeit one-way) of 12.79sec with a terminal speed of 103mph. Top speed was in the region of 122mph.
But, as time would tell, Honda's little V-fours may have been jewel-like, but they concealed flaws that would dent their appeal in later years.
Flawed jewel
As the VF500F test bike on its launch in 1984 showed, the little Honda V-fours suffered from weaknesses in the valve gear that wasn't a result of neglect in oil changes. What made the problem worse was the complexity of the engine and the need to dismantle most of the bodywork and air filter to access the valve gear and clearance adjusters.
The suspension suffered from leaks from the seals in the front fork and single rear shock, sometimes made worse by over-pressure. But even more tricky were the bushes in the rear suspension linkage, which would have benefited from grease nipples. Exposed to the elements they easily seize and are no end of trouble to pull apart when they do.
The enclosed front disc brake suffered from the same flaws as that on the CBX550F, which used a duplex version. The idea of enclosing a cast-steel inverted disc inside a drum was good; it meant Honda could use the best material for the disc without being concerned about its appearance. But many owners never bothered to check the disc's wear, let alone the pads, until the whole plot wore through and fell apart, locking solid. Not good, that.
Technical tour
Like Honda's first 400cc four in 1975, the VF400F 90-degree V-four of 1983 was a balanced mixture of performance and civility that was as much a result of the engine's architecture as the way it was mounted in the chassis. Just more so.
The four cylinder bores were part of the horizontally-split crankcases and topped by two identical cylinder heads with chain-driven double overhead camshafts. A single cam lobe opened the paired inlet and exhaust valves using a short rocker with clearance adjustment by screw adjusters above each valve tip.
As with all Honda's early V-fours, the crankshaft with plain bearings used a single plain, providing a reasonably even firing interval that was the secret of the engine's lazy feel. And, with perfect primary and secondary balance, it was superbly smooth. High revs were helped by the highly oversquare dimensions: 55mm x 42mm giving 398cc. Fed by four 30mm-choke CV carburettors, the compact combustion chambers enabled a high compression ratio of 11:1 and peak power of 55ps at 11,500rpm. But, despite the torque peaking at 10,000rpm, the spread of power from an idle upwards was almost linear, with no sign of a band.
Primary drive was by gears to a hydraulically-operated wet, multiplate clutch to a six-speed gearbox operated by a drum selector with a compact 'planetary' positive stop mechanism. Using the same cases and a weight of 130lb, the VF500F engine's bigger capacity was provided by an increase in bore and stroke to 60mm x 44mm, while power was upped to 70ps at 11,000rpm, helped by bigger 22mm diameter intake valves (up from 20.5mm) and 20.5mm exhausts (up from 18mm). Inlet valve timing was the same (140deg opening 8deg BTDC) as the 400's but the exhaust was shorter (140deg opening 43deg BBDC). See VF400F data.