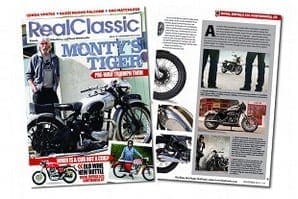 • Editor's intro
Bertie sets the scene
• Archive
Move over Marquez. It's ice, ice baby. Meet the kings of lean
• Quick spin – Kawasaki GPz750
Is this Kwak crud or cool?
• News
Post Office are fuels! Columnists and cool things
• Calendar
January…sick and tired of you hanging on me
• Feedback
Your regular chance to tell us off or say we've done wrong
• Show us yours
Lots of dirt bikes this month. What? I know…
• Honda CBR600F
Jellymoulds owned by father and son!

• Honda VT250
Scoop rides a Honda V-tiddler
• 1972
It's all Z1s and EEC here, man… Cool!
• Ducati 916
JB on the most beautiful bike ever. Well, many think so
• Yamaha TDR500
The ultimate Dual Sport. Wowza!
• Old parts reborn
Suzuki releases vintage parts
• Honda CBX550
MIRA files: John Nutting rides the maligned Honda
• Yamaha RD500LC
Please Yamaha, revisit this legend!
WORKSHOP NEWS
Motad makes old pipes! And Pip squeaks!
• Fuel tank design
How things have changed over the years. More fuel us…
• Fuel tank repair
And how to mend 'em!
• Stan Stephens – Yamaha TZR250 special!
How to strip, sort and tune the TZR – part one
• Project Kawasaki ZRX1100
Alan Dowds sees what the base bike is like
• Crash damage part 2
Mark sees the costs mount up

• Kawasaki H2A
Buying tips for the crazy Kawa
• Q&A
Problems with old mud-pluggers and more!
• Yamaha RD350 YPVS N2
Not perfect by any means – but a story!
Useful links
Search for previous articles and issues
Subscribe to Classic Motorcycle Mechanics
Classic Motorcycle Mechanics – Running, riding and repairing Japanese and European classics
Digital subscription to Classic Motorcycle Mechanics
---
Advert

Enjoy more Classic Motorcycle Mechanics reading in the monthly magazine. Click here to subscribe.
---