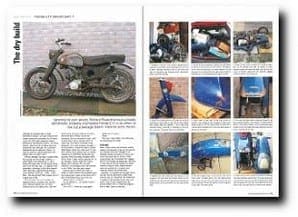 Although an unknown face to many Mechanics readers, I've been involved with classic motorcycle journalism for 15 years, much of it with sister magazine Classic MotorCycle. My favourite column, You Were Asking', allows me be an agony aunt-cum researcher and, although I've restoration experience and an extensive library, I'm lucky to work for a great readership who always help out when I can't.
For four decades I've been a classic bike fan, buying my first vintage machine, a 1924 550cc OEC Blackburne, in 1971. Almost 35 years later it's still going strong and I love it to bits, but… it's gained many playmates, including a 1934 New Imperial, 1957 NSU Max, 1962-9 Racing Kreidler, 1911 Premier, 1963 Exc… DKW… 1918 New… Got the picture? Sad, maybe, but it's a great way of life.
Over the years I've run a handful of Japanese bikes, including a few Hondas and a Yamaha XS650, but I've never restored one so it's about time I did. Not one to relive my past, many of the times and bikes were brilliant, as are the memories. And as memories is how I want to leave them. But to sample what I've never had, now that's a different thing altogether. As a cash-strapped teenager in the mid-1960s I lusted first after a Honda CB92 Benly 125cc twin, then the C77 and CB77 305cc twins parked near our rented caravan on a Felixstowe holiday site one summer. Other favourites included a BSA 441cc Victor (magic engine capacity, eh, or so I thought), Suzuki Super Six, Suzuki Stinger and a Yamaha YL-1. An odd selection, but teenagers were odd animals in the 1960s. And with good reason.
Leap forward to 2005. Son Peter, a trader of classic British and European parts and motorcycles, parks on the drive with a pile of dismantled blue junk in his car.
"What's that?" I enthuse
"It was Graham's… he wanted it gone," growls Pete.
"It's a C77," I enthuse, trying again.
"£200 and it's yours." "Done."
"You were," grins Peter, now enthusing and pocketing the bundle.
The aim
While I enjoy shows and concours events, riding is my bag both in the UK and abroad. Our classics cover fair mileages in all weathers except the depths of winter and many have been tied on ferries, ridden along byways and overloaded with luggage. The C77 will suffer the same fate. With this in mind the aim of this rebuild is a smart machine using as many original Honda parts as possible for a modest cost, hopefully around the £1500-mark.
However, to complete the teenage dream, the twin will be refinished in deep black enamel, just as I remember the motorcycle I coveted in the summer of 65, and it will sport a pair of slim megaphones. But purists needn't fret, I'll keep the originals just in case I grow up one day.
Click on the download link to view the first part.