In this edition of Show Us Yours, take a look at Rob Neal's Suzuki RV90. Want to see your pride and joy in our magazine, on our website and on our social media pages, fill in the form here>>
This is my Suzuki RV90 which I bought in late 2015 and ran through 2016 as a general run-about. A few things needed to change though. It was woefully under-geared for modern road traffic, revving out at 30mph (just), the 6-volt electrics were feeble with glow-worm like performance from the headlight, indicators that dimly flickered and a brake light which barely glimmered. The horn? Exactly! Cosmetically it was showing its 42 years too. So last winter it was up on the bench for an overhaul and tidy up.
To keep up to date on Show Us Yours and so much more, like our Facebook page or follow us on Twitter here.
Gearing was raised significantly with 16t front and 42t rear sprockets letting it rip up to a giddy 40mph. Think it'll pull even taller gearing but I'm not sure if I want it any faster as the handling on those balloon tyres is a little err…..interesting! Talking of tyres, the original Bridgestone Rectangles are nigh on impossible to find now but fortunately modern quad bikes run the same wheel sizes so I use those. The indicators were converted to LED with an electronic relay and these now flash brightly and the tail lamp has also had the LED treatment so it actually works at the same time as the rest of the electrical devices.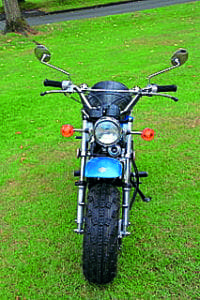 A new sub-loom was made for the headlight, wiring it directly to the battery via a couple of relays to cut down the losses through the connectors and switches. It now has a decent output which can be seen in traffic. The bike's been finished off with powder coating and a paint job using rattle cans matched to the original Suzuki Colorado Blue. So, what is it? It's really good fun to run around on, that's what it is. Isn't that what biking is all about?
We want to see your bikes! So if you want to feature in our magazine, on our website and on our social media pages, fill in the form here>>