Check out Paul Hunt's 1978 Yamaha XS750E Café Racer. Want to see your pride and joy in our magazine, on our website and on our social media pages? Then fill in the form here>>
This was a complete ground-up rebuild with all parts either serviced or replaced if they could be found and/or required replacing, including a professional rewire!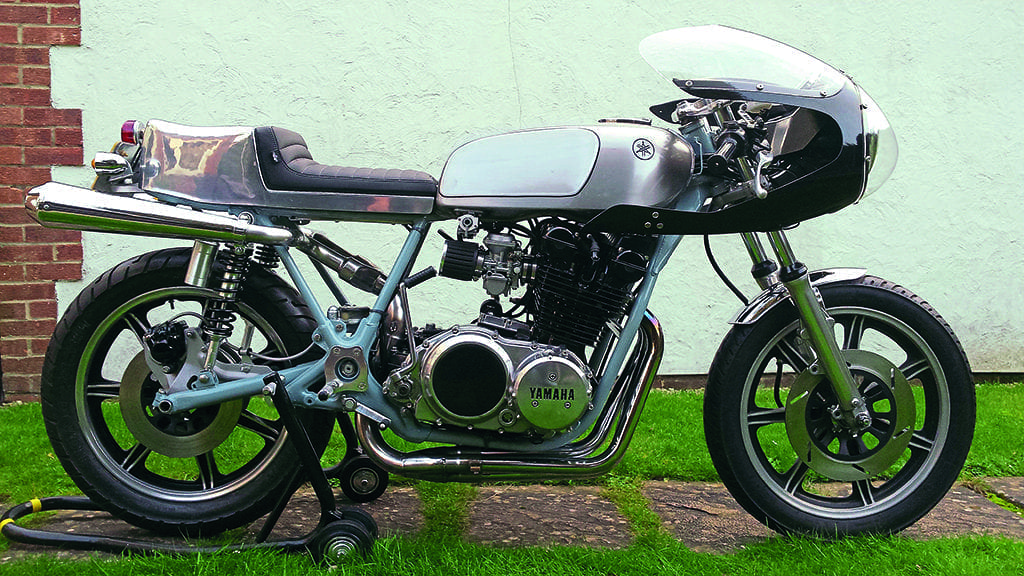 The bike was re-styled as a café racer with many parts made by hand. These included the rear light brackets, under-tray, fairing brackets and foot-peg hangers all made by hand – and I mean by hand no CNC here!
For example: the foot-peg hangers were cut from aluminium plate with a hacksaw and file, the centre hole cut with a 50mm tank cutter and then polished with wet-n-dry and metal polish to a mirror finish.
The exhaust system was designed and manufactured by me, which required a slight engine casing modification to allow room between the gearbox and swingarm. The front wheel dropped to 18in (from 21) to match the rear which meant designing new spacers to fit centrally.
The front brake caliper FZR1000 (with larger disc/mounting plate was designed by me) but this was the only part CNC-cut to ensure a correct fit for caliper. Despite all this work, I feel the outcome was worth the effort.
Want to see your pride and joy in our magazine, on our website and on our social media pages? Then fill in the form here>>
Comments
comments