CMM reader Tom Garland returns to tell us all about his Honda CB175 K6 restoration journey. Have look at his first Show Us Yours article here…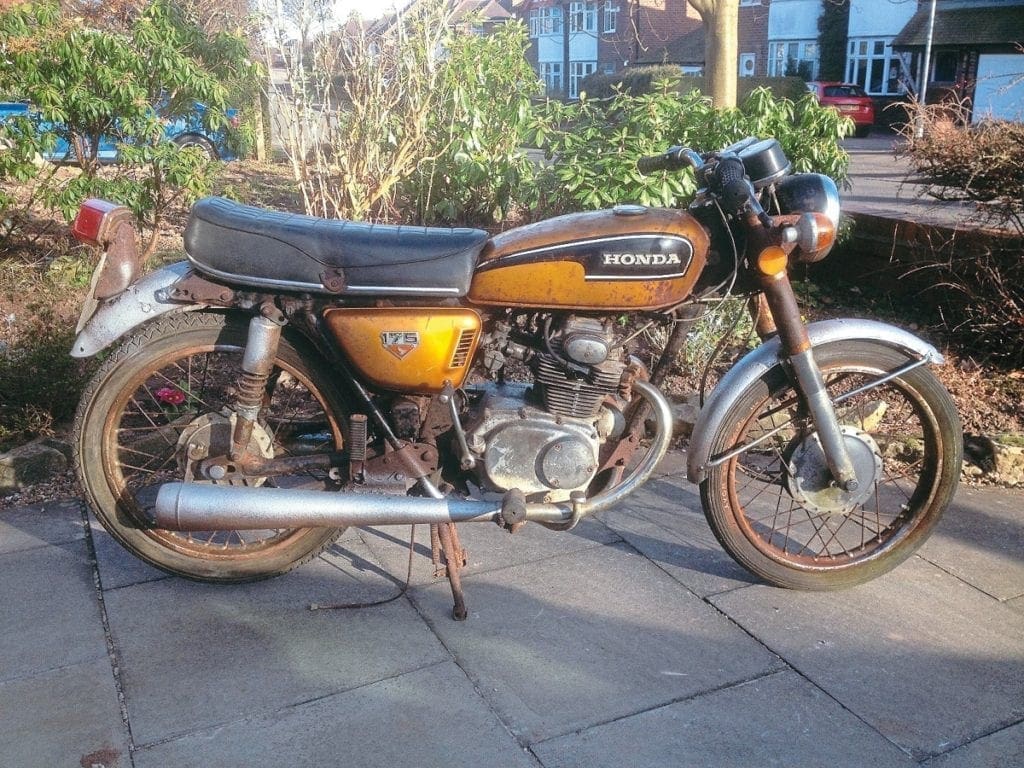 "The decision to have a go at a bike restoration in hindsight was a good one. However, shortly after I got my hands on the bike I seriously began to doubt the sanity of the decision, but I kept telling myself I was only in it for the pleasure of tinkering with bits of oily metal!
"Restos are good if you have the time, inclination, adequate workshop facilities, tooling, access to spares and a comprehensive list of speciality suppliers and, of course, money.
"I didn't have a lot of the above. Ok, I had some savings in the bank, and I consider myself a resourceful and a practical man with good manual skills, but this will only carry you so far."
"The biggest single factor I found which enables you to keep the momentum of a project going apart from finance, is the internet and the access to finding those elusive parts that otherwise would consign a restoration to a number of cardboard boxes in the garage. Parts prices meant I wanted to find a low-end, popular bike to restore
"I have a bit of an affection for Hondas, based on the fact that my first bike was a fifth-hand SS50 that I spent my teenage youth taking apart more than riding, and moved up to eventually riding a CBR1000F.
"The eventual resto case was in a sorry state and the bloke delivering it even said that he hoped I liked a challenge! To be fair, a quick look-over showed this machine was basically good as in looking straight and sound, but it was rusted from headstock to tail pipe! The alloy engine and wheel hubs were also furred up nicely."
"Stage one of the strip-down I found to be full of 'Oh my God' moments when the extent of the corrosion means those nuts and bolts and cross-head screws didn't want to budge. Slowly but surely, the peripheral bits came (or fell) off, such as the wheels, pipes, seat and fuel tank, leaving the forks and engine to be removed, along with the rear swingarm. 
"These required a bit more elbow grease and subtle methods involving blow torches and well-aimed blows with a mallet to free them up, but eventually the main components were out of the frame, which then allowed me to take stock and send the frame, engine brackets, foot rests, yoke, etcetera off for bead-blasting and powder coating at Triple S.
"The pitted metal parts such as downpipes, handle-bars, brake-arm levers and mudguards were duly dispatched to Castle Chrome for the magic of the acid bath and re-chroming process. Wheels went to Central Wheel Components for re-spoking and new rubber."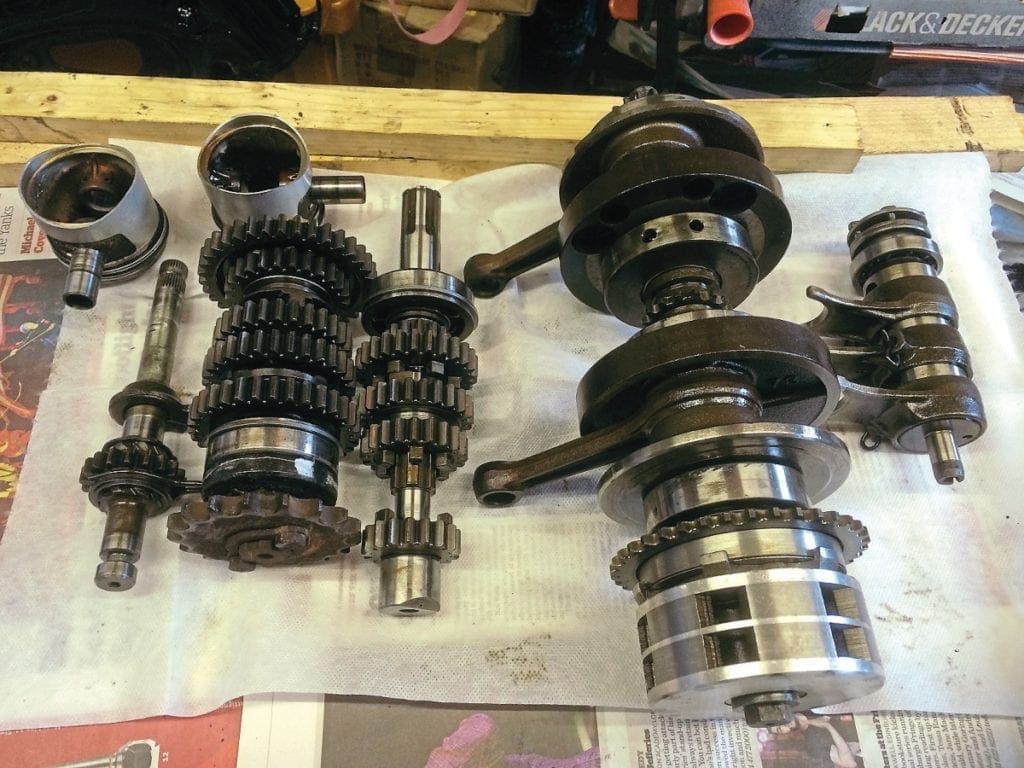 "The crowning piece of any bike is the fuel tank, and this one looked like it had been used as a child's toy drum, such were the number of small dents and scratches over its length, so again a deep breath and a trawl around the small ads in CMM and the internet led me to MTS Motorcycles.
"Steve there was very open and honest about what he could do, and was almost apologetic about how much it would cost, but to be fair it's one aspect of a resto you really don't want to scrimp on, so with a slight shaky hand we shook and agreed on the required process. 
"The forks had to go to Philpot's in Luton. I'd read an article about them in CMM so it seemed the obvious place to go. Both were rusted on the yoke clamps and pitted, so the specialist tooling required is beyond a normal amateur hobbyist, and these guys are truly exceptional in their ability to restore the stanchions and sliders. So that left me with the engine, carbs and all the paraphernalia of the electrical loom, lights and clocks."
"I love working on engines. However, this was a pig again, thanks to previous owners or ham-fisted mechanics shearing screws or rounding off bolts. The head came off easily to reveal all four-valves intact – albeit coked up with carbon deposits. The camshaft and rockers looked to be serviceable, the barrels were in good nick, and pistons and connecting rods showed no signs of excessive wear. 
"The crankshaft bearings also had no play in them and seemed solid. The clutch was intact with the plates glued up, but they freed up and had life left in them. Gearbox time: luck seemed to be on my side, as this revealed the box to be intact with no gears missing teeth or chipped.
"With all the internal engine parts in brown paper envelopes and labelled up with which piston or valve they belonged to, I sent the engine cases off to F&J Vapour Blasting. This process is remarkable in that it is less harsh than dry blasting and restores the cases to almost like new."
"This left me to start cleaning and polishing everything from the brake levers down to the tail-light brackets. A bench-mounted grinder and buffing wheel certainly got a lot of use, and I went through more wet and dry paper and polish than I originally expected. Scotch paper, wire wool, metal polish and bags of simple elbow grease eventually got everything shining again, together with the engine generator, cam and oil filter covers. Some new parts had to be bought: fasteners, oil seals, gaskets and springs, brake shoes, spark plugs, coil, condenser and cam-chain.
"I'm particularly happy with the wiring loom, as I took this completely apar, re-soldered new connectors/added new sleeves where needed, and then re-bound it all. Then I had to pack the project away into boxes (again) as we moved house. Then my duty (and DIY) in the new house called me on to other things for six months, until I was ready to get back on to it again in the new garage/workshop.
"The re-build is the fun bit: you know that soon there will be something that starts to look like a bike, and therefore something tangible to show to anyone who has got an interest in your efforts that you weren't completely mad after all. In an afternoon there's suddenly a bike where there was none."
"This is the bit that really drives you on, and once the engine is back together you are nearly there. The engine re-build was a joy. Follow the books and spec sheets carefully, and it will all come together nicely.
"Time spent here methodically will prevent that head-banging moment when you realise the thrust washer on the oil pump needed to be the other way around, or the circlip on the gear selectors go in the other way after you bolted the crank-cases back together. I did also enjoy re-painting the Honda tank badges and side emblems with enamel paint.
"The carburettors are another daunting area, but I found the use of a small hobby drill with various small cleaning attachments a great aid for cleaning the gunk out of the various nooks, before dropping it into an ultrasonic cleaner."
"Some compressed air and carb cleaner finished the job and before I knew it all that was needed was the fuel tank to go back on and I'd be near the point of starting it up – save for a strip-down of the electric starter motor to replace the bushes!
"I'm feeling fairly smug with myself and looking forward to firing the bike up, but it ran richer than a dragster on after-burn and the right plug was showing signs of escaping gas around the seal. All this led me to realise that the plug thread had been stripped to within a micron of its life by overtightening, even if the new plug in it nipped up ok.
"That meant a re-thread, which meant drilling it out. I did remove the head to do it, as I wasn't going to have bits of swarf dropping into the barrel. As for running rich, well, I had somehow put the valve sliders in back to front, or rather the left one in the right and vice-versa, as it's a twin carb set up. I fired her up and she ran like a dream. Well, at least for a 43-year-old machine relying on float carbs and mechanical contact breaker ignition."
"In hindsight, would I take on a project that had a bike in such a poor condition to start with? Maybe not, but at the end of the day, if you're going to do something then you may as well do it right, and I like to think I've done this little twin 175cc justice!"
The original article with even more images can be found in issue 380 of CMM!