This month in Classic Motorcycle Mechanics, BMW R1150, Suzuki Katana, Moto Guzzi Le Mans, and more!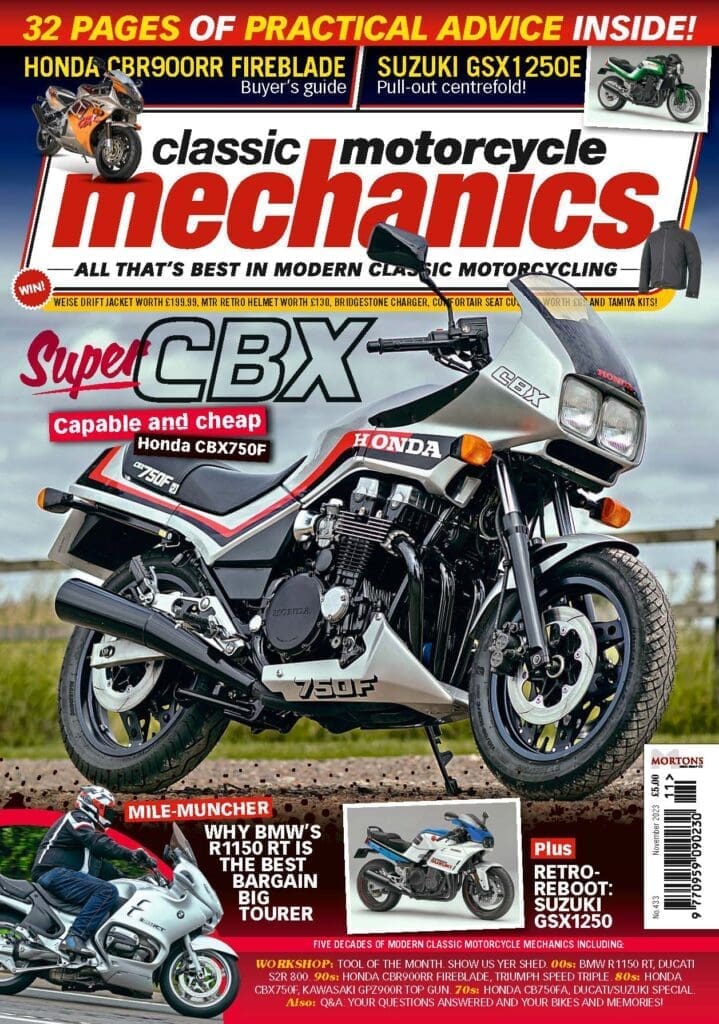 As always, this issue of CMM magazine is bursting with workshop tips, cracking features and a look at what's happening in the motorcycle world.
If you'd like to read the November edition of Classic Motorcycle Mechanics, then you can order a print copy, save the trees and download the digital version, or bag yourself a bargain and subscribe to get CMM monthly!
Here's what to expect this month…
Moto Guzzi Le Mans
Our Bridgestone Bike of the Year is owned by Hedgehog and Tigger. Eh?
BMW R1150 RT
Bertie Simmonds reides and rates his fave big tourer. No objectivity here!
Honda CBX750F
John Nutting reckons this 1984 four is better than any modern bike.
Suzuki GSX1250 ES
Kar Lee's reboot of a classic Suzuki muscle bike.
Classic Motorcycle Mechanics magazine is on sale in UK newsagents and supermarkets, or you can buy the current issue in digital and paper formats here!
You can also purchase stacks of back issues of Classic Motorcycle Mechanics, but it's cheaper to subscribe. As a subscriber, you'll save money, get your copies delivered to your doorstep AND never miss an issue…