At the recent Carole Nash The Classic Motorcycle Show over the April 21-22 weekend, our contributor Allen Millyard debuted his amazing six-cylinder RC replica – made from two FZR250 motors! This stunning machine's build is being covered in Classic Motorcycle Mechanics every issue and will also be subject of further features both in CMM and our sister title Classic Racer. Here's what Allen had to say about his machine's stunning debut in front of the Stafford crowd!
"I've been working really hard to get my RC374 six cylinder finished in time for its first public viewing as a static display on the Carole Nash Insurance stand at Stafford Show. I had only just picked up the freshly painted tank and seat from my friend Neil a few days earlier with strict instructions not to risk splashing fuel on it for a week. I fitted the tank, seat and fairing and made a few screws and little parts to finish the bike. Late Friday evening it was finally ready to go. My brother Brian usually helps me with shows and was here ready for a 5am start on Saturday morning as it is 140 miles to Stafford for us. We arrived to a packed showground and eventually parked and unloaded the six for the long push to the main hall. It was amazing to hear so many comments as we pushed the bike through the auto jumble area but the one that stood out the most to me was a chap who said as we passed "I never thought I would see a real Honda six here". We parked the bike inside and I was really surprised how many people came to say hello and see the RC374 having followed the build in my column and on-line. Whilst having afternoon tea with ex-TT racers Alex George and Malcolm Wheeler I was persuaded to start the bike in the race paddock on Sunday morning. That evening I mentally went through the build confirming that all was ready for a start and in the morning the bike was pushed into the race paddock ready for the first public start. I was quite apprehensive, if not a little worried that it would start, but the time was approaching fast and I was holding off filling the tank until the last minute. Alex came across and said, "Come on then we're all waiting". I carefully put about 2 litres of super unleaded into the tank and inched the bike backwards out of the marquee. After a short introduction it was time! Petrol on, choke on, ignition on, and push the hidden starter button and a few seconds later it burst into life with a deafening howl from the six exhausts. After a minute or so revving the bike Alex took over and revved it to have a feel of the engine and warm the engine up. The engine was gradually running smoother and smoother so I put it into gear and slipped the clutch, gently pulling away and riding the short distance back into the marquee to applause from the crowd. I was shaking with excitement, as well as relieved that it started and ran ok. My next job is to make up a set of temporary baffles so I can tune the jetting ready for further riding tests."
Want to see more? Then pop along to Allen's own YouTube channel!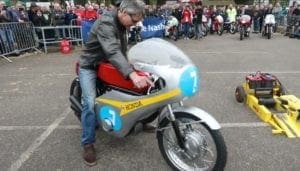 ---
Advert

Enjoy more Classic Motorcycle Mechanics reading in the monthly magazine. Click here to subscribe.
---