Kenny sent in his Kawasaki Z1000 MKII, all the way back in 2006. We wonder what the MKII looks like now!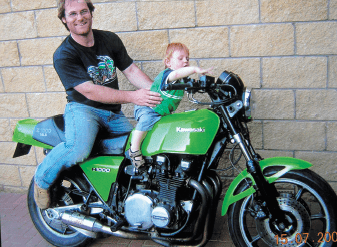 "Here is a picture of my son Harris onboard my Z1000 Mk!!," writes Kenny Christie of Livingston, Scotland.
"I have owned the bike for 10 years and have travelled most of Europe on it. With 60,000 miles on the clock it is now in semi-retirement while my Z650, GPZ1000RX and ZRX1100 catch up with it – it's still my favourite, though."
Kenny has fitted the bike with 16in rear and 18in front wheels from a LTD and Z1R, and says it handles as if on rails.
"It also has the obligatory Harris pipe, JMC swingarm and K&N filters."
Want to see your pride and joy in our magazine, on our website and on our social media pages? Then fill in the form here>>

Comments
comments