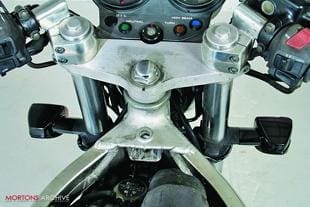 A narrow engine lying in the natural V of a frame with a loping power delivery; the set up became iconic in the formative years of motorcycling.
The 650cc category was once at the very edge of big bike territory but with the advent of late 70s Superbikes it effectively fell into the doldrums so it was a brave move of Honda to attempt to rekindle the class.
Bizarrely, 650s are now regarded as post learner bikes but any two-wheeler that can hit speeds in excess of the magic 200kph is hardly slow. Nearly 20 years on at least one manufacturer has also seen fit to revisit both the engine configuration and size; Suzuki's SV650 is already becoming regarded as something of pint sized all-rounder.
The Bros comes from a period when Honda were trying to reassert their pre-eminence on the bike world following the liturgy of disasters (real and supposed) following the V4 range. Code named RC31, it's not too much of a leap to see that the Bros was piggy-backing on the development of the seminal RC30. Alloy beam frame and single sided swingarm point directly to the big sports bike. Some of the rear end technology was inspired and developed off the back of the Elf Honda racer. OK, so Honda did scrimp by using a much more basic suspension system but the Bros was 'guilty by association' so to speak.
The engine originally appeared in shaft drive form for the USA market, and was called the Ascot. The UK received a derivation of this, in the guise of the VT500, a spiritual successor to the dispatch rider's bike of choice the CX500. Although the Bros (or Hawk if you're reading this in the USA) fell off the perch a fair while ago the motor carried on in the Revere and still lives on in the Honda Deauville; suggesting that major parts are unlikely to become scarce in the near future.
Even now the Bros has a very significant following and it's fair to say that it's one of those bikes that seems to attract an owner base who like to tinker and modify; rather like Yamaha XS650 owners. In both cases the owners appear to be more engineer than bodger so the aspirant Bros owner needn't start to panic.
The basic concept of a 55bhp motor that gives a top end of 120mph, allied to an excellent throttle response, is an ideal basis for considered modifications. You can expect to find upgraded front and rear ends and different tyres on many a Bros sold privately and to be honest they are probably none the worse for some therapeutic spannering.
Expect to see changes such as CBR600 F/E or VFR750 bouncy bits and VFR400 wheels and the odd larger tank to overcome the Bros' rather meagre offering. Although the standard tank is capable of offering around 120 miles at 50-60mpg the rest of the bike can encourage longer distances so a few more litres would be most welcome.
Just as XS650 owners seem to want bigger motors so do 'Brosites'. More than one owner has shoehorned an Africa Twin 750 lump into a Bros chassis, thus producing something a little bit special. The basic conversion is extremely straight forward but the electrics are said to be the wrong side of challenging. Another recognised mod is to fit a CBR900 Fireblade shock to the Bros' rear end. Some owners are blissfully happy with this mod but others complain the back end is too hard and/or handling suffers. If your newly acquired Bros behaves strangely the answer may simply be a case of reverting back to original fitments.
Strangely, interest in the Bros appears to be waning within the UK. Although diehard dispatchers are still racking up the miles, the bike-buying public don't appear to be as enamoured with the Bros as they once were. Perhaps the fact that it was only ever a grey import has some effect but spares supply is still very good. Bikes go in and out of fashion and the Bros currently appears to be on a downward slope. If you're bored of big bikes and stymied by strokers a Bros may just be the tonic you've been looking for.
What goes wrong
Not too much. Knackered chains and/or rear wheel bearings may take a hammering due to the geometry of the rear swingarm and its eccentric adjuster (the bike's not the idiot with the tool kit!) A lack of controllable fine adjustment means it's easy to go from wet knicker elastic loose to bow string tight in the blink of an eye. What appears OK with the back wheel up in the air is all over the place when the bike has it and its rider's weight on terra firma.
Any bike with an alloy frame and steel bolts is going to suffer from bimetallic corrosion so if the bike is new to you expect a bit of hassle in this area. Investment in a can of ACF50 will make any sort of maintenance significantly easier. Although not actually a reliability problem, tappet adjustment can be a bit of a chore.
Just like the VT500 before it there's an awful lot of kit to remove before you get to do the deed. Have a couple of big containers to hand for the tank, air box plus more plumbing bits that than you might think. Ultimately the effort is worthwhile as the six valves are attended to by screw and lock nut adjusters. At least you won't be looking for a handful of shims from the local bike shop that closed half an hour ago.
Although customary practice these days, it's worth reminding potential owners who carry out their own spannering that water-cooled bikes require antifreeze/corrosion inhibitor all year round. Add straight tap water to your bike's cooling system and watch it fur up like a kettle.
What to buy and watch out for
If you're out Bros hunting you need to chant the mantra 'I don't want a 400, I don't want a 400' until it becomes second nature. Unless you have a very specific requirement for the smaller model it's best avoided as it's overweight and underpowered. If, however, you are looking for a non-threatening reliable bike a 400cc Bros can be had cheaply.
But it would probably be best to hold out for a full fat 650 and experience what real Bros ownership is all about.