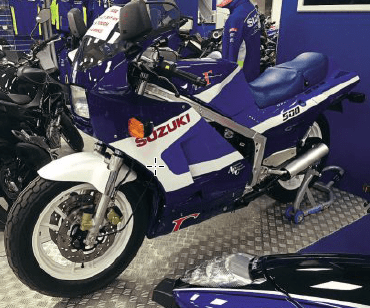 With our Stan Stephens special on the super square-four Suzuki RG400 and 500 starting this month, we thought we'd show you an as-new, unregistered 1987 RG500 Gamma. She sits proudly with the Suzuki class of 2017 in the Wheels Motorcycles showroom in Peterborough. The white faced speedo displays just over one mile, and that's a result of the square four having been pushed around over the years.
Scott Redmond cornered Zero-miler RG! Vinny Styles in the Wheels café and got the details on the stunning RG.
"We heard about it being for sale," explains Vinny. "And we've been buying a few classics of
late and this got our attention. It came from a collector, and after some negotiating we secured it for our showroom."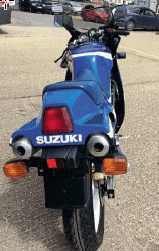 It's in pristine condition, the only flaws are the result of old Father Time: the original
tyres have cracked on the walls, and there's the odd distortion to the alloy in places, the obvious being the handle bar clamps and lower forks.
Article continues below...
Advert
The RG500 had a sympathetic valet in the Wheels workshop and now sits in their Suzuki showroom. Wheels can be found at First Drove, Peterborough PE1 5BJ. Pop along as they have a rather nice café on site!
---
Advert

Enjoy more Classic Motorcycle Mechanics reading in the monthly magazine. Click here to subscribe.
---