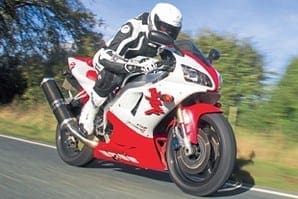 Yes you did read that right: one hundred and fifty six thousand. Owner Peter Spicer takes us through the ups and downs of the long-term ownership of an icon.
"In the time I've owned the bike it's had a fresh set of barrels at 60,000; these motors will run past this figure but they're getting pretty tired by then.
Like all strokers ring wear can be an issue; mine get changed at every 15,000 before they wear thin and disappear down the exhaust ports. A fresh crank was dropped in at around 100,000 and that's been pretty much it in terms of major work.
Despite a healthy power output these bikes are fine long-term providing they aren't tuned; if they are reliability suffers. The bike's been fed semi-synthetic Rock Oil all its life so I reckon it's more than good enough. They generally run on the hot side of comfortable and in light of this I've used NGK B9ES plugs just to take the edge of the burn; these do the trick nicely. It's common for muck thrown up by the front wheel to causes issue with the Power Valves which wear into the cylinder head. Fresh seals and maintenance can prevent the inevitable carnage along with lubrication of the operating cables.
On the transmission front it's all good news; nothing generally seems to go majorly wrong. Electrics are a mixed bag with early models taking out their black boxes; most Power Valves are likely to suffer with failing coils in the generator at some point.
Chassis wise the rear shock absorbers can and will die; they were made down to a price. Rear subframes are prone to cracking, mine's been heavily repaired; regularly carrying pillion passengers seems to make the situation worse. Side panel lugs regularly break off and Power Valve tanks are really poor quality; they rot through with depressing regularity. Early models often have damage to the belly pan or headstock fairing and getting a usable replacement is nightmare. On the plus side, most of what's needed to keep an RD350 YPVS running is out there.
Aftermarket specialists have tooled up to make a lot of the consumables, Yamaha still offers some parts and the non-Power Valve Banshee quad bike means most engine spares are easily available."
What lifted the Power Valve above its older brother wasn't just those damn useful valves. In all honesty the Yamaha RD350 YPVS was probably one of the best contemporary compromises made between power and usability. Fast enough to thrill but strong enough to cope, the bike remains, for many, the best all-rounder stink wheels ever made. Performance and reliability; how often do you get to have your cake and eat it?
Do you own a mile-high classic? Has your bike gone around the clock? Or is it just in constant use every day? We want to know! Send pictures and some information to: [email protected]