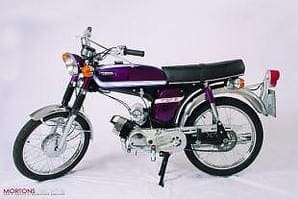 Who'd have ever thought that a moped could become one of the ultimate symbols of teenage rebellion? Back in the late 60s the UK government was becoming increasingly alarmed at the growing tide of motorcycle injuries suffered by young, inexperienced riders on 250cc machines. Once the reserve of old Brit plodders like the BSA C11G, the 250 class had proved to be a breeding ground for a new wave of high performance bikes from Japan, and as Honda twins and two-strokes from Suzuki and Yamaha became more and more affordable, inexperienced youngsters were coming to grief at alarming rates.
The answer, introduced on 15 December 1971, was a change in the law that restricted 16-year-old riders to mopeds, then defined as 'a two-wheeler of less than 50cc and equipped with pedals which must be able to drive the machine'. Intended to drive novice riders to the safe waters of granny's shopping 'ped, the new law immediately came in for criticism on the grounds that young riders would be left to trundle in the gutter in the wake of buses and lorries, without the power to get out of trouble.
The manufacturers were quick to spot the new market for sporty 50cc bikes, tuned for performance and nominally fitted with pedals to make them legal. A generation of youngsters turned to the new bikes with a mixture of glee and rebellion, for here was a way to enjoy biking whilst cocking a snook at the new legislation. And the bike that set the pace in the sixteener class was the Yamaha FS1, a Euro-spec mini-bike legalised for the UK with a set of pedals and redesignated FS1-E (for England). This Popsicle Purple FS1-E, model designation 394, is typical of bikes in production between 1974 and 1976. It was also offered in Baja Brown, and early models (1972-1974) came in Candy Gold.
On 1 August 1977 the authorities caught up and, fed by a tabloid newspaper spree of 'shock-horror' stories, redesignated the moped class with a design speed limit of 30mph. The requirement for pedals was deleted, and an era came to an end.
By this time the 'Fizzy' (now dubbed FS1-E DX) had sprouted a racy disc front brake and bright yellow paint job with 'speedblock' graphics. In 1977 this gave way to the 30mph restricted 2GO FS1-M. Sales struggled on until 1983, when the Fizzy, as it was known and loved, ended production.
Article continues below...
Advert
Owner
John Powell is a die-hard Yamaha two-stroke fanatic, and is preparing a dedicated museum to the brand at his home in South Wales. His first FS1-E was an original Candy Gold model and he has now restored a host of similar bikes, owning a collection of ten at one point. While working as a teacher in a girls' grammar school, he encouraged his class to restore a Fizzy for their motor vehicle studies lessons, which the girls enjoyed tremendously. This 1974-registered bike came to John with only 4133 miles, but had been used as a field bike and was in very poor condition. John carried out all the restoration work himself.
---
Advert

Enjoy more Classic Motorcycle Mechanics reading in the monthly magazine. Click here to subscribe.
---