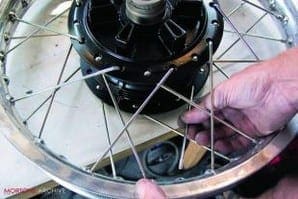 I have always farmed out wheel re-spoking to a specialist, and since discovering the talents of Paul Jackson (01422 378100) many years ago, have always been more than happy to keep turning up at his workshop, drop my hubs and rims in a pile on the floor (with a note of offsets, of course), and call back a couple of weeks later to collect the shiny results. But having had a go at almost every other aspect of bike spannering over the years, I was aware that actually re-spoking a wheel was scary new territory, and it was about time I had a go.
My project XT500 provided an excellent opportunity as I'd just had the hub powder coated by Triple S and now needed to replace the rim I'd spent hours polishing.
Rule one for working on older motorcycle wheels – don't assume the rim runs in line to the centre of the hub. Particularly on a rear wheel, the rim may be offset to one side to allow clearance between chain and tyre. Before dismantling the wheel, set the whole thing on a flat surface and measure the distance from worktop to rim edge. Note down the figure, then turn the wheel over and measure the other side too. When your new rim is laced up it needs to match these figures for offset, and if you're not doing the job yourself make sure you pass the measurements on to your wheel builder. A skilled wheel builder can vary the amount of offset by judicious adjustments to the spokes, so the idea is take the guesswork out of it and duplicate the factory settings.
Playing around with spoke tensions at the trueing stage can also allow you to fine tune any runout and make sure the rim spins concentrically, both radially (up and down) and laterally (side to side). Most wheel rims are made from an extrusion or pressing which is formed into a circle and welded up, so there will inevitably be a little fluctuation which is impossible to true out. However time and patience should allow you to get within a couple of millimetres of perfectly true, which is good enough for our purposes. Don't fully tighten any spokes until the rim is running true, then go round and ensure the spokes are all tightened to a similar tension. 'Ping' each tightened spoke with a screwdriver and listen to the note it sounds. All the spokes should sound similar (or, in fact, 'ring true'!). And if in doubt, take your wheel to a specialist for trueing, you'll have saved a fair bit of cash by doing the lacing up yourself!
Conclusion
For a first attempt at wheel building I'm delighted with the results. I had planned to get as far as I could with the job then break off and seek specialist help, but have surprised myself by seeing it through to the end. To be fair I've stumbled upon a fairly easy wheel to work on, and by using factory spokes I've taken the guesswork out of spoke lengths and angles. I'm sure I'll still need to call on the experts for future jobs which require, say, stainless spokes – but I've a feeling this first re-spoke won't be my last.
Article continues below...
Advert
---
Advert

Enjoy more Classic Motorcycle Mechanics reading in the monthly magazine. Click here to subscribe.
---