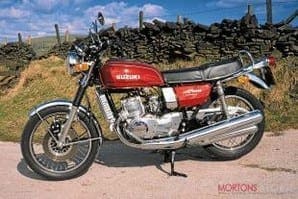 The Seventies were arguably the most prolific period of motorcycle development in the 20th century. It was when the Japanese manufacturers consolidated on their racing success, expanded the superbike sector and made it their own; when the British factories finally collapsed and Italian designers showed that they would be a force to be reckoned with.
The top 40 models I have chosen have been selected on the basis of performance, handling, style, reliability and economy. Many will say that some excellent bikes have not been included. Others will suggest that too many from one manufacturer have been listed. Have your say on our forum! Let the debates begin!
We've placed this article in the Japanese 'General' section, because the Japanese manufacturers make up the majority. European brands and are included, too, however.
40 Suzuki GT750M, 1975
While Kawasaki offered its snarling 750cc two stroke triple in a barely leashed form, Suzuki domesticated its watercooled three cylinder GT750 triple and launched it as a gentle but heavy tourer.
That might have been fine for a while but the competition was moving on. So in 1975, Suzuki's engineers took a cue from its racing division (Barry Sheene was racing its bikes) and tuned up the GT750 to kick ass with the big boys.
The bike was still bulky with its engine looming large either side and four exhaust pipes sprouting to the rear, but with 70 bhp on tap it could take its rider up to two miles a minute and cruise at the ton all day, except when topping up for fuel, which at 40 mpg was quite frequently.
Cornering clearance and handling were still a problem but the sheer exhilaration of launching the beast from bend to bend made it an experience not to be missed. And then forgotten.
---
39 Yamaha XS1100, 1978
Yamaha's reputation as a manufacturer of four strokes was dented by the mechanical problems of its 1976 XS750 shaft-drive triple. So when it brought out a bigger four cylinder model it had to be bullet-proof.
And the XS1100 launched in 1978 was. Powered by a 1101cc in-line aircooled four with double overhead camshafts delivering 95 bhp through a shaft drive, it was as rugged as they come.
It was also big, with a 61.5 inch wheelbase and an all-up kerb weight of 590 pounds. Smooth? You bet, because of the rubber-mounted engine.
And fast too. Huge though it was, the XS1100 could top 132 mph flat out. It would even hold 116 mph with the rider sitting bolt upright (not recommended). The quarter mile was despatched in a startling 12.3 seconds, reaching 110 mph.
But it didn't like going round corners, not that such a deficiency was a problem in the target US market. But on the straights all that power made you forget the twisty bits. Excess in name and deed.
---
38 Kawasaki Z400, 1978
Lasting impressions often count for a lot, and so it was for the unprepossessing Kawasaki 400 twin. It never aspired to offer great performance. Its looks would never make it stand out in a parking lot. It sounded like a car.
But for solid dependability and the fit of a pair of comfortable shoes the Z400 twin was a charmer. Its engine was a simple parallel twin with an overhead camshaft but twin balance shafts smoothed it out. Throttle response was so good from tickover to the 9000 rpm red line, you never needed to rev it. It barely needed its six-speed gearbox.
But every morning you'd fire it and it would be ready to go. Even city traffic became fun because the bike was so responsive and easy to use. And it was economical: up to 70 mpg without trying. More amazing was that it could reach 100 mph flat out. That's not boring.
---
37 Ducati 860GT, 1975
Italian motorcycles of the Seventies always provided a great experience, and not just because they had offered better handling than most.
It was the sound, the sensuous feel, the mechanical empathy. Their sports bikes were great but sometimes you wanted a bit of civility.
This came at Ducati when its first 860cc bevel-drive vee-twin was revealed for the 1975 season and styled by car man Guigiaro.
Although early versions only had kick starting, electric start models with left side gear change were made for the US along with a 'normal' riding position. But the sound from the booming 'silencers' was still there along with the beefy mid range power.
Top speed was just 115 mph, but it was how you got there that counted.
---
36 Suzuki GT250C, 1978
Suzuki was the first to launch a really quick 250cc sports twin with the T20 Super Six in the Sixties. But its alleged 100 mph potential declined and in the early Seventies the GT250 'Ram Air' derivative was a pale reflection of the original, both in performance and style.
Suzuki's designers got the message and by 1978 had made a number of styling changes that restored the model's former lean and mean looks. They also revised the engine with a better crankshaft layout and better cylinder porting that boosted the top end power. The result was a bike that was lighter (341 lb with a gallon of fuel) and potent enough to reach a top speed of 95 mph. Handling was let down by the taut suspension, but the bike was no less fun to ride. The following year it was replaced by the completely new GT250 X7 which was just as quick but so light (285 lb) that it felt like a toy.
---
35 Yamaha XS650, 1970-74
When other factories were launching the first superbikes at the end of the Sixties, Yamaha – until then a two stroke manufacturer – offered its first four stroke machine.
No doubt because of Triumph's success with 650cc parallel twins in the US, it was much the same, at least on the outside. It had classic styling but the engine was several steps more advanced than the British bike with a sturdy four-bearing crankshaft, an overhead camshaft and wet sump lubrication.
The promise was of a more potent machine but the first versions were poor handlers. And the performance – 107 mph flat out with a 15 second quarter mile – was underwhelming. But it was durable, as is testified by the number of specials with capacities up to 1000cc. Later in the Seventies Yamaha engaged former Triumph tester Percy Tait to sort out the handling, which he did, and the later XS650 versions of 1974 were much more enjoyable to ride.
---
34 Suzuki GS850G, 1979
Once Suzuki had shown in 1976 that it could design and produce quality four stroke fours that handled well (a first from Japan), it went on to develop bigger models with touring aspirations. The GS850G of 1979 was essentially a GS750 with bigger cylinder bores to increase the capacity, a shaft and bevel gears instead of chain final drive, lighter responding CV carburettors, a larger fuel tank and more comfortable seat.
With more weight, the 850 wasn't as nimble as the GS750, but it oozed quality and smoothness in spades, with a gearbox that was particularly crisp in action.
Performance provided for cruising at 100 mph with a top speed of 125 mph. Properly maintained, the 850 shaft will go for years, and was a better handler than the subsequent 998cc and 1100cc versions.
---
33 Laverda 750SF/SFC, 1974
Overshadowed by the more successful three-cylinder models, Laverda's 750cc twins offered a stylish and durable Italian alternative to British twins and the increasingly ubiquitous Japanese machines of the early Seventies.
Originally a 650cc parallel twin built for the US market (and looking very similar to Honda's 250cc CB72), the later 750cc (80 x 74mm) version was honed by the factory in European endurance and production racing.
Its horizontally split engine featured a crankshaft running in roller bearings, a chain-driven overhead camshaft and a belt driven dynamo. Everything about the SF, and the exotic limited-edition SFC production racer, was designed with durability in mind, but it didn't weigh much more than its competitors at 500 pounds tanked up and top speed was about the same as a Honda CB750 of the time: 115 mph. It gets into the top 40 because it combined stable handling and reasonable performance with Italian style.
---
32 BMW R75/6, 1976
BMW's 750cc flat twin of 1976 was the last in a long line of touring machines that adhered to a tradition for relaxed high-speed cruising. Its simple, horizontally-opposed engine had a heavy flywheel that damped not just throttle response but any other crude behaviour from the shaft drive. They were a gentleman's tourer; expensive but with a high build quality. In 1970, the Berlin-made twins had been completely made over with new all-alloy engines but by the mid-Seventies drum brakes had made way for discs, a longer wheelbase for handling stability and more up-to-date controls.
The R75/6 is listed rather than the bigger R90/6 because it reflected better the values that BMW represented best. As the engines became bigger they were less smooth: 750cc was about as much as you could take them to without losing refinement.
---
31 Yamaha CS5E/RD200, 1972-3
Few lightweight motorcycles command lasting acclaim, but Yamaha's 195cc two stroke twin qualifies as one of the most lively little bikes ever offered. Derived from a modest 180cc model, the CS5E of 1972 felt and looked like a racing bike in road trim with a huge front drum brake, sleek fuel tank and sporty styling.
The CS5E offered secure roadholding even if the frame and suspension prompted the occasional weave but with a weight of less than 290 pounds it didn't matter too much because the steering was so good.
Power was enough to pull wheelies in the lower gears but there was more to come. A year later the RD200 appeared with more angular styling and a more potent engine that could leave many 250cc machines in its wake.
Top speed was nearly 90 mph and quarter mile acceleration 17.5 seconds.