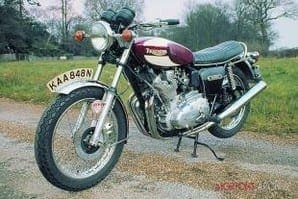 20 Triumph T160 Trident, 1975
With the BSA-Triumph group's fabulous racing success with its 750cc triples in the early Seventies, the Triumph Trident road bike should have been better developed than it was.
Dick Mann's Daytona 200 race win in 1971 on a BSA triple showed that when properly prepared the bike had stamina and speed. But the factory bosses were too blind to see the potential.
It wasn't until the 750cc production racer 'Slippery Sam' had won five TT races on the trot that the lessons learnt by former race shop manager Les Williams, who bought and prepared the former factory machine, were used in the 1976 Triumph Trident T160.
With the 740cc pushrod engine raised in a longer-wheelbase frame, the exhaust more effectively tucked in and electric starting bringing the T160 up to date, its brilliant handling was backed up a useful 120 mph top speed. But while it looked stylish, reliability and fuel consumption were poor.
---
19 Morini 350 Sport, 1977
Oddball machines like the Italian Morini 350cc vee-twin often have enthusiastic followings but they rarely stack up as long-term classics.
Morini, a family-owned factory in Bologna, was famed for its stunning race successes in the early Sixties when Tarquinio Provini on a highly-tuned 250cc single nearly toppled the might of the Honda.
The 350cc road bike launched in 1975 owed nothing to racing however. Designed by Franco Lambertini, it used a novel 72-degree vee-twin layout with Heron combustion chambers in the piston crowns to improve torque and reduce fuel consumption.
The design worked, because in Sport form the engine pumped out 39 bhp, enough for a genuine 100 mph top speed. But what made the 350 Sport appealing was the combination of taut and secure handling allied to the lively throttle response of the five speed engine.
---
18 Kawasaki Z650, 1977
When Kawasaki's Z650 four was launched in 1976, its capacity – the same as traditional old British twins – caught everyone off guard.
Its performance stunned riders too: it made the most of its claimed 64 bhp and 495 pound weight with a top speed of almost 120 mph and a sub-13 second quarter, humbling many of the of the 750cc machines of the day. Being compact with a 56.5 inch wheelbase, it was a fine handler too. Kawasaki's reputation had been tarnished by the earlier Z1 and Z900 models which, although blisteringly fast, were scary through the corners. The Z650 proved that a Kawasaki could be carved through the bends with the best.
It had stamina too: derivatives of the engine are still offered in 750cc form even in 2003.
---
17 Yamaha RD400,1978
By the Seventies, Yamaha had been producing sporty two stroke twins for road and racing for more than a decade. And while the watercooled RD350LC version is universally regarded the best of the breed, it wasn't launched until 1980.
Until then the title of top two stroke was held by the RD400, a more potent long-stroke derivative of the RD350. Strong mid-range power combined with a slim 345 pound chassis, enabled the most casual RD400 rider to zip away from traffic lights and easily pull power wheelies.
The best version was the later '78 E-model with revised porting, CDI ignition and more power giving, despite low gearing, a top speed of 107 mph. Larger diameter fork legs and raised foot pegs improved the razor-sharp handling even more.
---
16 Triumph T140E Bonneville, 1978
Many think that the Triumph Bonneville was past its peak in the Seventies, having been overtaken by higher-performance multis. But that analysis ignores the reason why some motorcycles endure simply because they are such a fine balance of responsiveness, handling and style.
The 1978 US-style version of the 740cc Bonneville hit the spot. Its raised handlebars, 2.5 gallon tank and low seat provided a lazy riding position that nicely augmented the handling of what was still a relatively light machine at 412 pounds.
Open it up and the pushrod twin responded with a lusty growl: you didn't have to rev it for fun.
Yet it could hold a comfortable 90 mph cruising speed and top 114 mph. Pity that the bulbs would still keep blowing.
---
15 BMW R90S, 1973
Until the launch of BMW's R90S in 1973, the German boxer twins were expensive, high-quality, long-distance tourers. With shaft drive, soft suspension and a heavy flywheel, they demanded a riding style that was measured and controlled. They even looked worthy and could hardly be described as exciting.
The R90S changed all that with its bikini fairing, faired seat and smoked paint finish. The high-compression 900cc engine featured deeper breathing Dell'Orto carburettors and with raised gearing compared with the basic R90/6 model, offered higher cruising speeds.
But it's arguable that the R90S's higher gearing dented acceleration so although the engine was more potent, it could barely be called a performance machine. As an icon of quality, however, nothing could touch it.
---
14 Moto Guzzi 850 Le Mans, 1976
Although Moto Guzzi's 750-S3 sport bike was my personal favourite from the Mandello Del Lario factory on the shores of Lake Como in Italy, the later Mk 1 850 Le Mans was the pinnacle of the in-line vee-twins.
Long and low, smooth and long-legged, the Le Mans offered its rider an aggressive stance behind a tiny screen and clip-on bars. Breathing through huge 36mm Dell'Orto carburettors, the 10.2 to 1 compression engine pumped out a claimed 80 bhp, enough to propel the bike to almost 125 mph. Braking too was potent, one of the two front Brembo discs and the rear being interconnected. Although the engine was originally produced for a military light car, it was ideally suited to a motorcycle application, being slim across the crankcases. With the crank in line with the frame, shaft was the natural drive choice. That and the long 59-inch wheelbase slowed the handling, but some just like it that way.
---
13 Suzuki GS550, 1977
Some will say that having three of Suzuki's GS-series fours in the top 20 is overkill, but they were that good.
Where the 750cc four, the first to be launched in 1976, was a landmark in motorcycle development – showing a Japanese machine could handle as well perform – the GS550 was even more refined in its category.
I would have liked to have included Suzuki's earlier GT750 or GT550 two strokes because they were such a tirelessly smooth cruisers, but the GS was so much better with a top speed of 115 mph and acceleration not much slower than the 750.
The GS's handling, roadholding and steering were in a different league from the GT, not to mention fuel consumption. The GS Suzukis typify the development of motorcycles in the latter half of the Seventies with designs that were mature, intelligent and refined.
---
12 MZ TS250, 1975
As a rule, the motorcycles produced by the Eastern Bloc countries were so awful that even being cheap wasn't much of a virtue. Most other secondhand bikes were better than a new machine from the other side of the Iron Curtain.
Except for MZ's 250cc two stroke singles. Made in East Germany, they offered a high level of build quality for the price, precise handling, and plenty of practical features such as an enclosed drive chain.
Though the TS250 might not have won any style awards, its unpretentiousness and relaxed feel made every journey a joy, so long as it wasn't through heavy traffic.
With a heavy flywheel and torquey power it could hold a relaxed 60 mph cruising speed while the large tank enabled a usefully long range on two stroke
mixture.
---
11 Honda CB400T/N, 1977
Most wouldn't give Honda's CB400 twin a second glance if they passed one parked in the street. Even when they were new in the Seventies.
Packed with new technology, the dumpy-looking five-speed CB400T was launched in 1977 and soon after panned for looking weird, especially in the US. The short-stroke ohc engine came with three valves per cylinder and balance shafts, and pumped out 43 bhp.
The chassis was no less innovative, with fabricated light-alloy Comstar wheels and semi-monocoque frame.
With sleeker Eurostyling for 1978 and six speeds, the CB400N could cruise at 90 mph and top 110 mph in good conditions, yet still return 50 mpg. Its package of price, reliability, performance, style and handling have rarely been matched.