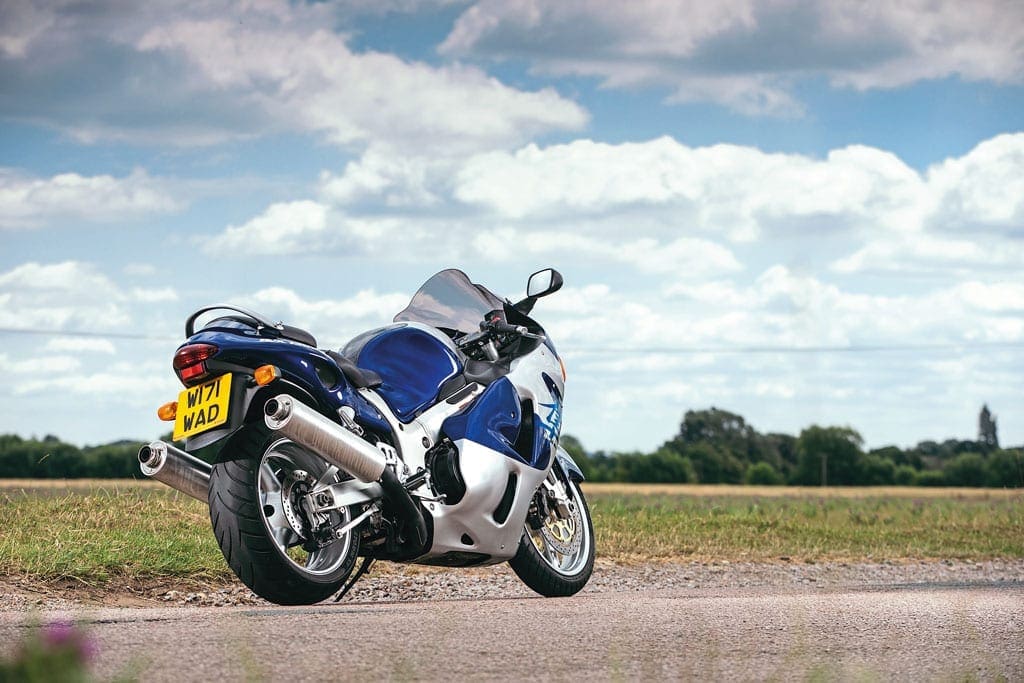 Words: John Nutting | Photos: Gary Chapman
After 20 years of speed record breaking, the GSX1300R Hayabusa was dropped from Suzuki's UK line-up in 2019. John Nutting celebrates some of its achievements and rides a pristine example.
I must confess to feeling slightly nervous after editor Bertie asked if I'd like to have a go on a Suzuki Hayabusa and write about it from CMM.
After all, not only was the Hayabusa launched in the late 1990s, long after I'd retired from performance testing motorcycles, but it had acquired legendary status as one of the fastest production machines ever offered with, some say, the capability of topping 200mph. In other words, the Hayabusa could be regarded as a bit of a handful for the less initiated like me.
Owner Martin Pottage had got in touch to offer his bike because it is around 20 years since the GSX1300R first reached showrooms and shocked riders with its swoopy lines. It was appropriately named after the Japanese for the peregrine falcon, a bird that reputedly can hit the double ton in a dive, making it the fastest animal on earth.
More to the point, 2019 was the last year of the current Hayabusa's production – the model is being dropped from the Suzuki range because it can't meet the latest Euro 5 regs. Sad that, when you consider what the bike has achieved over the past two decades. So consider this a tribute, as Martin had hoped, to a motorcycle that is truly legendary.
The Hayabusa was launched at the Munich bike show at the end of 1998 when the top speed of the most potent superbikes was approaching 300kph, or 186mph. Kawasaki's ZX11/ZZ-R1100 had already been tested at more than 178mph and Honda's CBR1100XX Super Blackbird topped that figure in 1997 to become the world's fastest mass-produced motorcycle.
Suzuki aimed to blow that into the weeds with the Hayabusa. This was achieved with a combination of a bigger engine producing much more power and full-on aerodynamics. Until then, Suzuki's range-leading superbike had been the GSX-R1100W, an unwieldy 1074cc four that had been the culmination of just over 10 years of development from the original GSX-R750 and 1986's 1100.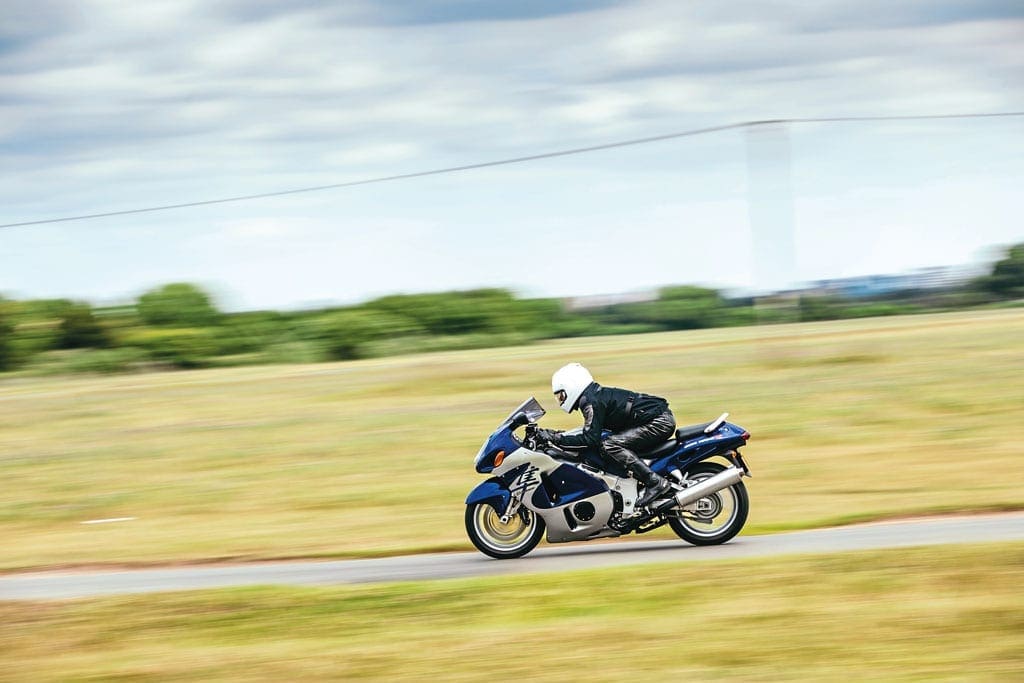 The Hayabusa took its cue from the latest GSX-R750 and GSX-R600 models with a low light-alloy beam frame housing a new liquid-cooled 16-valve engine that owed more to that used in Suzuki's Swift GT sports car produced from 1986 to 1997, but in a much higher state of tune. With a shorter stroke of 63mm and larger bores of 81mm, the Hayabusa engine packed its claimed peak power of 175bhp at a heady 9800rpm.
That might have been enough to assume the mantle of 'world's fastest', but Suzuki's project leader Koji Yoshiura went all out to reduce the aerodynamic drag to a minimum by smoothing out any interruptions in the flowing surface of bodywork with an all-enveloping front mudguard, a low snout and a high tail. Power was also boosted with gaping air intakes either side of the skinny headlamp.
Yoshiura is reported to have said that he wanted "… to create a somewhat grotesque design and create a strong initial impact… The mission was to create a total new styling that will not be out of date within a few years, and a styling that will be the 'face' of Suzuki". Well, he achieved that. No factory has attempted to match the Hayabusa's 'face'.
Even at a standstill, the Hayabusa looked capable of a double ton. Its potential was affirmed when riders at the bike's Press launch clocked top speeds of 280kph (174mph) on the short 1000-metre start-finish straight at Jerez in Spain. What was equally remarkable was that the riders were just as impressed by the bike's civility and all-day touring potential.
Soon after, Spanish magazine Motociclismo took a Hayabusa to the motor industry proving ground at Idiada near Barcelona, where on a 7.5km bank oval track it was held flat out to clock a timed top speed of 313.6kph, or 194.7mph. Acceleration was just as stunning. From a standing start the Hayabusa clocked 9.97 seconds for the quarter mile with a terminal speed of 147.7mph.
Though the Hayabusa was both quick and fast, you couldn't escape its jelly-mould looks that were as far from road racing as it gets. That didn't bother the Kiwis, though. Brian Bernard won the final round of the 1999 Suzuki road race series in New Zealand, the 'busa's first victory anywhere in the world. The following year he won the first Formula Xtreme race.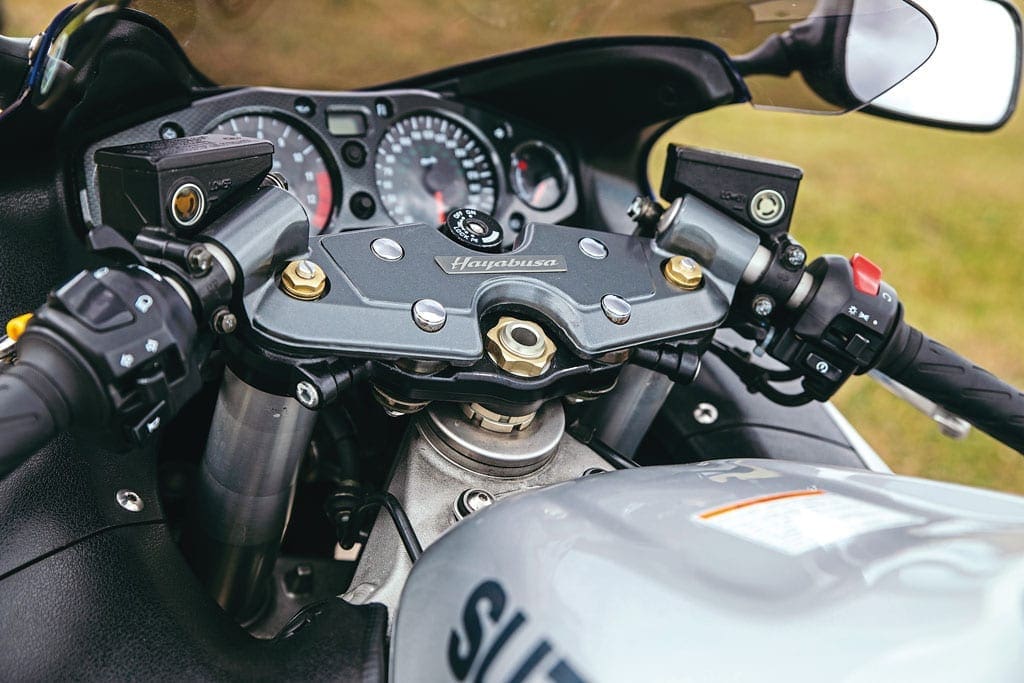 So the Hayabusa was fast. But could it last? To prove that and show that its latest tyres were up to the job, Pirelli took two Suzukis, including a GSX1300R, to Fiat's 12.5km circular test track at Nardò in southern Italy in June 2000.
Over two days the Hayabusa – a stock machine prepared by Roberto Papetti– was ridden by a team of five riders to a string of records. To get in the swing of things, they clocked 306.598kph (190.4mph) for the flying kilometre, then went on to take the distance records for six hours of 1618.6km, at an average speed of 269.8kph (167.5mph), and 12 hours of 3043.6km at 253.6kph (157.5mph), including stops for fuel and rider changes.
More recently, Pirelli used a Hayabusa to prove the endurance of its then new Angel ST tyres at Nardò in 2009. Despite covering 3,209 miles at an average of 143mph, the tyres survived unscathed. In this case the Hayabusa was seen as the toughest possible challenge to Pirelli's rubber.
The Hayabusa has also been long regarded as a platform for speed record bids. In the UK, Straightliners organises events that cover a range of bike classes at locations like Elvington airfield in York and Pendine Sands in Wales. The highest speed recorded so far was the 272mph averaged over the final quarter of a standing start mile by Phil Wood on a Big-CC prepared Hayabusa in 2018.
Sean Mills at Wokingham, Berkshire-based Big-CC has been tuning Hayabusa-based machines for about 16 years and prides himself that the highest power he's seen on a dynamometer is with a machine he calls 'Project Pisstake', which produced a phenomenal 936bhp using a capacity increase to 1650cc, a massive turbocharger and a Mototech engine management system.
The Hayabusa that Phil Wood raced wasn't quite as crazy, being a road-legal version with a stock wheelbase that he rides occasionally to the pub near where he lives in North Wales. A power station operations manager, he reckoned that the turbocharged 1536cc engine was capable of churning out 550-600bhp, although he reckons that 450bhp is enough on track.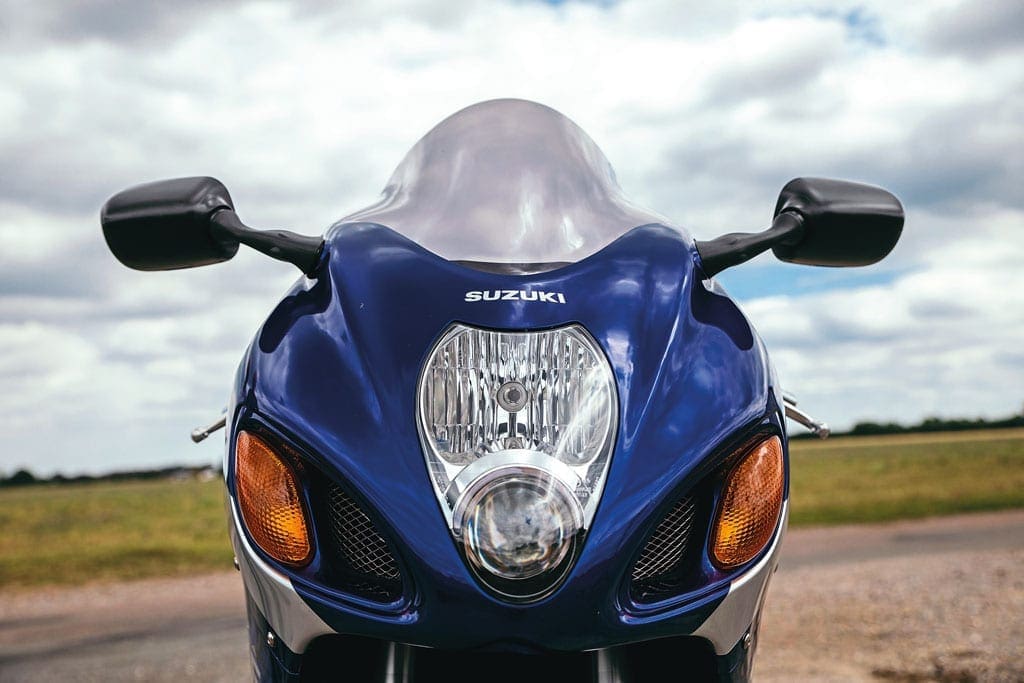 Phil is one of three teams, the other two being Jack Frost of Holeshot Racing and media star Guy Martin, who are aiming to use even more highly tweaked Hayabusas to reach 300mph at Elvington in 2020.
With all this ringing in my ears, I arrived at Martin Pottage's gaff in Windsor in the expectation that I'd be handed a fire-breathing monster of a machine. Nothing could have been more prosaic. The 2000 Y-model GSX1300R, the second year of production, was mint in silver and blue, and appeared well looked after with just over 7000 miles on the clock.
At first contact the Hayabusa seems long and low, but the volume of the all-encompassing bodywork adds a feeling of bulk. Martin had removed the bottom half of the fairing to show off the liquidcooled four-cylinder engine that hangs from the light-alloy side beams of the frame. You can't see the 16-valve double overhead camshaft head, which is fed by four huge throttle bodies.
The grips are tucked in and low, just above the top of the fork legs, and don't lend themselves to easing the manoeuvring of the machine in tight spaces, making it a bit intimidating if you're worried about dropping the plot and scraping the bodywork. Inside the fairing the conventional speedo and rev meter are flanked by a fuel gauge on the left and the coolant temperature gauge on the right, along with the digital odometer, trip and warning lamps.
Even swinging a leg over the seat felt a bit unnerving,despite the bike not having its signature windcheating tail hump, but I needn't have worried. Once fired up, the controls felt light and the steering less heavy at low speed than I'd expected from the claimed 215kg weight. The Hayabusa felt strung out to me, with a long reach to the 'bars, although six-foot-plus Martin said he didn't have a problem with it.
On the road, the sense is of unlimited power. On the urban streets and A-roads leading out west towards Maidenhead there was barely a need to snick higher than third with less than 4000rpm on the rev meter. Occasional bursts produced a deep, throaty roar from the air-box and an indication that the Hayabusa is powered by a rugged and barely refined engine. A touch on the brake lever and the front dips quickly as the old-style twin six-piston calipers bite onto 310mm discs.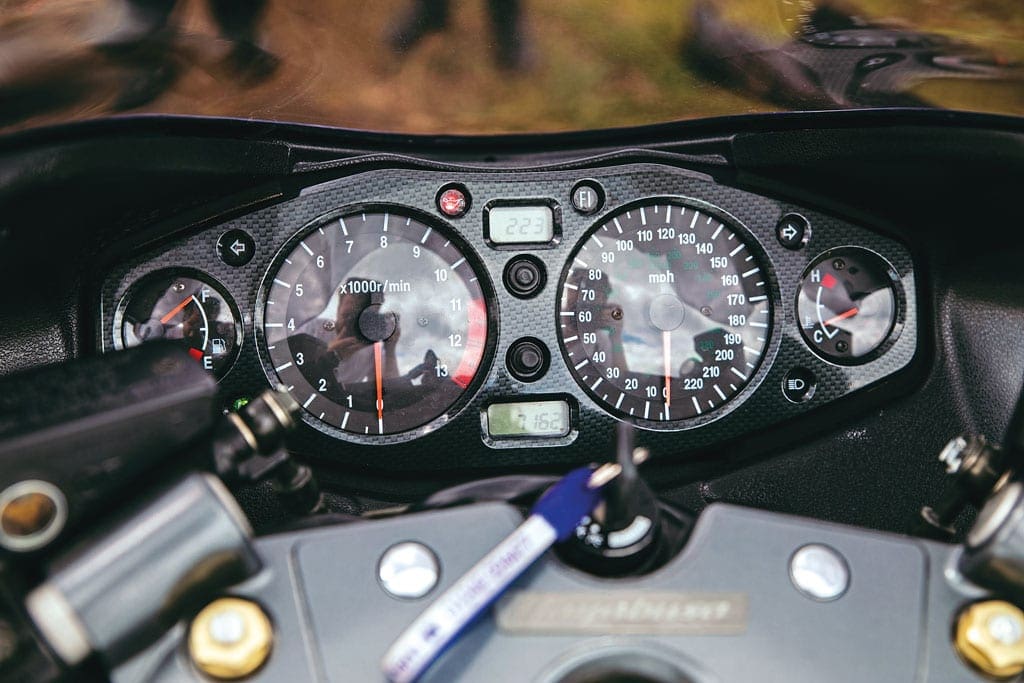 The suspension felt stiffer than I'd like. Both ends, with hefty upside-down fork legs up front and a single shock linkage at the rear, offer a range of spring preload and damping (both compression and rebound) adjustment. But Martin hadn't been minded to have a fiddle with it. Perhaps his bigger frame tested the spring rates more than me.
As a rule, wide tyres slow the steering. The Hayabusa has traditional 17-inch diameter wheels with a normal 120/70ZR17 front tyre on a 3.50 rim, but the rear being one of the first to sport a wide 190/50ZR17 tyre on a spool-like 6.00 rim. It's not a bike that lends itself to agile behaviour, with steering at speed that calls for a measure of preparation for tackling corners.
You might think the Hayabusa has a long wheelbase; surprisingly it's just 1485mm or 58.5 inches, so not much more than most superbikes. Tootling towards Henley and the Thames bridge crossing we were cranked into a right hander when a dropped drain cover that I couldn't avoid appeared. Expecting the worse I braced for the impact, but with no more than a twitch at the 'bars it ploughed through with distain. I was impressed.
Riding north into the Chilterns, the roads opened up and I released the Hayabusa from its leash. That initial stretched-out feeling of the bike had lessened as the weight on my arms was lifted under acceleration. And what acceleration: there's no need to change down on the Hayabusa, which just reacted instantly to the twist grip and urged ahead into the hills. Cresting the chalk escarpment, we turned east at Watlington and aimed for the M40 to return. It was the first real opportunity for the Hayabusa to show its capabilities.
Out of curiosity, I nailed it to the 11,000rpm red line in the first three gears on the uphill slip-road and although I'd expected the Hayabusa to be quick, just how quick it was left me gasping. Suffice to say that the Hayabusa's gearing is high, the 3.92 to 1 top gear ratio providing 180mph at 10,000rpm if there are the legal circumstances to enjoy it.
You can break the UK's legal limit of 70mph in first, get to a ton in second and be travelling at two miles a minute in third. At 70mph in top, the engine is dawdling at 3900rpm. Cruising is a bit like using a Saturn rocket for going to the shops. But in the real world there's not much need to jump around the gears. The engine is a beast, pulling hard everywhere in its range.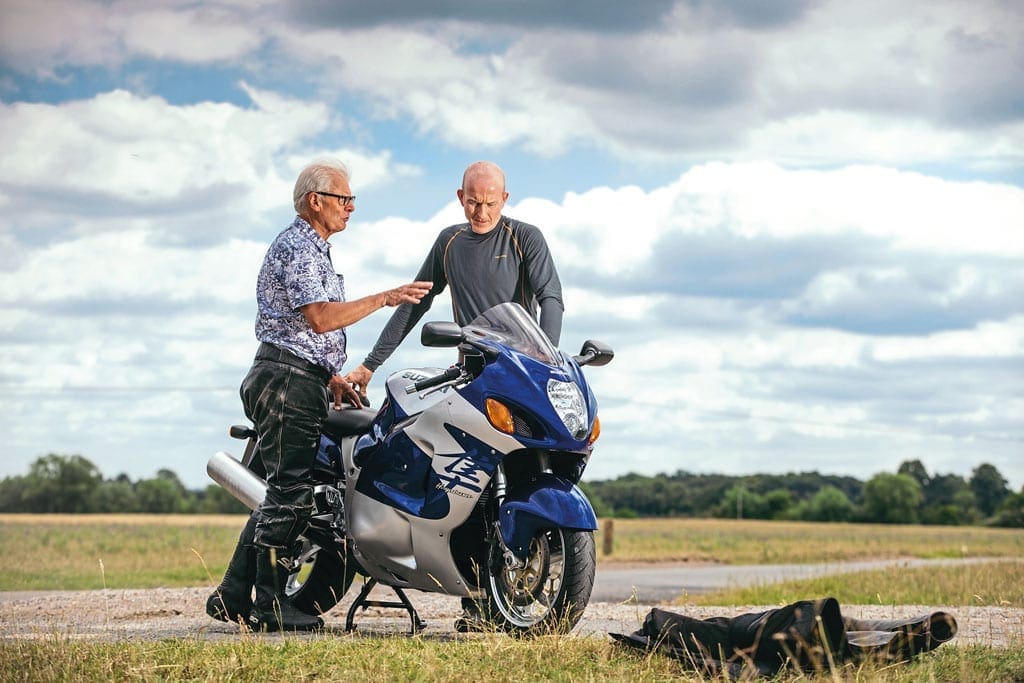 Martin said before we set off that it gets stronger at 4000rpm, but my experience was of an unrelenting torrent of power available at will. Lovely. It's also raw power. It's a big engine at 1298cc that's bolted solidly into the chassis just a few inches from your chin, and you know it. Despite using a double-speed balance shaft, the engine still vibrates, not enough to be a bother, but as a constant reminder that you're in control of one of motorcycling's most celebrated power plants.
When we returned to Windsor I was fried, not so much from riding the Hayabusa in slow traffic again, but because of the additional need for concentration. I was surprised at how smooth the off idle response to the twist grip was, and this meant you had to rein it in the whole while. No wonder Martin uses it only for 'special occasions'.
If the original Hayabusa was already potent enough, Suzuki upgraded it with the K8 model in 2008 with the capacity increased to 1340cc by use of a longer 65mm-stroke crank, and a new cylinder head with bigger valves fed by larger throttle bodies, mostly to meet the new Euro 3 emission standards.
Suspension, brakes, clutch and the front fork were also upgraded, and the weight increased to 220kg, but more importantly the peak power was boosted to 194bhp at 9500rpm. Gearing was altered slightly with the adoption of a larger gearbox and rear wheel sprockets, but it's arguable if the top speed was
increased: certainly on a test track like Nardò, but not in the normal world of mortals.
So is it goodbye to the Hayabusa? Perhaps not. The rumour mill has been suggesting that an even bigger 1440cc version that meets Euro 5 standards is being hatched by Suzuki. In which case it's been a wonderful two decades for the Hayabusa, so let's say 'The King is dead, long live the King'.