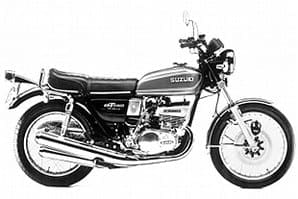 Suzuki wasn't the first on the market with modern two-stroke triples but for many their arrival four years after Kawasaki's H1 represented time well spent within the R&D Dept. Rather than compete head on with the banzai nature of the competition, the Hamamatsu boys produced three well considered machines under the guise of Grand Tourers hence the GT moniker. The GT550 sat between the slightly overweight 380 and the full-on 750 offering a very pleasant compromise between power, smoothness and mass. When launched the 750 was jaw-dropping in its technology and for some riders too much; in terms of price, weight and perceived running cost.
The GT550 was faster than the baby triple, yet wasn't as technically complex as its larger sibling; for many riders the sums just made common sense. In common with the company's range at the time the middleweight used the much vaunted Ram-Air cowl on the cylinder head. The alleged purpose was to reduce top end engine temperature and thus maintain performance. On the 250 twins the system was latterly dropped but on the air-cooled triple the cowl remained a feature until the end of the model run; with a centre pot to keep cool there's reasonable evidence that the design worked.
Ultra-smooth and super-reliable, with a broad range of torque courtesy of the mild porting arrangement, the GT550's power delivery was almost as creamy as the 750's. That strong midrange power allowed the rider to short-shift while still enjoying a real kick in the pants as the bike surged ahead.
Unlike an H1, the bike was designed and built for all day rideability rather than impromptu drag strip performances. Ergonomics rather than razor sharp handling was the bike's remit but it was certainly no worse than its market place rivals and in many cases much better. As 70s Japanese middleweights go it would be hard to conceive a better all-rounder. More character than a Honda CB500, less fraught than a Kawasaki H1 and more reliable than a Yamaha XS500; it's amazing they don't yet have a cult following.
In detail – GT550J 1972
The first of the 550s and probably the most sought after (as many first of type machines often are). Most Js had a 4LS front drum brake but very late bikes may have been built with a disc unit. Available in gold or blue candy paintwork with a black tank stripe that blends rearward down into the air box end covers. Engine side covers and Ram-Air cowl are painted metallic gunmetal grey (which also features on the K model).
GT550K 1973
All Ks came with a front disc brake and a new paint scheme; lime green metallic and purple blue metallic aka Hermosa blue or gold. The tank stripe is now changed for a more conventional C shape; evidence seems to suggest all three colour schemes employed the same dark green tank decal.
GT550L 1974
New brighter colour schemes are used; Hawaii green, marble scarlet or silver. Headlamp brackets and shell are now chrome in places and fork stanchions are exposed. Tanks have gold C shaped decal and air box ends are now chromed plastic. The engine side covers and Ram-Air cowl are in plain lacquered alloy. Some markets (including UK) lost the linked down pipes.
GT550M 1975
The GT now sports a more conservative look in grey metallic, candy orange or gloss black with a pair of contrasting pinstripes in black or gold. Little else changed for this model year. The passenger grab rail appears to be fitted or omitted almost at random for most models post J, dependant on market destination. Conventional iron liners are dropped for chromed bores and certain markets again dispense with the linked down pipe system.
GT550A 1976
Visually very similar to the previous M model but once again with new paint schemes in candy rose, forest green or targa red; similar contrasting pinstriping. The front mudguard loses the front brace, which has been a feature since 1972. More markets dispensing with the linked down pipes continues.
GT550B 1977
The final model year of the bike as the GS range takes over. New colour schemes of metallic blue or spark silver both running twin silver pinstripes. The bike's side panels are now in self colour satin black to match corporate appearance for all machines of the 1977/B model run. Headlamp shell and brackets are also painted black. The linked down pipe system used since 1972 is finally omitted for all markets in the last year of production. Traditional GT style indicators are replaced with X7-type units.
? Suzuki GT550j image gallery
? Other Suzuki articles

Enjoy more Classic Motorcycle Mechanics reading in the monthly magazine.
Click here
to subscribe.