Some bikes really do slip into the 'rocking horse poop' category and the bike you're looking at is such a beast. Let's ask its owner why he wanted such a rare beauty in the first place.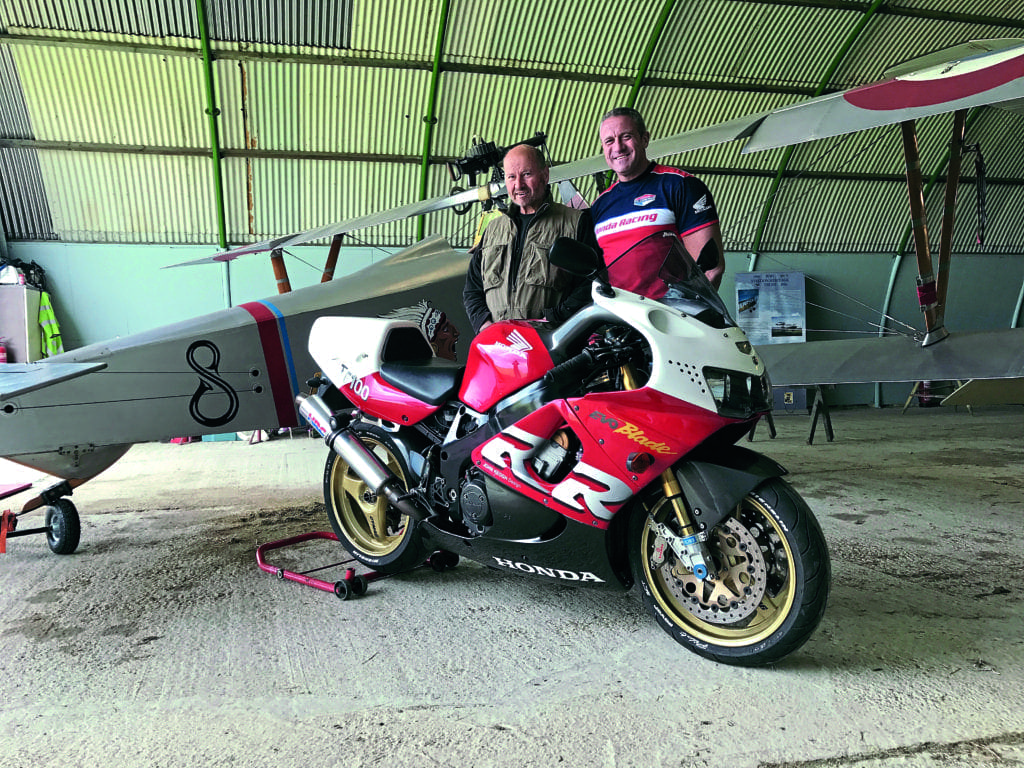 Ian Edmondson is a grafter. He works 'away' from the UK for months on end in the Far East and earns well enough thank you very much. He also loves bikes and (like many of us) his grafting funds his passion.
To keep up to date everything Classic Motorcycle Mechanics, like our Facebook page or follow us on Twitter here.
"From the age of 15 or 16 I've loved bikes," says Ian. "So I've had an RD50LC, 125s, LC350s, Powervalve and then a Kawasaki GPZ600, that was my limit before I got married and had a daughter."
With the bike bug biting for a second time, in came a flurry of bikes including Yamaha R1s and Kawasaki ZX-10Rs… but: "I mainly stuck with Hondas," explains Ian. "Working as a welding engineer I eventually ended up as a quality manager and quality is the word you use when discussing Hondas: especially FireBlades."
So far, nine FireBlades (and Fireblades, as the post-2004 models are called) have passed through Ian's hands, but the Holy Grail of Blades eluded him. He says: "I wanted an EVO Blade from when they first came out but I didn't know how rare they were. I spotted this one on a forum and the owner was asking what it was worth and got the answer from one bloke of '£6500'. We began to message each other and I actually booked £1500 of flights from Thailand over Easter last year to specifically see the bike. When I arrived I could see the bike was in a bit of a mess… There was rust here and there, the frame was black when it should have been silver."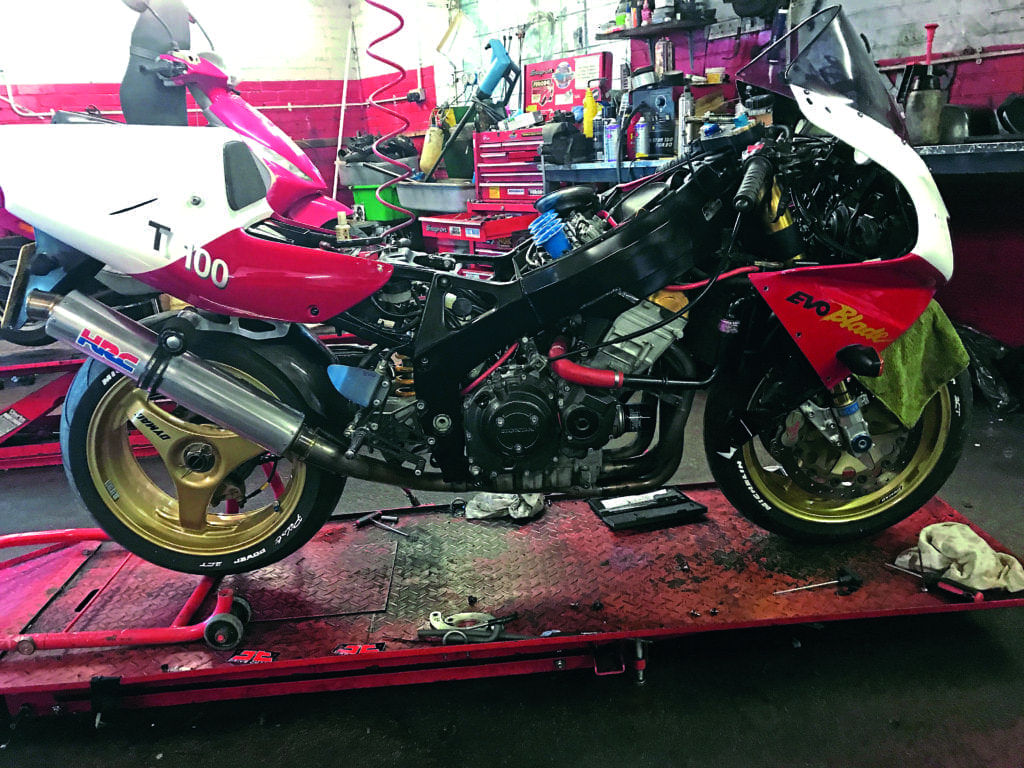 Ian had already contacted Russell Savory, creator of the TT EVO Blade (see boxout) so he knew that this machine was number 14 made and he had details of the bike's history and original owner. With Ian having to return to work, he entrusted the bike to Isle of Man TT rider Dan Stewart and Lee Jefferies at Bridgegate Motorcycles, Barrow-in-Furness. Ian says: "The parts quickly went everywhere to get sorted. Lester Harris at Harris Performance sorted some original foot pegs to replace the incorrect ones, the bodywork went to Pete Trayler at Padded Cell Paint: they did the original EVO Blades. All of the 'stickers' were airbrushed as I found out that at least half of the bikes were done this way. Russell told me that back in the day the stickers didn't look so good, so Padded Cell airbrushed mine."
Other things had to be sorted – and sorted quickly, as Ian wanted to unveil the bike on September 2 to Russell Savory himself and members of the Honda Fireblade Owners Club.
To keep up to date everything Classic Motorcycle Mechanics, like our Facebook page or follow us on Twitter here.
Russell helped by handing over all the original drawings and CAD/CAM pictures to Ian as well as lots of original TT EVO Blade memorabilia including a box of plaques that were used on the yokes to tell the owner which number of EVO Blade they had. "He also told me that only 22 of these bikes were ever made," explains Ian. "The majority of them – 20 – were red, one was the 'Stealth' black one and the other silver with a big-bore motor." Soon the parts were coming together, the frame was taken back to metal by TPCS Powder Coating, the carbon-fibre frame guards reinstated thanks to Lee Gudgeon at King Carbon. New tyres went onto the stripped and refurbed Dymag wheels, a new chain and sprockets were added, the leaky tank was fixed before going to Padded Cell, and the incorrect 'HRC' end-can was replaced with a pukka Micron can from the British (sadly now no longer with us) exhaust and aftermarket parts company. Max Torque Cans also helped re-manufacture a link-pipe to suit."
The bike was also given a compression check on the motor and fully serviced with many other small but significant updates – including a move to taper-style head-bearings – were made to the bike before the big day dawned.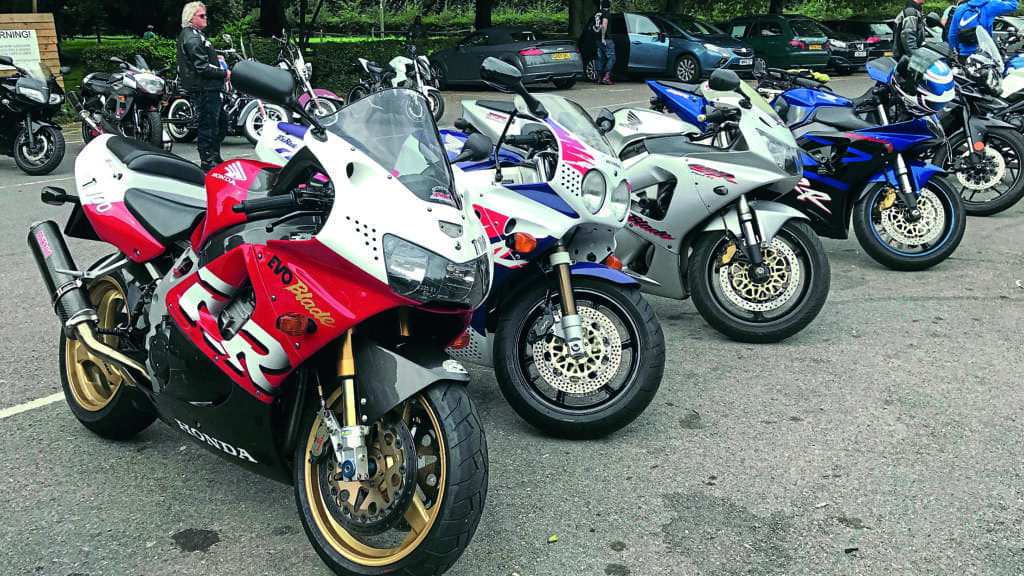 "When he saw the bike, Russell was almost in tears," says Ian. "Lester Harris was there, Darren 'Spider' Maisey one of the original guys who put the TT EVO Blades together was there too and many from the Honda Fireblade Owners Club. It was a great day chatting about bikes and hearing all the stories."
All told, Ian reckons the bike owes him £15,000 including the price of purchase, but with one being sold recently for almost £20,000 (and with the providence on this one provided by Russell, along with his signature on some of the panels and original bill of sale) we reckon he would make on it, should he wish to sell. Not that this seems likely… it joins his mint 954, 2014 SP Fireblade and a 206bhp track bike, with an engine and fairing from Jonathan Rea's Castrol-backed Blade in World Superbikes. Yup, Ian loves his Blades. He says: "I don't hang about – I'm a riding instructor for Pirelli Thailand – and in all my time with Blades I've never had an engine blow or a gearbox let me down. They're solid!"
The lucky git has also just acquired a Honda RC30 and 45 (both with just 9000 miles on) but still loves his EVO. "Riding it is so nostalgic," he says. "It's got lots of torque, great brakes, those distinctive air rams, chattering flat slides and amazing handling. It has true race pedigree despite being 18 years old and still draws people's attention at a bike meet! I'm proud to own one of only 22 in existence!"
To read more, you can purchase the March 2018 edition for the whole feature with plenty more expert knowledge and more pictures! Just click here!
To keep up to date everything Classic Motorcycle Mechanics, like our Facebook page or follow us on Twitter here.