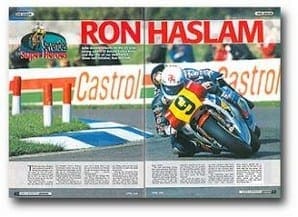 To this day, Ron Haslam, who endeared himself to British fans during a racing career of over 25 years, can't remember whether it was late in 1971 or early in 1972 when he lined up for his first race at Cadwell Park.
He does, however, confess that the debut race outing on his brother Terry's Norton Commando Seeley was not his first time on a race track. At the age of 15, Nottinghamshire born Ron was in charge of running-in engines for his brother, a task that he was entrusted with when he was 14!
You weren't allowed on a track with a race bike until you were 16 in those days," said Ron as he worked on a Honda for his son Leon to race in this
year's 25 British Championship.
It was the test outings that fired Ron's determination to race himself, and there was a further boost in this direction when the second of his brothers, Philip, came on the scene and started to make the grade at top level.
During the Seventies Ron became known for his amazing performances on a tatty looking Yamaha TZ750. In fact he upset the established stars of the time, such as Barry Sheene and Mick Grant, who labelled him a 'nutter'.
The man providing 'young Ron' with machinery back then was Mal Carter, himself a rider who got firmly involved with the Haslam brothers when he decided to quit racing himself.
Mal provided 250 and 350 Yamahas to run under the Pharoh team banner in 1975 when Ron chalked up 16 victories. Finance was no problem by then and Ron quickly added an oversize 350 for the 500cc class and a 700 Yamaha that was first raced by Roger Marshall.
Mallory Race of the Year
Ron made his debut on it that year at the Mallory Race of the Year and promptly ended up with a broken collar bone when his 350 riding techniques resulted in the machine spinning from under him at Devil's Elbow.
The following year Ron made his Daytona debut but a 140mph crash in practice left his bike in flames and the rider bvery sore and bruised.
"Somehow we got the bike rebuilt but I was aching a lot, otherwise I honestly think I would have beaten Kenny Roberts that day," said Ron.
Despite several mishaps, the Haslam talent attracted the attention of the works teams and in 1977 Honda Britain 'borrowed' him from Mal Carter for the Fl support race at the British GP. Ron proved it was the right decision by winning the race and lapping Silverstone faster that day than 500cc GP front runners Sheene and Roberts.
During the following two seasons a unique joint sponsorship existed for Ron between Carter and Honda, but after he clinched the TT Fl world and British titles in 1979 it was set to be Honda and Haslam for the rest of the way.
Factory team racing years
Although Honda is the name synonymous with Ron's factory team racing years, it was Suzuki who first approached him with an offer in 1975. "They wanted me to race a spare bike at Oulton Park, but it didn't seem to please Barry Sheene who said that he wouldn't ride for them if they gave me a bike as well," recalled Ron.
"He thought I was to hotheaded to be trusted with a factory Suzuki."
Ron in fact went out in practice on a Suzuki but crashed and broke his wrist when the front brake union came undone as he sped down Cascades. "There was no response from the front brake as I went into the left hander and I hit the grass around 90mph," he said.
Although Ron raced a 500 Honda in the 1977 British GP, it wasn't until 1983 that he set out on a full GP season for Honda Japan. It was the same year that son Leon was born and he and his wife Ann bought their current home, a farmhouse with 37 acres of land in the Derbyshire village of Smalley on the southern edge of the Peak District.
By that time he had to his credit, as well as the 1979 successes, the 1980 TT F3 world title, the MCN 1981 Superbike and Streetbike championships, and the 1982 TT Fl British title plus that year's winner's trophy for the Fl race in the Isle of Man.
Ron ended his first full GP season in eighth place and with his three cylinder Honda moved up to fifth the following year and added the ITV World of Sport title for good measure with the same machine.
After sharing fourth place in the 1985 world championship with Wayne Gardner, Ron was assigned to a spell of development riding with the Elf Honda team. For two seasons he raced the hub-centre steering machine with three cylinder engines before switching to a 'four' for the 1988 season, at which point the Elf development project ground to a halt.
After a GP season with a Suzuki he spent a year with Cagiva as a development rider until he returned to the British scene for even more development riding with the rotary engined Norton.
In 1995 Ron, as enthusiastic as ever about racing, contested the Triumph Challenge series and even as he approaches his 42nd birthday 'Rocket Ron' remains in racing with his son Leon and operating the Donington road race school with his wife (and business manager) Ann.
View original article