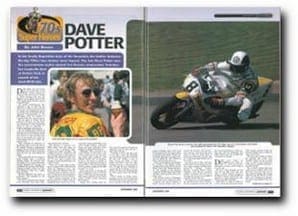 The late Dave Potter was the consummate stylist aboard Ted Broad's immaculate Yamahas but tragically died at Oulton Park in search of his third MCN title.
Dave Potter was one of the most successful riders on the British circuits during the Seventies and wars firmly on course to follow through well into the Eighties until tragedy struck at the 1981 August Bank Holiday meeting at Oulton Park.
The modest Yorkshireman, who preferred to get on with the job rather than wallow in the accolades of success, was leading the second race of the day for the MCN British Superbike Championship he was defending, when he crashed at Cascades with only a lap remaining.
He was taken to Chester Royal Infirmary and then, two days later, was transferred to Stoke Mandeville where he died on September 17 without regaining consciousness.
He was leading Ron Haslam in what was to be his final race, having won the first on the Cheshire circuit as he strove to make up from poor start to the season and retain the major British title for a third con­secutive time.
Dave stamped his authority on the British scene in the main with a BP backed Yamaha, methodically prepared by two stroke perfectionist Ted Broad who he been associated with for over six years before his death.
Dave, never the sort of person to thrust himself upon a would-be sponsor despite his obvious skill and ability on a racing motorcycle, actually plucked up courage and volunteered his services when Barry Ditchburn ended a three year stint with Broad to take on a works Kawasaki ride.
His first approach was given an immediate cold shoulder by the Essex sponsor.
He made it perfectly clear that he never discussed deals with riders who already had a sponsor.
The sponsor in question was Willie Ryan, who had taken on Dave to race a prototype three cylinder two stroke 'Crescent'. The machine was never competitive and was driving Potter to the depths of despair as he attempted to race it at the TT and keep it going long enough to finish the full distance on a short circuit.
Potter was on the verge of pack­ing up racing in 1975 until he heard about the Ditchburn move, told Ryan about his dilemma and was overjoyed when he agreed to drop a hint to Ted that he was planning to terminate Dave's contract anyway!
Broad emporium
Dave returned cautiously to the Broad emporium at Ilford where a handshake set in motion one of the successful racing partnerships ever, with straight talking southerner Broad and quiet northerner Potter gelling to unexpected perfection.
Although 500cc machines fea­tured strongly in their plans, most of the major success over the ensu­ing years were achieved with Yamaha TZ700 and 750 machines. In fact, it all started as quickly as 1976 when he claimed the King of Brands with a 750 and finished fifth (from just three outings) in the FIM Formula 750 series.
Dave came close to wearing the MCN Superbike, crown for the first time in 1978 when he went into the final round at Brands juts six points behind double world champion Barry Sheene.
Things were looking good for Dave until he struck an oil patch at Clearways and the title went for a fifth time to Sheene.
Ironically, it was at the same spot on the Kent circuit the following year that Potter secured the title for the first time. Despite a lack of sleep, having just jetted in from Japan, and with a sore arm after crashing during a demonstration race at Sugo, he just managed to squeeze ahead of Haslam to win by inches and claim the championship by three points from the Honda rider.
Potter made no bones about hanging on to the title the following year and ruled out any need for ten­sion or drama at the final round by going to Brands with a clear lead and ending the day 66 points ahead of second in the series, Honda rid­ing Roger Marshall. For gpod mea­sure he added th6 ATV World of Sport championship that year.
Dave was up against it by the time he arrived at the fateful Oulton meeting with a triple MCN title still firmly in his mind. Things had start­ed well enough in the opening round at Cadwell where third place and then victory got him off to a 25 point start.
The second round at Donington Park turned into a nightmare when a dispute over money resulted in Potter and the Broad Team boycotting the circuit's 50th anniver­sary meeting. And there was even worse in store in round three at Snetterton where Dave hurt his arm in a crash and ruled himself out of the results.
As ever, as far as Dave was con­cerned, there was no giving up with­out a fight and after heading cham­pion-to-be Haslam (1123cc Honda), Graham Wood (750cc Yamaha) and Wayne Gardner (1000cc Kawasaki) over the line in the first race, he was out to make it a double second time out.
His death was a devastating blow for Ted Broad who was as much a friend as a sponsor by that time. He gave up all involvement in bike rac­ing, even sold his dealership and faded quietly into the background 'somewhere in Sussex'.
Dave was born at Hovingham, near York, on July 27, 1950, and became interested in motor cycle racing at an early age.
Keen spectactor
He was a keen spectator and by the time he was eight years old, and when a friend started racing, he decided to have a crack himself and acquired a 500cc production race Norton and BSA Gold Star.
With these he made his debut at Croft during the latter part of the 1969 season, shortly before he decided to head south to make his fame and fortune.
The lure was a chance to work for specialist bike builder Paul Dunstall which he saw as ideal way to improve his mechanical skills and as a possible opening to top class racing.
His southern racing career got under way at Lydden, later to be the scene of his first title, but on this occasion ending with a bang when he and the Norton hit the deck as he attempted an impossi­ble move to get ahead of the race leader.
It was not until the following year, when his Norton had taken quite a few 750 Dunstall parts on board, that he recorded his first victory and followed up with four more on the same day at Snetterton.
The Lord of Lydden title became his for the first time in 1971 before he moved across south London to take up employment that resulted in the enviable situation of being able to race the highly competitive Gus Kuhn Nortons.
The deal with owner Vincent Davey was the chance to race 'works' bikes and boost his wages as a mechanic at the Kuhn work­shops by keeping half the prize money.
The Gus Kuhn Nortons provided Dave with the opportunity to show his full potential and he did just that by not only remain­ing as the top dog at Lydden but, more importantly, winning the 750cc British Championship and the Hutchinson 100 Mellano Trophy.
In 1973 Dave was included in the home team for the third running of the TransAtlantic Match Races that were staged over the Easter week­end at Brands, Mallory and Oulton.
He repaid his selection by win­ning the first race of the series at a wet and treacherous Brands that claimed the scalps of Peter Williams, Cal Rayborn and Paul Smart.
He added to his score with fifth places in the second race at Brands and the following two at Mallory, but lack of machinery meant there was no chance of a recall the following year.
Potter stuck with twin cylinder Commando engined machines until he felt they were no longer compet­itive and was out on a limb until the rebirth of his career when he teamed up with Broad.
He was back in the TransAtlantic line-up in 1975 and retained a place until the year of his death.
Two thirds, a fourth and fifth helped Dave to the top individual British rider score, and third overall behind Americans Pat Hennen and Kenny Roberts during the home team's 56 point victory in 1978, while to the delight of Ted Broad, his efforts secured the- dealers' award from 1975 to 1980.
Dave did not venture far from the British circuits often, a decision mainly of his own making because Ted was not one to put any undue pressure on his rider.
He did take in three F750 rounds during the 1979 season, but the meagre reward of 20th place in the championship underlined his feeling that without a full works contract there was little, if anything, to be gained from the outlay involved.
His view was similar when it came to the 500cc world champi­onship, feeling that however well prepared, a production machine would never be a match for full works race ware.
Rather strangely a factory con­tract never came the way of the highly talented and professional Potter, whose best entry in the grands prix results record books is sixth in the 500 Dutch Grand Prix at Assen, three months before his career came to a tragic end.