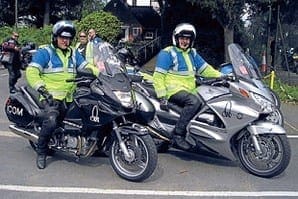 Bikes of all shapes, sizes and ages take part, from classics through to three-wheelers to modern tourers and sportbikes, quads and scooters. Riders can take part as an individual or a team.
There are various mileage options available: go for 120 miles or the maximum challenge of 540 miles.
The full overnight National Rally is the ultimate challenge with various levels of achievement. The Platinum Award is the full rally but with a special section where bike skills will be tested and points gained for good knowledge and control.
Other options include the National Sunrise (starting at 2am on Sunday morning!) Rally and the National Daytime Rally on Saturday.
The idea behind the Rally is that riders start at one control and then travel to the maximum number of controls within the 540 mile limit. Riders plan the routes between the checkpoints beforehand, plan their weekend's riding.
Volunteers man each checkpoint – some controls have cakes and goodies for riders too, plus sleep areas.
Entry fees vary depending on the event entered. Prices start from £29 online.
Run by the ACU in conjunction with the BMF, the Rally takes place on Saturday 6 and Sunday, July 7 2013.
Visit www.nationalroadrally.co.uk for more information.