Every month, RealClassic magazine features old bike ridden in the real world – mostly here-and-now, but with an occasional backwards glance to 'then', too. Here's what in the latest edition…
• BSA B40
Overlooked and under-appreciated, there were plenty of reasons why the B40 wasn't a raging success when new. However, it's finding a whole new following as a lightweight, peppy classic, as Dave and Sue Blanchard discovered
• Douglas Dragonfly
Some bikes are so right that you keep coming back to them. Rowena Hoseason meets an owner whose riding career started aboard a Douglas Dragonfly and now, nearly sixty years later, he's still keeping the faith
• Ducati 750GT
The great Taglioni always referred to his legendary design as an L-twin, never a Vee. Paul Miles argues that L stands for 'excellence'
• Matchless G80 rebuild
This month, the ongoing project suddenly looks like a motorcycle again. It's amazing, the effect of fitting a pair of wheels and some mudguards…
• Norton Commando rebuid, pt 3
Some restoration projects should carry a health / wealth warning, as Stuart Urquhart discovered the hard way. This month, it all goes back together in an entirely straightforward manner with no hassle whatsoever. (That's not entirely true!)
• Norton Dommie cafe racer
The expression 'old school' is often used to mean exactly the opposite; a new style of modified motorcycle. Henry Gregson reveals a café-custom slimline 88 which holds true to the old traditions
• Norton Model 18
The family silver! Peter Winter's father bought the bike in 1941, and it's been in the family ever since. This month he tells us all about the bike's chequered past – next month, Frank Westworth will actually take a spin on it
• Trisaki T140 750 Special
What if you could combine the thrum and thunder of a trad Brit twin with the poise and performance of a modern motorcycle chassis? Odgie meets one man's interpretation of that ideal
• Triumph factory tour
No, not the modern Hinckley buildings but memories of Meriden. 58 years ago, back when the world was black-and-white, Mike Estall enjoyed a factory tour around Triumph's world-famous Meriden facility. The experience has stayed with him ever since
• Triumph T150 rebuild, pt 3
The UK-spec T150 is gradually being transformed into something with rather more mid-western styling. Time to rebuild the primary drive and line up all those carburettors
PLUS! Graham Ham's ShedQuest uncovers a pair of Triumph 350s and an eclectic shed indeed; Dave Minton tells tall tale from old roadtesters; Jacqueline Bickerstaff explains all about hp, horsepower, bhp and being baffled; RC readers remember speedway stars and discuss two-stroke timing, plus new, events, small ads and more.
Buy a copy of RealClassic 129/January 2015
Subscribe to RealClassic in print, written by riders, and not available in the shops but delivered to your door instead (and subscribers get their copies before it goes on general sale, too)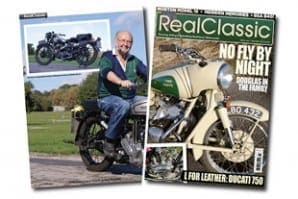 New RealClassic's out!