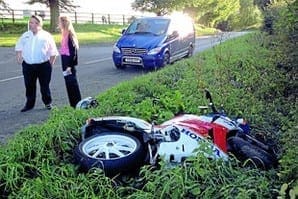 It's the sound of the V4s that got to me. Yes, I'm probably a lot younger than most of you CMM readers. I'm 23 and was just four years old when I went to my first World Superbike race and fell in love with the sound of the works Honda RC45s, ridden by Doug Polen and Aaron Slight.
I actually got to meet Aaron and up until he retired I was a fan and I always wanted to one day get my own RVF V4. When I was about 10 or 11, I finally saw one that I thought would fit the bill – the RVF400 NC35 – a real 'mini' RC45.
From that day on I wanted to own one.
Bikes were a part of my life as a nipper. My first was when I was about three-and-a-half, it was a little PeeWee 50cc thing and I literally put it through next door's brand new fence panel. There was I, going round and round the garden tree, before getting dizzy, straightening the bars and firing myself straight through the very fence panel that they were carefully varnishing…
But as the years rolled by, bikes were replaced by girls and other things and it wasn't until coming to work for CMM publisher Mortons Media Group that I realised that there was a whole family of V4s out there. My first photo shoot was with the sublime RC30 and I soon fell in love with those too… as I did the little 400 version, the NC30. By now people were telling me to do my bike test as the word was that things were going to be made very difficult if you wanted to get a full licence.
I didn't do my car test until I was 19, as I had this phobia of failing tests, but when the new bike licence laws were announced I realised it was time to bite the bullet.
As an incentive, Motorcycle Sport and Leisure editor Tony Carter sent me a link to a very clean NC30 which was up for £4000… way out of my price range, but it was just the impetus for me to pass my test.
I finally passed my test in July last year and soon bought an NC30 for just £1200. Yes, it was Cat-C already, but that didn't bother me as at the time I wasn't after having a fully-original/standard bike. It was in a bit of a mess, but I loved it. I spent a lot of time cleaning it up and it became my baby. I rode it every day, right up until the time I rode it under a tractor…
It's a long story (and a longer tractor) and subject to various legal goings-on, but this guy's Massey Ferguson (with trailer) was bigger than my NC and joined from a minor to a major road.
I was lucky not to have worse injuries as, with lights on and white leathers gleaming, I collided with the tractor's front wheel and my hand went between the mudguard and the front wheel. I was aiming for the grass anyway and then got clobbered by the bike to add final insult to injury. Luckily the injuries were only soft tissue damage, nerve tunnel damage, three damaged vertebrae and a torn left shoulder. Nothing broken… so I realised I bounced well.
Sadly she – my NC30 – didn't… I was absolutely gutted.
The full front-end was knackered, the frame was bent: all the fairing and panels were damaged including most of the cosmetic stuff (which always costs a fortune), the clocks were literally in bits and the levers and indicators were trashed. As a Cat-B write-off, I was learning the alphabet the hard way. A front end would cost me £600 alone and I was dreading to think what the panels would cost… then I saw a second NC30 on eBay. This immediately made me think 'project bike' as it came for £800 including a bike stand.
Now, my mechanical background began when I was three years old and took my grandad's lawnmower to bits, but I've been into bikes, cars and engines from a pretty young age and my dad was a mechanic too, so it didn't seem too far from the realms of possibility. I thought to myself; 'how hard can it be?' after all, I'd built my own 250bhp VW Golf from a bare shell years before, so a bike has to be easier than a VW, right?
I decided to give it a go and make one – perfectly useable – NC from the parts I'd now collected.
With just a third of a single garage to work in, I began a tentative 'dry build' to see how things went, by taking the motor from the old bike and putting it into the new one. Maybe I should have realised that I should have put the wiring loom on the motor first… then there was the engine spacers, which left me wondering what went where. However, the worst thing was putting my tools down then later wondering where the hell I'd left them.
Having put most of the bike together, I figured I'd strip it again and do a 'proper' rebuild. Not a concours machine, but a real useable bike. My first VFR never ran perfectly, so I really want to address all the issues that this bike had. I am also looking at using some modern bits to improve the bike in certain areas – but I still want it to look like my beloved NC30.
So, my plan now is to replace all consumables, give it a proper overhaul with new plugs, pads, chain, clutch sprockets and cables. On my original I heard a slight knocking from the engine when warm, which worries me a bit, but maybe I should be brave and go for an engine rebuild?
From the original bike I have the engine, swingarm and tank – which needs repainting. Meanwhile the £800 bike has supplied the rest – and I have a spare motor in bits should I need to use it.
I've already got a fair amount of the consumables from the likes of Wemoto as well as some snazzy engine hoses from Samco.
Either way, I'm looking forward to making my little V4 something special to go and ride in 2013.
Any advice you NC experts have I'd be happy to hear it at: [email protected]
Wish me luck!