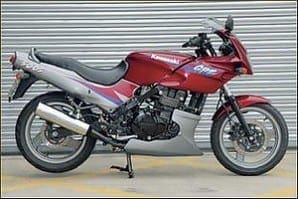 Elsewhere in the January 2013 issue of CMM you will see our oldie-but goodie Steve Cooper make his case for cool classic-dom for the Benelli Tornado. As a parallel twin, the Tornado followed a glorious list of machines to use this design layout.
With the release of the new CBR500RR and its associated family, there's a buzz again about the parallel twin which seems to come along every so often.
Way back in the past the 1937 Triumph Speed Twin was perhaps the first machine to adopt the layout, as it offered a number of advantages.
With just two cylinders sitting side-by-side the layout is pretty basic, meaning that all the various bits and bobs like wiring, carbs, airbox, gearbox and everything else can fit neatly around it. From a cost perspective you have one cylinder head and block, but unlike a later four-cylinder you've also got narrowness of profile and the engine is narrow head-on, too. Unlike a V-twin, both pipes exit at the front (we're not talking reverse cylinder here) allowing them to be cooled and routed for good power and torque characteristics. You can also affect the handling of the bike by slanting the block itself backwards or forwards.
Because of these advantages, it's little wonder that a raft of British machines (if not all of them) came with this layout, from BSA, Norton, Triumph and Matchless, swiftly followed by the Italians and eventually the Japanese.
With the introduction of the multi-cylinder engines in the late 1960s and early 70s, it seemed that the parallel twin's time as top dog was over. On one hand for outright power the four-cylinder was the layout of choice, while for chic and panache the V-twin looked and sounded better, but was also delivering its power in a more pleasing way.
But, the parallel twin still had and has a lot to offer and it refuses to die and keeps making comebacks.
In 1987 the Kawasaki GPZ500S first came along and here was half a GPZ1000RX motor that loved revs and was bulletproof – even if the finish wasn't. CMM's very own advertising mogul Andy Catton lives with and loves his incredibly tidy 500S, saying: "It's exciting and the motor pulls quite strongly above 7000rpm, even if it is a bit lumpy at slower speeds." This motor later found home in the naked-looking, but still ferrously challenged, ER-5. Other Japanese manufacturers also fell back in love with the layout. The urban TDB850 Yam in the early 1990s was followed by the sporty, Ducati 900SS-a-like TRX850, which even featured a 270º crank so the humble parallel twin could have a cylinder firing order which gave it the feel of a pukka V-twin. As if embarrassed by the fact that it was a parallel twin, Yamaha even stacked the engine's associated paraphernalia behind the main engine block to mimic a V-twin. Of course this motor had been alive and well previously and living in the Super Ténéré and even (with a 270º crank) winning Paris-Dakar races, but the TDM and TRX really made the sportbike masses in the UK take notice. Suddenly being a parallel twin was cool again.
Honda, too, got in on the act with the staid and functional CB500 which (via an associated one-make race series) launched the career of James Toseland, as well as a number of courier careers.
So, while it can be vibey and lumpy, the parallel twin is still simple to make and build and has now a new lease of life thanks to a range of excellent new machines in a variety of capacities.
Kawasaki still builds 'son-of-GPZ500S' the brilliant ER-6f and ER-6n (although our own 'canny' Catton reckons his GPZ feels plusher to ride) BMW has a range of machines built around a parallel twin motor and Triumph now builds its retro Brit machines with the layout – as well as the Harley-beating Thunderbird, which comes in 1600 and 1700cc versions.
And then there's Honda. With a trio of 500cc road-biased bikes in 'race-replica' 'naked' and 'cross-tourer' versions, even the Big H knows there is a lot of life left in the parallel twin. Old or new, classic or not – long may it continue!