Norton Commando production officially ended in 1976, when the production line at the old Villiers factory in Wolverhampton was closed. However, NVT at Shenstone was able to complete the 1500 or so 'work in progress' machines, all of which were silver, electric start, 850 Mk.3 Interstate models…
The final batch of 25 bikes was released in 1977-78, but a tiny number of twins entered circulation even after then.
The last officially documented new Commando was sold by Andover Norton for £2300 an entire five years after production ceased – presented to its new owner at a special ceremony by NVT man Mike Jackson and Grand Prix superstar Kenny Roberts. That bike even appears in Roy Bacon's book, Norton Buyer's Guide, with tuning guru Ray Petty astride it, outside the Andover Norton factory.
That very Commando survives to this very day, still silver, still with almost zero miles on its clock, still brand new and still unregistered. The Commando has been moved so little in 33 years that its Goodyear Eagle tyres have even retained their original red chalk line intact. The machine just surfaced in Cornwall, where it's been in the safe-keeping of the original purchaser, an enthusiast collector, ever since Ray Petty delivered it to him.
The Commando is currently on display at North Cornwall Motorcycles, where proprietor Steve admits to being slightly perplexed at how to value it. "It's such a one-off," explains Steve. "There are other zero-miles Commandos around – one in similar condition sold recently at an auction for £18,000. But this isn't just any unregistered Commando. It's the last one made at Andover Norton and comes with all the paperwork to prove it. So what's it worth? You tell me!"
That's why Steve is asking any interested parties to make serious offers. However, cold hard cash isn't the only consideration in this case. "We're selling it on behalf of the owner," says Steve, "who has looked after it for all this time. He's really keen that it should go to someone equally dedicated, who'll keep the Commando in the UK and take good care of it."
Article continues below...
Advert
If that person is you, give Steve a ring on 01288 355162 or visit www.ncmc.co.uk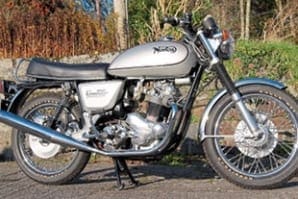 What price an unused Commando?
---
Advert

Enjoy more Classic Motorcycle Mechanics reading in the monthly magazine. Click here to subscribe.
---