The newly branded Putoline Classic Dirt Bike Show, formerly known as 'Wrighty's Show', which takes place at the Telford International Centre over the weekend of February 21-22, is ramping up the celebrations for 2015.
There will be displays and star guests recalling some of the most memorable moments in off-road and road racing competition.
The 40th anniversaries of Martin Lampkin being crowned world trials champion and Vic Allan becoming the only man ever to have won both the British 250 and 500cc British Motocross Championships in the same year on a brace of Bultacos, will be marked with both men in attendance to share stories from their extraordinary careers.
Forty years have also passed since special guest of honour Mick Grant took the second of his seven TT wins, breaking Mike Hailwood's long-standing lap record in the process.
What has since become known as the 'Manx decade' of International Six Days' Trials, which started 50 years ago, will also be remembered – and with its newly-found vigour, the National Motorcycle Museum will open out the show with a special display from its priceless collection of racing Nortons through the ages.
With his glittering career as a road racer, trials rider, development engineer and definitely raconteur, Mick Grant has spent most of his lifetime at the sharp end of motorcycle sport.
A shining example of 'success begins in the workshop,' as anyone who remembers his club racing Velocette Venom will recall, Mick gained his many victories only through hard work, dedication and the admirable notion that "near enough just isn't good enough".
Along the road of his lengthy competition career, he has found himself in demand as a development engineer for some big-name factories, not to mention taking on the roles of team manager and rider manager.
As well as speaking at the traditional Saturday evening dinner, 'Granty' will be on hand at the show all weekend, along with the likes of Vic Allan and Bill Brown.
Displays of special machines and club exhibits will be spread over several halls, along with trade and autojumble stands, and for the first time, visitors will be able to hear the exciting sounds of famous race machines in the brand new Classic Racer Paddock.
A star 'performer' will be a Classic TT-winning works Paton, but also due to appear are the world's fastest Royal Enfield from Flitwick Motorcycles' Team Linsdell – with the future TT star Ollie Linsdell and his father Steve who will both be chatting to visitors – an ex-John McGuinness Vimto Honda SP1 from the 2000 TT, and a 1996 Terry Rymer Old Spice Ducati 955, both now part of Mike West's collection.
The Putoline Classic Dirt Bike Show, opening from 10am until 4.30pm on both days, is one you certainly won't want to miss.
Advance one-day adult tickets costing £11, and the same including early autojumble entry at £14, are available by calling 01507 529529 or going online at www.classicbikeshows.com The equivalent prices at the gate will be £13 and £17 respectively. Under-12s will be admitted free.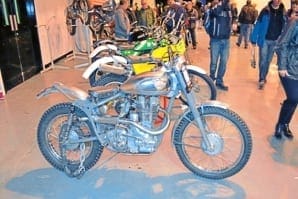 1961 'works replica' Royal Enfield