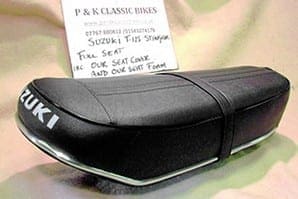 Phil Turner knows his stuff when it comes to rejuvenating ripped and rank modern classic motorcycle seats. What you see here is a fully restored Suzuki Stinger seat (are you listening Steve Cooper?) which uses P&K's foam and cover and costs 'around' £175 for the full service. Obviously price can move depending on how good/bad your existing seat is, but Phil can (and has) worked miracles. Check out his website for more details, but he's also looking at introducing an RD350LC and Suzuki X7 seat foam too.
More information from: www.pandkclassicbikes.co.uk, telephone 01543 274176
• Mac Tools premium utility cart and SBDR8 ratched screwdriver
Mac Tools presents this three-drawer premium quality flexible mobile tool storage station.
It has a built-in stainless steel worksurface, ideal for the busy fettler with the finance to pay for it. It measures 915 x 1065 x 560mm (work it out in Old English) and has three full extension drawers with liners as well as additional storage which means all your tools, even pry bars and extensions can be safe and sound. You've also got 'literature' storage areas in the lid. Ahem.
It's available in seven colours.
The SBDR8 is a quarter-inch ratchet screwdriver which can be used in place of a set of standard screwdrivers and is dead simple to use. It's got a three-position 45 tooth ratchet mechanism so you don't have to stop and adjust your grip position when tightening or undoing fasteners. It's comfy in your hand, gives plenty of grip and is a good addition to anyone's toolbox.
More information on both products from: www.mactools.co.uk por telephone 01142 917266
• Alpinestars Resist Tech Denim Pants
Many of us now prefer to go out in jeans and a jacket, but worry traditional fashion denim doesn't give us the protection we need. So now we have bike-specific denim jeans like these Resist Tech Denim Pants.
These are made from good ol' fashioned denim, but with Kevlar reinforcement panels and CE-approved knee protection. They're comfy on the bike, as well as off, thanks to a pre-contoured leg design.
More information from: www.alpinestars.com or telephone 0039 0423 5286