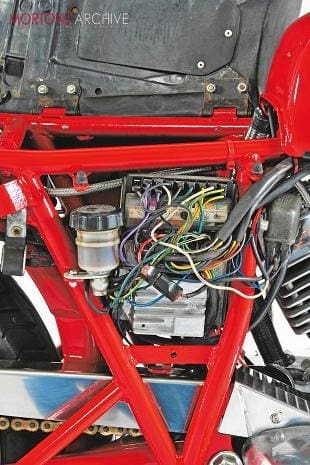 In the UK in the early 70s Italian bikes were by and large, expensive, highly strung, poor quality, unreliable, quirky, and generally not viable due to poor spares supplies.
On the plus side – they were exclusive, looked like a million dollars and had a certain je ne sais quoi not found in most Japanese bikes of the period.
When Harglo decided to import the Morini 350 V-twin the world of middleweights had to be recalibrated.
As with all Italian bikes, they are generally greater than the sum of their collective parts but the apparently diminutive motor is the real soul of the bike. The V-twin utilises Heron cylinder heads with the combustion chambers in the top of the piston and a flat topped cylinder head. This technology allowed faster/easier mass production.
The fact that the concept had previously been the preserve of performance motors was purely coincidental! The V-twin motor has always fitted beautifully in the traditional diamond pattern frame since its inception, so allied to traditional Italian chassis design the bike was destined to be a handler from the off.
The handling and sure-footedness of the bike really were (and still are) breathtaking. The bike works as one cohesive unit where everything gels together. Unlike some Japanese offerings of the period, R&D costs were shared equally between motor and frame so there's no feeling that the chassis is being outclassed by the motor or vice versa.
Available in both Strada and Sport guise, either offering will make a welcome change and/or addition to any enthusiast's garage. The Sport with its lower bars, twin sls front brake, bum-stop seat, higher compression motor et al is often cited as the model to have and it's all too easy getting hung up on finding that elusive 'first off' model.
Anyone buying a 350 (or 3½ as they are officially entitled) should remember that they won't be buying a RG500 type bike. Yes it's a fast bike for its genre but no way is the Sport ever going to be David seeking to take on each and every Goliath. For that reason, if no other, the cooking version – the Strada – is certainly worth considering. With a more ergonomic riding position a potential buyer would be mad to walk away from a good quality, reasonably priced Strada to peruse an elusive Sport. Yes there are differences, but not as significant as armchair aficionados might have you believe.
In a similar vein the earlier models are held to be more collectable, simply because they have alloy rimmed wire wheels. This is fine if the wheels are in good nick but if they need rebuilding this will make a significant dent in a budget. Later models run cast alloys and a front disc, which may not be quite so iconic but certainly win in the practicality stakes.
Four revisions
Simplistically, the Sport went through four revisions in its 13-year model run, with the iconic model being the 74-75 bike. 1977-78 saw the adoption of the aforementioned alloy wheels and discs. Things got a bit odd between 1979-82 with black exhausts, fork legs and engine cases plus a red frame. This style was also favoured for the then recently introduced big brother the 500; both models featured an electric start. This may be crucial to prospective buyers if you can't cope with the earlier model's left-handed kick-start. Finally the K2 model for 1983-87 went all techno. Flowing panels, upgraded electrics (always a bonus on anything Italian) revised ergonomics, a lightened crank and Nikasil barrels all changed the fundamental look of the bike.
If you want really quirky, the 1988 Dart may be exactly what you're looking for. With the K2's motor installed into a Cagiva Freccia (Arrow) and the whole ensemble draped in acres of swoopy plastic it was (and remains) like no other Morini before or since.
If you fancy the Morini experience, but are not too enthusiastic about the traditional Sport/Strada and are frankly traumatised by the Dart, help is at hand. Knowing that they were onto a good thing the factory realised that the concept could be extended. The 350 came, believe it or not, in trail bike guise and had one of the best model names ever – Kanguro. But it's nothing compared to the trail version of the 500. Morini called it the Camel! There are also 250 V-twins if you, or the love of your life, fancy a quarter-litre of Italian dolce vita. Perhaps one stage too far was the factory custom version of the 500 called the Excalibur. It was a mis-proportioned design, with its highly positioned and shaped petrol tank.
What to buy
It's the early Sport that really commands the mega bucks, but make 100 per cent sure you are buying a genuine Sport and not a converted Strada. There should be an S stamped on the engine cases below the front pot but even this could be faked, so beware.
The front brake should be a double-sided sls job, a single-sided tls front brake would have begun life in a Strada – if in doubt call in an expert.
When we scoured for small ads (Oct 2011) we found half a dozen 3 1/2s on ebay, mostly Stradas. Prices started at £1500 for a clean Sport; Stradas on the day were fetching bigger bucks and the more expensive ones nudging £4000 for a showroom model from a dealer. There was also a lovely 1984 500 Camel trailie. Looked drop-dead gorgeous and bidding had stopped at £1000! So there are bargains to be had out there, if you're patient.
The really smart money has to be on an early Strada; expect to start talking around £2500 for an honest low mileage bike and be prepared to become a convert to the cause!
Look out for
The V-twin motor is sensitive to exhaust systems and inlet mods; if there's any doubt or concerns about basic running going back to standard as a baseline is eminently sensible. While on the exhaust system, make sure that the downpipes and their associated collars and threads are not butchered or worn out. Two such damaged fittings will see the thick end of £100 disappear on the world's biggest thread inserts.
Electrics on Morinis aren't as bad as some Italian bikes, but still don't work well after being subjected to British salted winter roads. Rewiring will expel most gremlins, but watch out for the tacho and fuel tap, which are both electrically operated.
The Morini has two rubber belts to drive the camshafts – don't assume they've been changed by a previous owner. A snapped cambelt can spell mechanical disaster, budget for a new set unless you're certain about the bike's service history.
Both exhaust and inlet mods can upset the engine's breathing, and early spec inlet rubbers can leak air to make matters worse. Fit rubber inlet stubs and watch for butchered threads on the exhaust mountings.