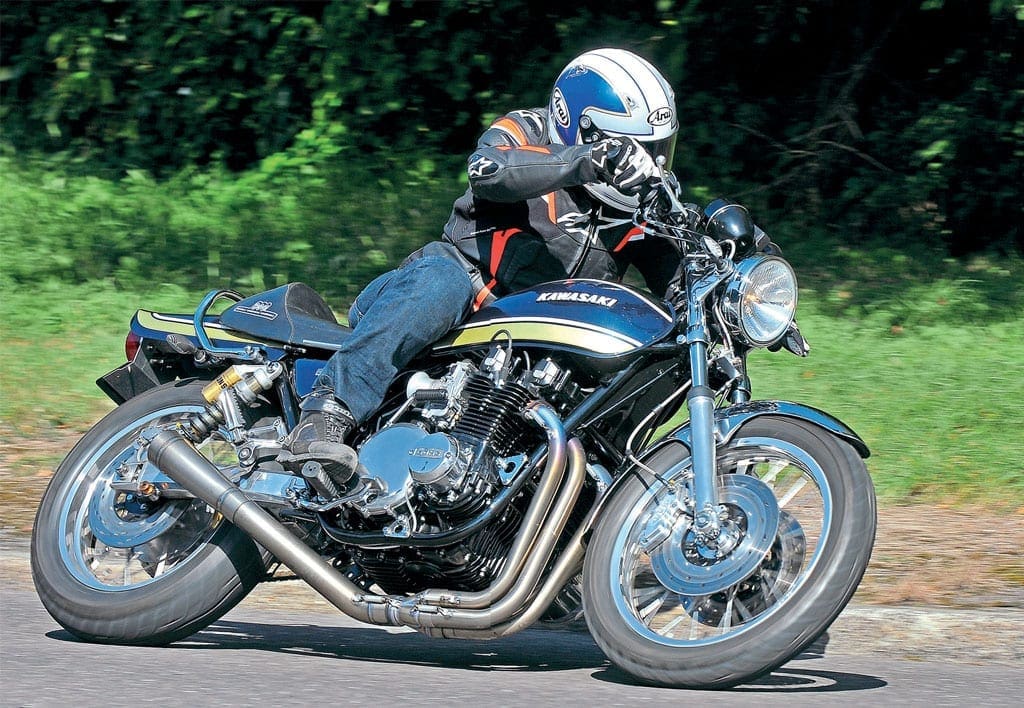 The proof of the pudding is in the eating, right? That's why we ride a very trick one-owner 1976 Z900 A4 from BuzzWorkz!
We've all got that one special bike in our past, haven't we? The one we wished we'd kept hold of? Maybe it was your first 'big bike' after passing your test, or something weird like a big two-stroke or a factory turbo, which you can't really buy any more. Perhaps it was the first bike you bought 'brand new' from the dealership – with that indefinable smell and slick feel all over.
I've definitely got one or two – including the Suzuki B-King I had as a long-term test bike back in 2008, and which ended up with a full-on supercharger installation, putting out 300bhp… There are a few lucky guys out there though, who've still got their first biking love in the shed.
Guys like Cliff Hamilton, who's owned this 1976 Kawasaki Z900 A4 from new. He bought it back when the mighty Z1's descendants were the kings of the superbike hill. Compared with the competition – Honda's SOHC CB750, Suzuki's GS750 and the Yamaha XS750 – the Z900 had much more power, higher tech and slicker styling.
Through the 1980s, this bike served as a drag racer, at 'run what ya brung' and Ultimate Streetbike events. Cliff got right into the spirit of the times, maxing out his first credit card on tuning goodies at the bike show, and ending up with a bike that could manage 11.1 second quarter-miles at 130mph, a very decent performance back then.
As the 20th century passed though, the Z900 languished at the back of the garage, eschewed in favour of more modern kit (Cliff's garage currently boasts a BMW HP4 superbike and K1600 megatourer, amongst other goodies).
Then, a few years ago, Cliff decided to get the dusty old Z900 back in action. So he passed it to his mate, Dave Ennis, who was in the process of setting up BuzzWorkz, his own dedicated Kawasaki Z900 rebuilding outfit. And now, 44 years after it first hit the streets of Twickenham, I'm at Cliff's house to have a spin on a very sweet Zed indeed.
It's a unique mix of modern and classic, with the original forks and 19-inch wheel up front, but a much more modern rear swingarm and Öhlins shocks out back.
The engine is still recognisably a Z900, but with a GPz1100 head and a set of new Mikuni 34mm flat-slide carbs. And instead of the classic Z900 exhausts you often see on these bikes now, there's an extremely modern four-into-one system, made from titanium by top-end pipemasters Racefit.
The improvements you can't see are also a nice mix of old and new. The motor has a period Moriwaki 1103cc big-bore piston kit tucked inside, and the roller crank is welded up for strength. That GPz head has been skimmed for a little more compression, it's had a mild porting job, and fresh valve seats cut, while the cams are (again period) Yoshimura Bonneville cams, which were pretty trick back in the day.
So, this is a recently restored pride and joy, like most of the bikes in these pages, but with the added complication that the owner has had it since he was a lad, with 40 years of emotional attachment.
Surely your scribe would be implored to treat her like a baby before heading out for a test ride and photoshoot? Not at all. "Have a proper blast on her," says Cliff, chuckling. "And here's £20 to fill her up with super unleaded, too." What a lovely man! And what a lovely bike!
I'm apprehensive at first, having spent too many miles on badly built, unfinished 'specials' over the years. But the Z900 is a breeze to get going, and the first few miles set my mind at rest. The carburation, often a source of woe on tuned machines, is spot on, and while the idle is a little lumpy, the bike doesn't stall or hunt at the lights.
All the controls are slick and easy, with the gearshift in particular standing out as one of the best I've ever used. The riding position is upright and old school, and my only complaint here is the handlebars. They're angled up and slightly forwards, and put my dicky old wrists in a slightly odd position.
Two minutes with the clamp bolts would get them adjusted, of course. The front end is narrow and skinny, let's face it – the original forks, yokes and steering head wouldn't look out of place on a modern 125…
….For the full feature, pick up the March issue of Classic Motorcycle Mechanics. For more information on how to get your hands on a copy, click HERE.