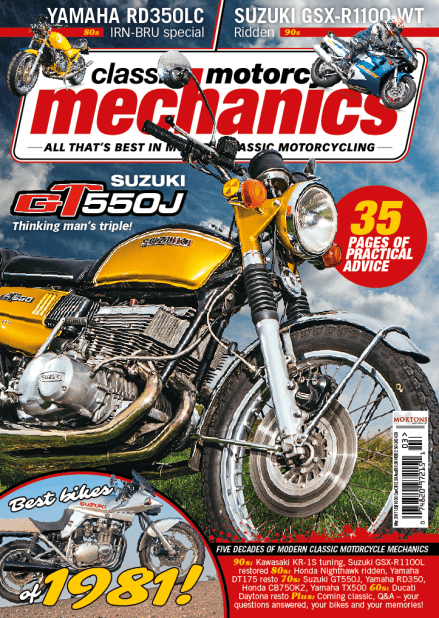 ARCHIVE
King Carl Fogarty in all his pomp.
1984 HONDA NIGHTHAWK
Bertie Simmonds gets off quietly surprised!
NEWS
All of what's occurring in the modern classic world.
CALENDAR
Be a mad March hare!
FEEDBACK
Your letters and emails about CMM!
SHOW US YOURS
Now with added nostalgia! Check out 'The Way We Were!'
4-HOUR ENDURANCE
The latest on this must-see event.
SUZUKI GT550J
Steve Cooper rides the thinking man's two-stroke.
1998 SUZUKI GSX-R1100 WT
Bertie rides a big bruiser: but does he like it?
YAMAHA RD350LC Special
Brian Thomson's beautiful IRN-BRU LC.
BEST BIKES OF 1981
John Nutting goes back to the time of Bucks Fizz and fine bikes.
RETRO REBOOT
It's back! What would a modern Z1300 look like?
WORKSHOP NEWS
New parts, kit tested!
Q&A
Mark Haycock, Scoop and you with tips!
YAMAHA RD350
Scoop MoTs his two-stroke twin.
DUCATI DAYTONA
Pip Higham restores a Duke.
KAWASAKI KR-1/S
Stan Stephens on tuning this two-stroke race-rep.
SUZUKI GSX-R1100 L
The Suzuki apprentices finally finish the beast!
YAMAHA TX500
Steve Cooper's buyer's guide on this quirky twin.
YAMAHA FZS1000 Fazer
Bertie makes a case for this being a 'coming classic'.
YAMAHA TX500
Mark Haycock on some issues with his!
DUCATI 996
Jim Lindsay polishes his Bologna bullet!
HONDA CB750 K2
Mark puts his carbs back together.
Enjoy more Classic Motorcycle Mechanics reading in the monthly magazine.
Click here
to subscribe.
Comments
comments