Classic Motorcycle Mechanics looks at maintaining, restoring and rebuilding the modern classics of motorcycling. Ground-breaking 1970s, 80s and 90s machines from the likes of Honda, Yamaha, Suzuki and Kawasaki are road tested, reviewed and discussed in detail. There's news and views too, and readers' rides ranging from fully faired racing machines to single-cylinder road bikes are put under the microscope.
The pitfalls of purchasing modern classics are outlined in handy buyers' guides, and there's advice on the best bargains to be had today. Particular parts are profiled and essential workshop procedures are explained in full.
So don't miss out – get involved and take out your magazine subscription now!
April 2019 issue ON SALE!
Suzuki GSX-R600 tested! Honda Firestorm! Kawasaki Tengai! This edition of Classic Motorcycle Mechanics has got it all!
As always, this issue of Classic Motorcycle Mechanics magazine is bursting with workshop tips, cracking features and a look at what's happening in the motorcycle world!
If you'd like to read April's Classic Motorcycle Mechanics, then you can order a print copy, save the trees and download the digital version, or bag yourself a bargain and subscribe and get Classic Motorcycle Mechanics monthly! Here's what to expect this month…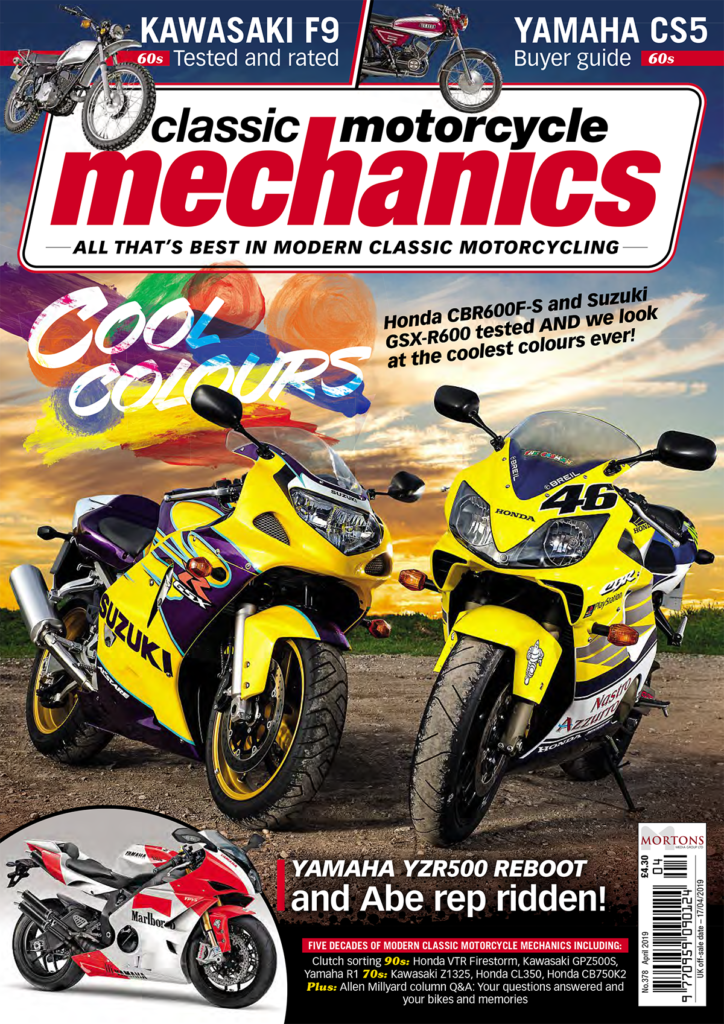 SUZUKI GSX-R600 VS HONDA CBR600 F-SPORT |Two beer-backed bikes go head-to-head.
HONDA FIRESTORM |Scott Redmond and his new ride: Honda VTR 1000 Firestorm!
KAWASAKI F9 |Steve Cooper on a little Bighorn. Ooh-er missus.
YAMAHA YZR500 REPLICA |A Down Under homage to Norick Abe.
KAWASAKI GPZ500S |Justin Blackamore buys a classic Kwak twin.
PLUS! We've got a Kawasaki Tengai, you show us your motorcycles, check out race-paint rides sent in by you and Kev Raymond rides on his 50's scoot.
Classic Motorcycle Mechanics magazine is on sale in UK newsagents and supermarkets, or you can buy the current issue in digital and paper formats here!
You can also purchase stacks of back issues of Classic Motorcycle Mechanics, but it's cheaper to subscribe. As a subscriber you'll save money, get your copies delivered to your doorstep AND never miss an issue… Just click here to buy: www.classicmagazines.co.uk/cmm200