Classic Motorcycle Mechanics looks at maintaining, restoring and rebuilding the modern classics of motorcycling. Ground-breaking 1970s, 80s and 90s machines from the likes of Honda, Yamaha, Suzuki and Kawasaki are road tested, reviewed and discussed in detail. There's news and views too, and readers' rides ranging from fully faired racing machines to single-cylinder road bikes are put under the microscope.
The pitfalls of purchasing modern classics are outlined in handy buyers' guides, and there's advice on the best bargains to be had today. Particular parts are profiled and essential workshop procedures are explained in full.
So don't miss out – get involved and take out your magazine subscription now!
PREVIEW: January issue of Classic Motorcycle Mechanics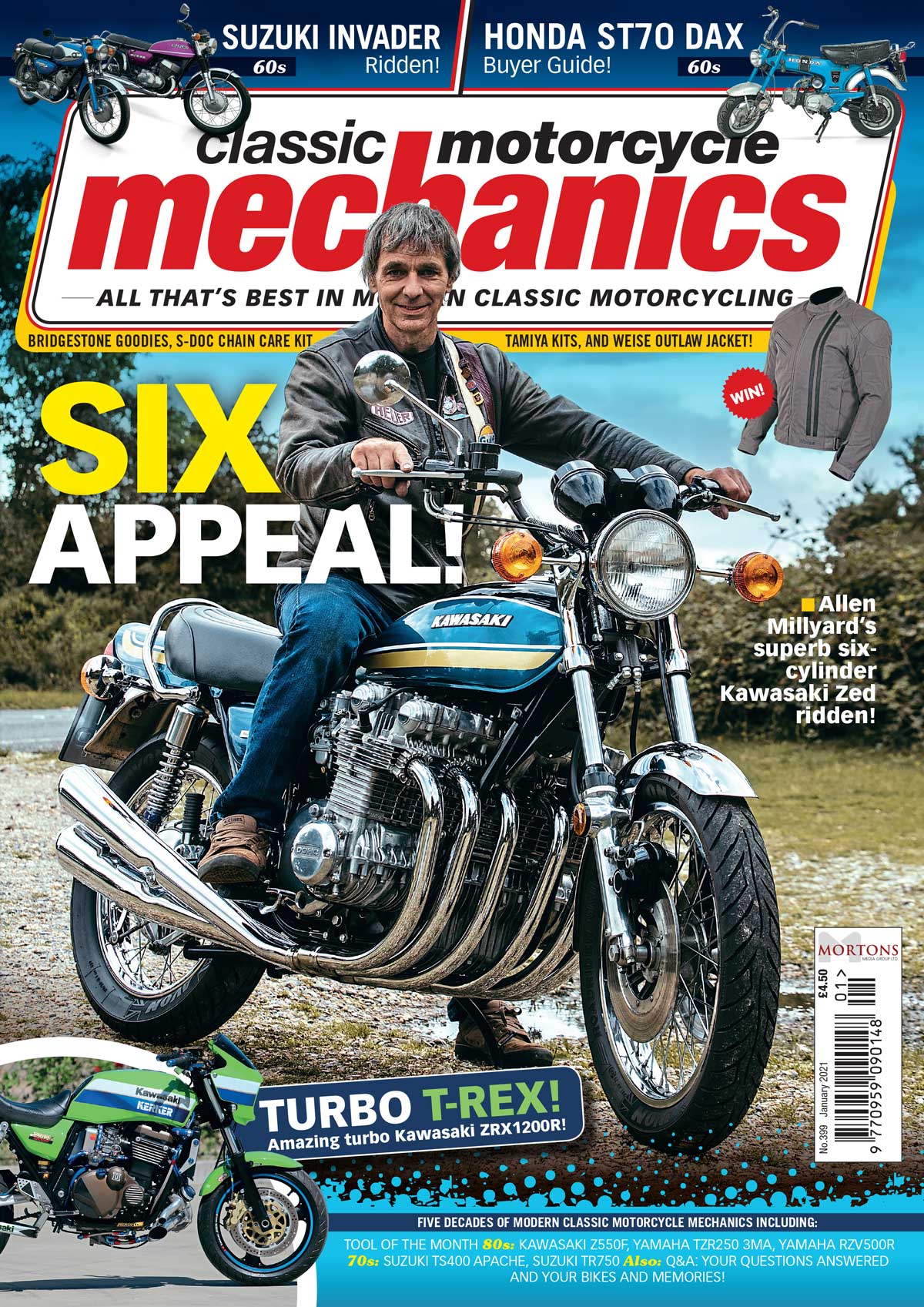 We're showing off (and riding) Allen Millyard's superb six-cylinder Kawasaki Zed in the fantastic January issue of Classic Motorcycle Mechanics magazine.
As always, this issue of Classic Motorcycle Mechanics magazine is bursting with workshop tips, cracking features and a look at what's happening in the motorcycle world!
If you'd like to read the January edition of Classic Motorcycle Mechanics, then you can order a print copy, save the trees and download the digital version, or bag yourself a bargain and subscribe and get CMM monthly! Here's what to expect this month…
Allen Millyard's Super-Six
John Nutting rides Allen Millyard's amazing six-cylinder Kawasaki Zed.
Suzuki Invader
Pip Higham has a pop on a Suzuki Invader – and a spin on a T500…
Archive
Ducati's delectable 888: better than a 916?
Classic Motorcycle Mechanics magazine is on sale in UK newsagents and supermarkets, or you can buy the current issue in digital and paper formats here!
You can also purchase stacks of back issues of Classic Motorcycle Mechanics, but it's cheaper to subscribe. As a subscriber you'll save money, get your copies delivered to your doorstep AND never miss an issue…