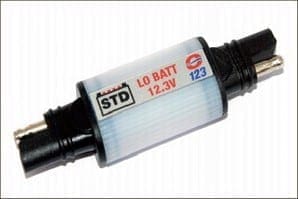 Here's a great idea. We've all laid up our bikes for a while – be it for winter or while it's a project of some sort. But now OptiMate is selling this CHARGE NOW! indicator – a simple device that will warn us if the bike's battery has less than 50% charge remaining. Battery failure is probably the biggest cause of keeping our bikes off the road and it's a right pain in the butt. So, connect the CHARGE NOW! to the battery via an OptiMate weatherproof lead (£8.99) and you'll be protected. Comes in standard and 'gel' battery formats.
Price is £16 and you can get more information from: www.tecmate-int.com
• Dremel ultimate man-sized toolkit
Dremel has put together this cool kit which includes a top of the range Dremel 8200 multi-tool, 65 accessories, five attachments, two batteries and a smart and tough aluminium carry case. The 8200 is the most powerful cordless multi-tool for the more demanding resto man, featuring a 10.8v Li-ion battery with ECP technology (whatever that is, think it was in Star Trek) and a one-hour charger. The 65 accessories comprise two carving and engraving cutters, three grinding wheels, eight cleaning and polishing wheels, 22 cutting wheels for wood and metal, two cutting spiral bits, 24 sanding drums, discs and finishing abrasive buffs, a 1⁄8in drill bit – and three mandrels, including one for the Dremel EZ SpeedClic accessory range.
Price is £179.99. more info from: www.dremel-direct.com
• Laser tools thread repair kit
This new thread repair kit from Laser Tools is just the job if you need your metric threads repairing. You've got seven re-thread taps and seven re-thread dies in the following popular sizes: 6mm x 1.00 (pitch); 8mm x 1.25; 10mm x 1.25; 10mm x 1.5; 12mm x 1.25; 12mm x 1.5; 12mm x 1.75. All of these can be used for chasing worn and damaged threads and cleaning off stubborn dirt and corrosion. The kit also includes a very useful double ended thread file in the following millimetre pitches: 0.75, 1.00, 1.25, 1.50, 1.75, 2.00, 2.50, 3.00 — ideal for quickly cleaning and repairing hard to reach external threads.
Article continues below...
Advert
Price is £57.60 and you can get more information from: www.lasertools.co.uk or by telephoning 01926 818196
---
Advert

Enjoy more Classic Motorcycle Mechanics reading in the monthly magazine. Click here to subscribe.
---