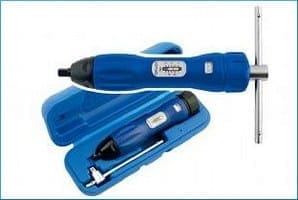 • Laser workshop lamp
Modern classics have more hidden nooks and crannies than a contract with the devil, so let there be light with this handy tool.
The workshop lamp from Laser Tools is perfect for your workshop. This three-watt torch has a built-in rechargeable battery which can be powered either from the mains or 12-volt sources and it can last up to two hours between charges. It has a magnetic clip meaning it can attach itself just where you need it. It's CE-approved and waterproof, and features a durable plastic casing. It should also last around 50,000 hours. That's a few late-night restorations then?
Cost is £52.88 and you can get more info from: www.lasertools.co.uk, 01926 815000
• Saddlecraft Saddle Recovering
The Devil is in the detail of every restoration. The most used part of your modern classic is quite often the bit your bum lands on – the seat – so it's little wonder that you really need to have a good, specialist job done on this vital area. Saddlecraft Saddle Recovering can do the lot – it has been going for 30 years after all. The company can re-foam and re-cover a seat back to original or can make the seat suit you better, using a range of designs and gel pads to keep your posterior in the pink. In recent years it started to develop heated seats, too. Well worth a look if you use your bike all-year round.
Contact www.saddlecraft.com (tel 0191 455 6262) for more info and prices.
• Torque wrench
Also from Laser Tools is this torque wrench. Normally the reserve for big jobs such as engines and gearboxes, today torque wrenches have to do so much more. It's just not good enough to guess how tight anything is you want to get it bang on.
This wrench is perfect for the smaller jobs seen on two wheels, rather than four. It's a precision instrument designed for low-torque applications with a ¼ inch drive, its range is one to five Newton metres and it is supplied with a sliding T-bar to assist in setting the fasteners correctly. Complete with calibration certificate, it is supplied in a tough case and is a perfect complement to the bigger, butcher torque wrenches in your collection.
Cost is £73.66, more info: www.lasertools.co.uk
• Kawasaki Zed stanchions
If you've got an original Zed which uses 36mm diameter stanchions and they're in a state, look no further.
The talented John Browse commissions blanks and spends a further four hours or more engineering these beauties. So far the range includes Z650 B1/B2 and C models, Z1000 A1, A2 and Z1-R and the Mk2/A3. If the demand is there John says he may well expand into other models from 37-40mm stanchions, so if you want something, ask him – you never know!
Price is £174 per pair and you can contact John on his email: [email protected] or call him on the landline: 01978 355556