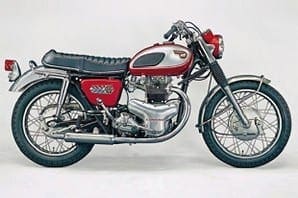 The bike is a total anathema to what we all suppose is standard Japanese industry process, right-hand gearchange, left-hand rear brake, push rod motor, separate engine and gearbox, iron barrel and alloy head.
Now observe it's a 650 parallel twin and do a double take; it all sounds rather like something out of the West Midlands circa 1958 but in reality the bike is as Japanese as they come. The story goes that BSA licensed Meguro/Kawasaki to build a version of the venerable A7 twin and the end result was a series of parallel twins (initially 500 then swiftly 650) that ran from 1965 through to 1974. There's even a suggestion that the bikes were only dropped by Kawasaki to improve sales of the home market Z2 750, Z650 four and latterly the KZ750 twin. Japan was the largest market for the Brit-copy twin where it won legions of fans.
It was never officially imported into the UK, so CMM has the unique opportunity to see how Kawasaki believed a traditional British twin should go together. If you've ever looked inside an Armoury Road BSA, there are a few things you might be familiar with and much that'll seem novel or different. It's the 650 twin Blighty never built.
Who is Dave Jupp?
If you've been around the classic scene for a few years, you may well have seen or met Dave Jupp, Juppie or Uncle Dave. This man has been a lynchpin of the Japanese classic scene from almost day one and there aren't many Japanese bikes he hasn't ridden, restored or repaired.
Article continues below...
Advert
Although primarily a Honda enthusiast (at one time his nickname was genuinely Mr Honda) Dave has owned all the main Japanese marques including Bridgestone and Meguro. His first resto was a 10-year-old Yamaha AS1 when very few were really interested and it's a bike he still owns and rides today. Unlike some classic enthusiasts, our man here has an amazingly open mind to any Japanese motorcycle and is equally happy rebuilding a Honda CBR250RR or a Melody step-through.
Methodical and logical in his spannering, he has forgotten more than many of us will ever get to learn. Always happy to help and assist like-minded owners, Dave, is currently passing on his half century of knowledge to a younger generation. Sadly we can't get him to download all he knows to a hard drive!
---
Advert

Enjoy more Classic Motorcycle Mechanics reading in the monthly magazine. Click here to subscribe.
---