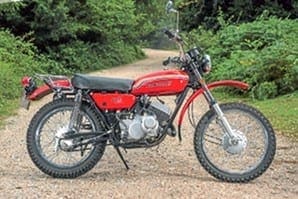 To misquote George Orwell's Animal Farm "all trail bikes are equal but some are more equal than others". If you've never ridden a KE175 against any of its peers you'll probably wonder what on earth we're on about. However, if you've played with 1970s trail irons you'll already know that Kawasaki's fairly rare dirt bike is something just a little special.
The KE175 runs a slightly over square bore/stroke that benefits from a rotary disc valve induction system on the right-hand end of the crank. Quite possibly this was nothing revolutionary even back in 1976 (or in 1968 when fitted to its grandfather) but the fact remains the bike was and is a delightful piece of kit. The apparently simple spinning disc provides just that little bit more extra oomph at low and medium speeds.
Unusually Kawasaki claimed both maximum power and torque figures at 7000rpm. If the bike is a little less capable off-piste at full chat than either a comparable twinshock DT175 or Suzuki TS185 it's the Kwack's build quality that generally shines through. When these machines were made they were genuinely Special Ks.
With regards to
genealogy the KE175 traces its roots back initially to the 71-75 F7 which in turn was descended from the 1968-1970 F3 Bushwacker. Kawasaki had been just a little faster out the blocks than Yamaha with smaller capacity, purpose designed, trail bikes. If the base line for trail bikes proper is set at 1968 with Yamaha's seminal DT-1 250 Kawasaki had the Bushwacker out the same year. Yamaha's market equivalent arrived in 1969 and immediately upped the ante with five gears and better overall package than the four speed F3. The F7 was a fine bike but Kawasaki needed to compete head on with Yamaha hence the KE175. For reasons no one is really sure of Honda saw fit to keep out of the fray until 1979. This is frankly bizarre; the XL185 is recognised as being a damn fine alternative to any of the above.
In terms of usability there's probably very little to choose between any of the 175cc strokers when compared year to year yet it's generally accepted that the KE has the least ground clearance. That said most trail bikes weren't really purchased for off-road capability in Britain at least. Looks, price, brand loyalty and access to a local dealer were normally the deciding factors.
On the dirt, with standard cogs front and rear at least, the KE was probably the best of the group for slow, steep, nadgery climbs. Tested as being able to pull up 35º inclines what the bike lost in out and out speed it more than made up for where finesse was required in place of bravado. I sampled the KE back in the day against its peers and it impressed mightily at the time.
There's an innate sense of purpose to the Kawasaki that immediately makes the novice feel comfortable and in control. If you've never ridden off-road the ideal scenario from a numpty novitiate's perspective is not feeling you're immediately about to fall off! Worrying about gears, brakes, levers and a thousand other things you take for granted on a road bike can easily distract you on the dirt. The KE175 seems to intuitively almost pick its way allowing you, the rider, to acclimatise to this alien environment.
The bike's designers undoubtedly put a lot of thought into the design, ergonomics and practicality. When the getting down and dirty is finished the KE becomes a supremely usable road machine that'll commute all week if you want to.
In the 175/185 capacity trail bike stakes the KE is unquestionably the rarest of the quartet on this side of the pond. Neither Agrati nor Kawasaki UK saw fit to import the F7 and the KE175B only ran for three years (76-78) before being ousted by the heavily revised KE175D. From a prospective buyers perspective the bike has a lot going for it; disc valve induction, rarity, quality engineered and something of an understated looker. Buy a good one and you are unlikely to be disappointed.