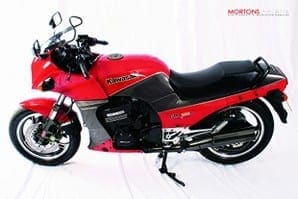 In the development of the motorcycle there have always been radical ideas that have changed the way we see, perceive and ultimately buy our latest motorised bicycle. The universal adoption of the diamond pattern frame in the pioneer days, the move from side to overhead valve, rear suspension, twin then multiple cylinders etc; all have influenced motorcycle concepts. In the terms of Japanese bikes, Honda's 750/4 was a pivotal point and to a lesser degree the launch of the Z1 was also a step forward. However, it wasn't until Kawasaki rewrote the rules for 1984 that we got our next truly significant design change, the GPZ 900R. Before this point it was generally acknowledged that bigger equalled better and that more horsepower was all that was really needed.
What Kawasaki did back in 1978 was to heavily invest in R&D. The result, five years later, was essentially a totally new concept of weight reduction, early mass centralisation allied to designing an engine and chassis as a single cohesive unit. Using engines as stressed members was nothing really new but to do so on a truly mass production scale was a significant step forward. Conventional motorcycle design wisdom had argued that cam chains were always between the centre pots. In fact some bike engineers argued that a cam chain on one end of a motor would lead to crank and cam stresses; strangely the car had been doing just this for donkey's years! Kawasaki just did the logical thing and followed standard automotive practice.
The apparent complication of water-cooling was offset by a reduction in bore centre-to-centre distances, running the alternator piggyback on the gearbox further reduced overhang. Compared to the Z1 the motor was nearly five inches narrower, nearly two inches shorter and 11lb lighter. No mean achievement especially when you consider that back in '78 Kawasaki had sold us the elephantine Z1300 as cutting-edge technology.
Some of the features of an air-cooled forerunner, the GPZ1100, were carried over onto the 900 in the form of Uni-Trak suspension and the six spoke wheels. The former's general body styling was also partially carried over and this helped maintain a family lineage. Style-wise the 900R set something of a precedent in that although the engine was still visible from the sides, the front of the motor and down pipes were effectively 'blacked-out' drawing the viewer's eye to the bike as a single entity rather than a motor plus sundry add-ons.
Compare any modern sports bike alongside a 900R and you can see the influences of this radical design ethos. Back in 83 the GPZ900R must have seemed truly awesome; 150mph potential with the ability to use most if not all that performance. Even now a well-maintained version will acquit itself well in the company of more modern machinery but if you tried the same trick with any of the air-cooled, four-cylinder, forerunners you're likely find yourself on the wrong side of the road or A&E entrance doors. Yes the 900R is that much better. Almost unlike anything that had gone before it the whole bike worked as one single unit, engine and frame in harmony with each other. This one bike truly demonstrated that Japanese design and mass production techniques could be synonymous with power and handling. From this point on there was really no excuse for an over-engineered frame hanging onto the coat-tails of a good engine and stunting its ability. No more would a motor flex a frame like an eel at a break-dancing convention.
Twenty years on the bike is rightly seen as the classic of its time. People are starting to search out 900Rs that have been consigned to the back of someone's garage. Dealers who've had later models in part-exchanges are now dusting them off and realising some capital. If further verification were needed those guardians of all things ancient, Japanese and bike-related, the VJMC even raffled one a few years ago. Apparently ex-owners wistfully reminiscing about 'the best bike I've ever owned' regularly populated their stand.
By anyone's standards the basic design concept of this bike was spot-on from the start. Admittedly there were updates and revisions but generally speaking nothing too fundamental changed throughout an 11-year model run, yes 11 years. This is certainly something of an achievement when, at the time, models were turned around quicker than disgraced cabinet ministers.
What goes wrong?
When buying, the number one criterium (if you want a minter) is to ensure that the exhaust system on the A1 to A6 models is better than average. It's no longer available and as it's in black chrome a quick dob of braze and some patches just won't work! Not many platers will touch black chrome so be warned. Cam pitting on the A1/A2 models is well documented, so sound out the seller and get a feel for what he does or doesn't know about this. An extra switch on the instrument panel is not necessarily a bad thing; the 900 had a reputation for over heating, especially in hot weather and/or heavy town work so some owners have elected to fit a 'panic button'. In line with many bikes of the period the rear suspension linkages were either devoid of greasing points or have been ignored by two decades of owners; check for obvious slop or partial seizing.
Some bikes seem to suffer from rotting fuse holders so look underneath for green electrically driven fungus and possibly severe corrosion of the fan relay. Fuel tanks are known to rot at the bottom corners; this may have something to do with the taps being above the lowest point! Starter clutch can go AWOL so the bike won't start; be warned, this is not a bargaining point as the attendant sprag clutch lives in the motor's bowels and you will have to split the lump to get at it.
Carb icing was notorious on this generation of water-cooled Kawasakis, the factory fix was a recall for extra plumbing to route hot coolant around the float bowls. Make sure it's been done if you plan to use the bike on anything but hot summer days. Fuel additives will help non-modified bikes, however.
The A1 and A2 models earned a reputation for pitting cams and Kawasaki responded by fitting wider-diameter oil pipes but never recalled the earlier models. Interestingly the A3 and later models all had carb heaters fitted as standard which must have been a reaction to the then favoured outcries of the national bike press. For once the regularly sensationalist media really did have an axe to grind. Anyone who has had a bike just die on them due to carb icing will know just how frustrating and potentially dangerous it can be. Until 1990 the bike ran a 16in front wheel, which was so fashionable back then; a spin off from the contemporary 500GP series.
In conclusion if you only have room for one classic bike in your garage and you want a competent big bike that'll still cut the mustard and still carry the classic tag it has to be the Kawasaki GPZ900. Be prepared to be impressed!