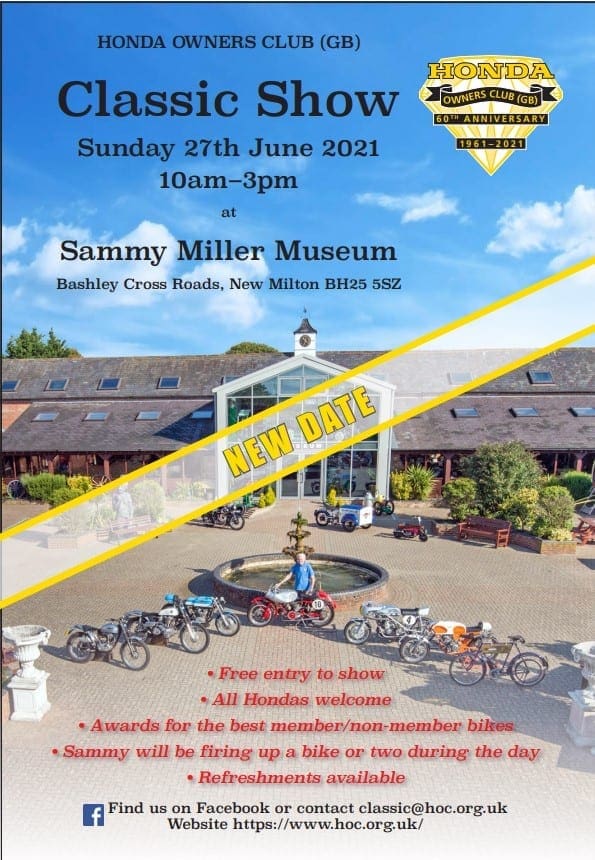 To celebrate 60 years of the HOC, an event will take place at the Sammy Miller Motorcycle Museum on June 27, 2021.
The museum – located at Bashley Cross Roads, New Milton, Hampshire, BH25 5SZ – will play host to HOC.
As of 2021 the club currently has 1574 Members and 24 Branches spread throughout the country. They produce a quality quarterly magazine which incorporates a Dealer Discount list and an active diary of events.
Current HOC President Jude Browne says: "We hope that anyone (non-members welcome) with a classic Honda will come along and show it off at the Sammy Miller Museum on June 27."
The Honda Owners Club website said: "We would love to see your Classic Honda so keep the date free, non members are most welcome to bring their bikes along to show and everyone is welcome to come and have a look at the historic Hondas and hopefully look around the museum and craft shops too.
"During the course of the event Sammy will bring out a couple of museum bikes and fire them up ! He has agreed to be our guest judge too."
For more go to: www.hoc.org.uk