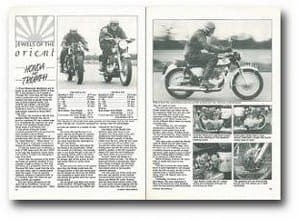 Rebuilds often stall at the farming out stage. Parts disappear into the ether, worthy professionals are often busy stretching time estimates and many of us move goal posts which irritates the service providers slowing the job down.
With the C77, all welding, brazing, machining, assembly and wiring were tasks for the home workshop. Although I spray paint, memories of the high gloss black C77s I'd lusted after in my youth steered me to a professional job, the chrome plate and seat covering was farmed out.
Choosing the service
Many professional paint-refinishing shops offer a range of finishes, from an economy blast and basic powder coat to a mirror gloss. For the Honda high gloss black, low nylon content powder coat was chosen for small detail parts, matched perfectly by two-pack high gloss black for the larger body panels. An expensive option but I like super paint jobs.
To peg costs, all welding and braze filling was completed in the home workshop but final filling was down to the paintshops as their materials are compatible with their paints. Although powder coat fills minor blemishes, it's an electrically charged powder applied without undercoats and due to high temperature heat cure neither two pack nor solder fillers can be used. Deeper blemishes remain.
A more durable chrome finish is achieved by first coppering steel then applying nickel/chrome layers. It costs more but doesn't flake when spannered and is more durable.
If you opt for a cheaper service you must accept its limitations and not blame the professional if rust pits are visible or chrome flakes. Again money can be saved by de-greasing parts, grinding back weld repairs and stripping paint from chrome tank panels and the like. Most platers like to carry out their own polishing, or have their favourite metal polishing shop do the work, so little is saved by home
Timing the restoration
Long ago I discovered professionals aren't hanging on a hook waiting for my work. To keep a regular cash flow they have many contract jobs and fit our 'one-offs' in between to supplement their regular income. To help them help me, all work is dispatched in complete batches rather than odds and sods, as soon as ready, and never at the last minute.
With the subject Honda C77, once all bodywork repairs were completed, missing fasteners fabricated and dent removal completed, the bike was stripped and parts dispatched for platers and painters. While they were busy, my efforts focused on the engine, electrical parts and wheel hubs.
Dealing with professionals
We've all heard horror stories of irreplaceable parts disappearing, and it happens. But we can help ourselves and the professionals keep tabs on our parts. To this end we've (son Peter and I) formulated a few rules we stick to.
• Use service providers on recommendation or experience only. If this is not possible visit the premises first time round, even if they're hundreds of miles away, and 'eyeball' the set-up
• Deliver parts in boxes, bags or tubs as appropriate. Clearly label each package with name, contact phone number and process required. Never send mixed boxes, tubs etc but divide into chrome, zinc, strip only etc as required
• Make sketches of everything, keep a copy and give one to the professional. Our platers and painters always do this themselves if we don't, so it saves them the trouble and hastens the start of our jobs.
• If unable to deliver personally use recognised couriers or timed/signed post services such as 'Special Delivery'. It costs more, but our parts are precious to us. Prior to dispatching goods, ring the recipient to let them know it's coming and ask to confirm its arrival.
Restoration costs
Usually I never record restoration costs, I simply don't want to know, but for you I've broken an almost golden rule of a lifetime. The plan was to build a tidy usable runner for around £1500 all in. Actual costs total £1669.98 to which will be added the cost of securing a registration document bringing the final total to around £1750. Not too far off my estimate, but nonetheless over budget. Initially I'd planned to complete the paint finish, but the idea of gleaming black enamel, professionally applied, wouldn't go away.
The paint finish, including blasting, cost a very reasonable £440 instead of the £100 a home workshop job would have cost. Chrome and zinc plating absorbed £340, meaning the finish accounts for almost half the restoration costs. I could have saved some of this, but I'm over the moon with the end result. The Honda C77 has looks I'd dreamed of in my youth and can take its place with pride on the road and in our little museum of much older motorcycles. But it looks much smaller than it did in the 60s.
Click on the download link to view the original articles.