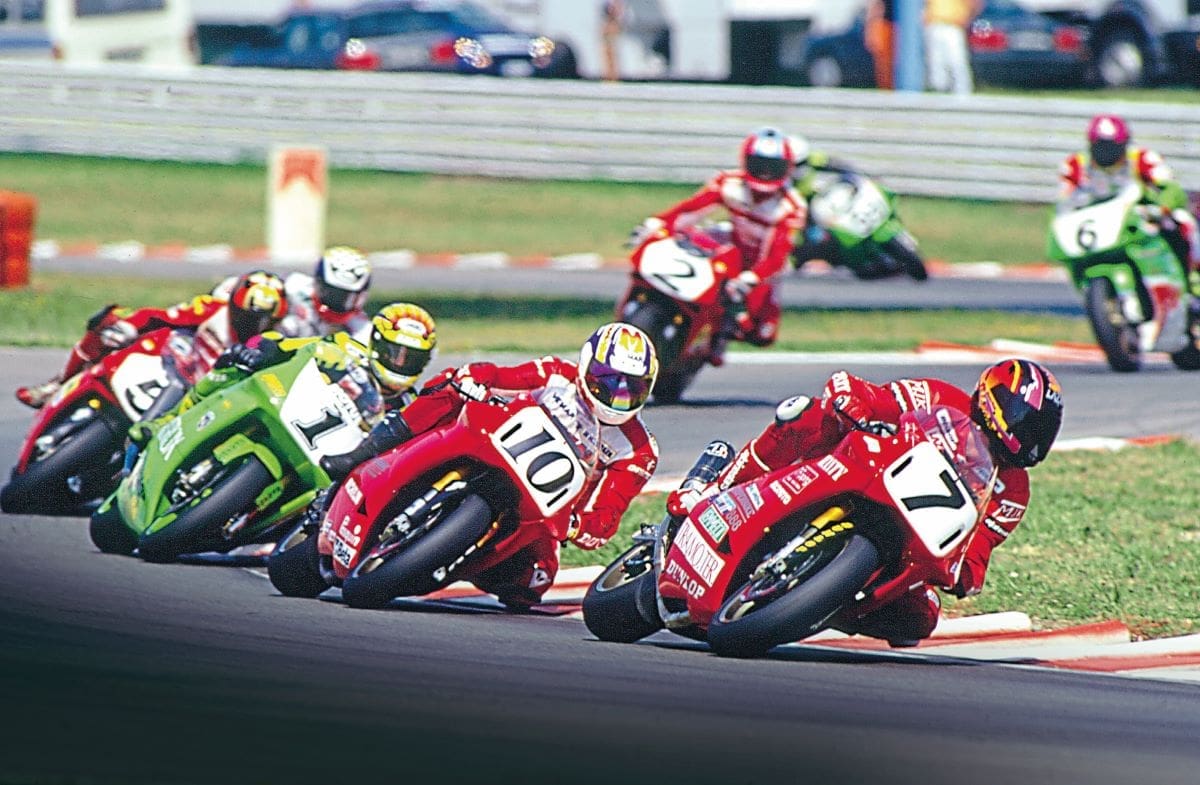 After an 11-year title drought, Ducati finally recaptured the World Superbike crown in 2022. It was a remarkable year for the Italian manufacturer, where it also took the MotoGP championship, the Bologna-based factory now has a total of 15 titles in the WSB series since its inception in 1988. Impressive.
The firm's first success came in 1990 with former 500cc grand prix rider Raymond Roche, before a title double from Doug Polen in 1991 and 1992. These titles were won on the race version of Ducati's 851 and 888 machines, but a new and more beautiful machine was about to be launched…
If ever a bike 'looked right' it was 1994's Ducati 916: single-sided swingarm, under-seat end-cans, but the basis of the bike developed from the successful desmodromic valve actuated 888… Engine size of the 916 would follow the confusing Ducati way of 'ignore what's on the fairing.. So, while the 851 racer would become an 888, so the 888 racer would become a 926 and the 916 would become a 955… Street bikes would become 996 and 998 and the racers would as well. But they'd still be the beautiful 916 shape… Racers who took WSB titles on these would include our own Carl Fogarty (four titles – 1994, 95, 98 and 99) Troy Corser (1996) and Troy Bayliss (2001).
Then in came the 999. While no one can say these looked as beautiful as the 916 shape, they were better road bikes and the likes of Neil Hodgson (2003), James Toseland (2004) and Bayliss (2006) would win titles on them. The 1098 was a return to aesthetic form for Ducati and this machine would share some of the design hallmarks of the 916 while being beautiful in its own right: WSB title winners on this machine would be Bayliss (2008) and Carlos Checa in 2011. The road machine would stretch to 1198 before being replaced by the 1199 Panigale V-twin, which would never win the WSB title.
With the first 1098s being produced in 2007, this gorgeous machine fits in with our 15-year rule. The bike was replaced by the similar-looking 1198 road bike in 2009 and by the Panigale 1199 twin in 2012. Whatever Ducati you love, we have to salute the Bologna concern for making some beautiful road and race machines.