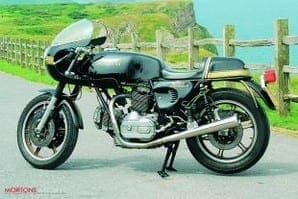 Ah, Ducati… Just saying the name evokes images of booming vee-twins flicking down sunny roads; Foggy winning at WSB… or pushing a lifeless bike down the road and humungous repair bills.
Is it fair? Are the old bevel-drive twins as bad as they're made out to be? Is buying an old Ducati bevel-drive twin the act of a sane man? Yes, yes, and yes.
For the benefit of younger readers, we're talking here of the older 900cc twins whose single overhead camshafts were spun not by belts, but by drive shafts and bevel gears.
The engines were still desmodromic (in other words, the valves were/are opened and closed by rockers, rather than simply closed by valve springs) but they bear no resemblance whatsoever to the present Dukes, whose origins lie in the Pantah of 1978.
There's a bewildering choice of 900cc (we're not looking at the rarer 750cc models here) Desmo Ducatis. In reality the engines displace 860cc, but the only model to be truthful about the capacity was the old GTS model which, for the record, is also the only one not to be a Desmo. It uses conventional valve springs.
Besides the Giugiaro-styled GTS and the more basic kickstart-only GT, you have the 900SS, the Hailwood Replica, the Darmah and the Darmah SS. The 900SS is the out-and-out pure sportster. The Hailwood Rep is just a 900SS dressed up to look like Mike the Bike's 1978 TT winner.
The Darmah was styled by Tartarini and represented a departure for Ducati. Stung by criticisms of its shoddy electrics, instruments and switchgear, Ducati followed Laverda's model and used Bosch electrics, Nippon Denso clocks, and Suzuki switchgear on the Darmah.
The Darmah SS was supposed to do the same trick for the SS, but unfortunately it didn't have the original SS's monster 40mm carbs and straight-through Conti silencers, so it wasn't in the same league.
You ought to be aware of the bikes' performance. The GTS will just hit 115. Darmahs are a bit faster at about 120. The 900SS and Hailwood Replica will both exceed 130mph and a good 900SS will get close to 140. Fuel consumption on all bikes is pretty good: 50mpg can be expected.
Handling was top-of-the-tree in the 1970s and early 1980s. Cornering is very, very slow because of the lazy geometry and long wheelbase, but on twisty A-roads a Ducati will still give a modern bike a run for its money.
What you don't get is suspension compliance; in those days what little fork and rear shock movement you did get was firm, oh-so-firm. Brakes are excellent, although the early single-disc GT models would benefit from a double disc.
You might just find one of the very last 1000cc bikes. These made more extensive use of plain rather than ball bearings in their cranks and also featured better oil filtration, but they're so rare as to be almost unobtainable.
What goes wrong?
Old Dukes are susceptible to electrical gremlins of all types and mechanical maladies of a complexity you wouldn't believe. You'll be lucky if all (or even any) of the warning lights work and expect at least one non-functioning bulb elsewhere.
Many of the problems are down to poor wiring connectors and a diabolical fuse box. A Ducati that's been properly rewired is worth having.
The weak point of the engines is the crankshaft; both mains and big ends. Regular and frequent oil changes and the use of top quality oil is the only solution. The same goes for gearboxes. Tolerances in Ducati gearboxes are taken up by shims, which means accurate measurement when rebuilding and a good supply of shims is essential. And that costs.
The finish is poor – no other word for it. Later 900SSs and Hailwood Reps were better but anything made in the mid-1970s is going to be pretty shoddy. Ducatis are one of the few bikes whose value increases if they've been decently repainted.
What to look
Listen for any rumbles or rattles from the engine. If there are any, best look elsewhere. The complexity of the engines and the number of special tools needed makes rebuilds expensive.
Check the gearbox for jumping out of gear by accelerating and decelerating hard in each gear.
You won't get a full service history unless you're very lucky so ask what oil the owner uses. (Top quality 20/50 or straight 50 and lots of careful warming-up is what you want.) Ask who adjusts the valve clearances. Ideally you want evidence that the clearances have been recently checked because access to the rear cylinder is, er, time-consuming…
900SSs should have loud Conti pipes for originality. As these are hard to find, any decent alternative will do but the super-quiet Silentium pipes fitted to later models and the Darmahs absorb power.
Be aware that there's hardly a standard spec for 900Ss and especially Hailwood Reps. Expect alloy wheels and suspension units to vary from batch to batch.
Avoid anything that's been tuned. The engines are fragile enough as it is, and while a tuned 900SS is a dingbat, it's a very short-lived one. Remember that we've never seen a Ducati on a 24-hour race podium.