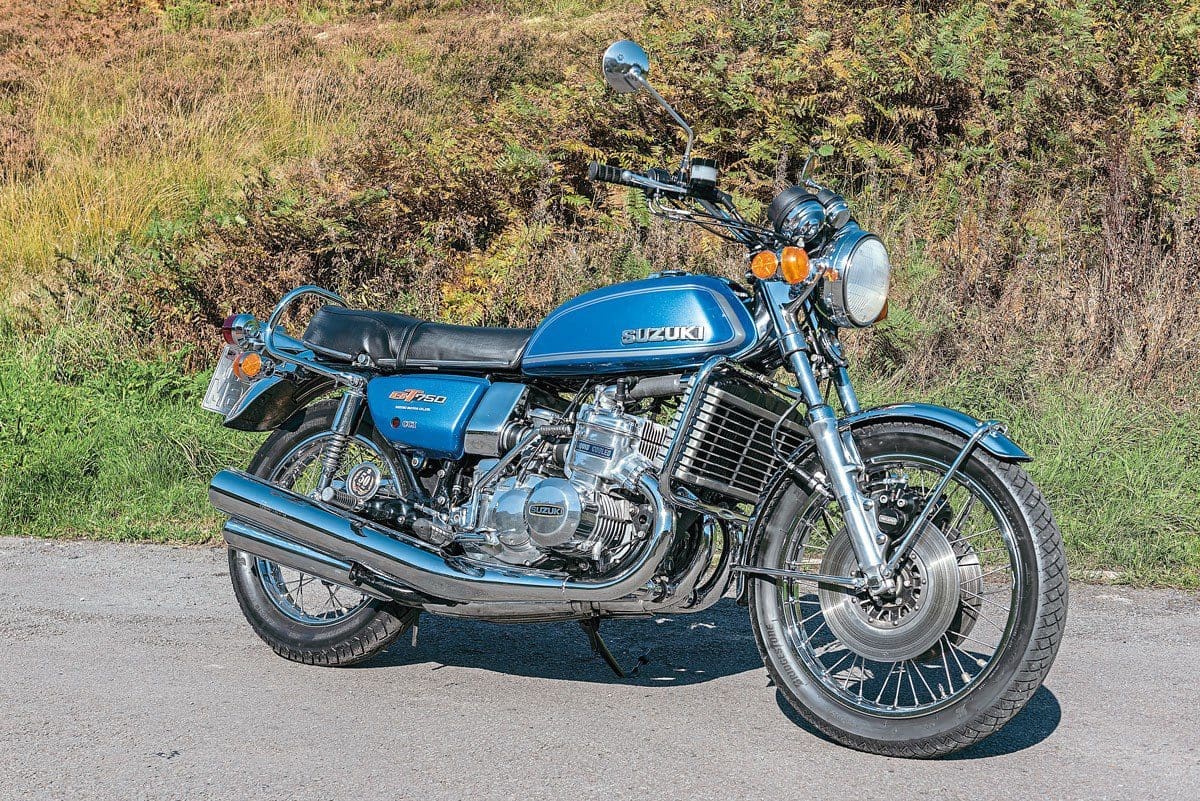 Delwyn Llewellyn lives in Tonypandy in the Rhondda Valley and he had an urge to get himself his dream bike… again. What followed was a joyous team effort from the trio of dad, son and grandson…
Having attended the very popular Stafford motorcycle show for a number of years, I soon had an itch which I wanted to scratch…
And scratch and scratch… The thing was, I once owned a GT750 Suzuki back in 1989, then sold it, and although I purchased one again in 1995 (which I sold, as I had a young family) that scratch came back and I always wanted to own one again.
I tried my best to get over it, through the decades. I purchased a Kawasaki Z900 A4 in 1990, which was also a bike I loved and which I still have to this day. I got one as a good friend of mine had one the same time as I was going through my 'Suzuki GT models' phase. But then the more I looked online, the more I knew I needed to get one. Finally I bit the bullet and became the proud 'reowner' of the bike of my dreams and previously, two realities!
So, what is the bike? Well, clearly it's a Kettle and this machine is a 1974 Suzuki GT750 L, purchased pre-lockdown in January 2020. It originally came from Ohio in America and while it was loosely put together, the bike looked a bit rough in places. That said, the chrome was very good considering the state the bike was in.
The first job was to assemble the bike to see if we could at least get it to fire up, before we stripped the bike for restoration. The bike was a real barn find as the tank was full of nut shells, so whatever lived in there has had to find a new home! After two days of trying, we finally got the bike to run which is remarkable when you see the state of the engine when it was stripped down.
All this could not have been possible if it wasn't for the help of my nephew Neil Llewellyn. Even when it was going the engine was leaking oil, water and two-stroke oil. It was at this point I was thinking: 'What have I let myself in for?'. The bike was disassembled and placed outside the garage for a photo. This was the worst the bike could or ever would look like again. My grandson Kai had also joined in and helped to strip the bike down and enjoyed appearing in the photos!
With the bike needing major work it was decided to send it away to have specialist treatment and – having joined The Kettle Club and having done a bit of research – I decided to send it to Phil Jones of Finishing Touches in Telford. My grandson seemed to enjoy polishing the aluminium parts so many of the engine cases were polished by him. The frame and swingarm were sent off for powder-coat and all the other parts which required powder-coating were done by ourselves at the same time as the engine was being rebuilt.
The carburettors were stripped by Neil and all new parts fitted ready for the engine's return. As we had done quite an extensive inventory of parts that were missing, the search started to try and locate these missing parts. Again through The Kettle Club, member Shaun Chandler seemed to be the go-to guy for parts, and after a number of purchases I decide to take a run up to his place to finish off my shopping list. Phil was sending me photos of the engine during the rebuild and it was decided it required the crank to be sent off to Chris Applebee for new crank seals and new con-rods; it also needed to be rebored with new pistons and rings.
As it was apart, the water pump and oil pump were replaced, together with all new gaskets, seals and new cylinder head bolts. I have always been a believer in 'paint and chrome don't get you home' and even now with the press of a button the bike fires up, idles perfectly and runs like a dream so that's been money well spent.
My grandson was well into the polishing by now, and was enjoying working with his grandad, as was I. The engine was picked up and as the frame was now back from the powder-coater, the engine was placed in the frame and at last it was starting to resemble a motorbike. A new wiring loom was sourced and Neil started to assemble the bike with me by his side. The chromer had had the parts for a number of weeks now and it was brilliant to pick them up and put them in the garden for close inspection. My grandson had now moved on from polishing and was now trying his hand at soldering, under the close eye of Neil.
With the bike now looking pretty good, Neil decided he would strip the rims as they did not need chroming, and after some instructional YouTube videos he laced the rims with new spokes, after I had changed all the bearings, brake shoes, etc. Kai had gone back to polishing duty and with the hubs sorted and polished, and with new spokes, the wheels looked like new. Tyres where then fitted and balanced by a mobile tyre fitter, and it was nice to hear he was impressed by the wheel building. The tinware had been given to another mate and again when I went to pick them up I was more than happy with the result. Then it was time to fire the beast up. As expected it started on the button and with a bit of fettling was running like a dream.
This restoration has brought the three of us closer together as a family, and it is something I hope my grandson will never forget; he has already made it clear this bike will be his when I go, but not for a good while I hope! To ride the bike brings back so many memories and really is smiles per miles, and with Kai on the back and a good cooked breakfast inside us we could take on the world. I may have regretted the start of this project but now I wouldn't sell it for the world, as it really is a family bike, which would never have been completed without my trusty crew of Neil and Kai.
If you're ever in the Tonypandy area, Delwyn has helped start a bike night in the town square at the Brews Haws café. Every month – on the fourth Tuesday – bikers meet up and help raise money for Dementia Friendly Tonypandy. If you want to attend (and it's apparently a big draw locally with some amazing bikes) then the sat-nav postcode you need is CF40 2HD.
Words: Delwyn Llewellyn Pics: Tony Smith