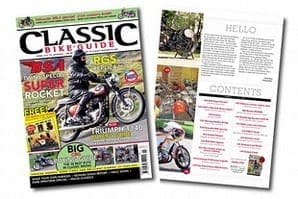 • Editor's intro
Bertie sets the scene
• Calendar
Our new-look calendar will tell you what's on in May
• News
Wayne Gardner, old loves lost and lusty twins. Nice
• Letters
Your scribblings scribed here for all to see
• Show us yours
Go on… phwoar. Get your bikes out for the lads!


• Spotter's Guide
Honda's VFR400R in detail. What happened when
• Forgotten bike
Kawasaki's GPX750 remembered. Just…
• Maico magic
Little-known German two-stroke remembered. Just
• Ducati monster
The original (maybe)?but best naked (definitely!)
• Mould-breaker
Often overshadowed, but the Yamaha FZ750 ruled
• Reader's resto
Cruddy CBR Gull-Arm turned into Kato-rep homage
• CMM desire
Yamaha's YZF-R1 is only 15 but a sweet, sweet looker
• Mira files
Harris' marvellous Magnums recalled
• Emerging classics
Kawasaki's GPz500S is going to be one, says us

• Workshop: Stan Stephens
How to tune a classic two-stroke the Super Stan way
• Workshop: Cleaning
If your bike's covered in muck, this you should read
• Workshop: Drum brakes
How to strip, change and give them the once over
• Workshop: Steve Parrish
Stavros joins CMM and begins his FZ restoration
• Workshop: Niall Mackenzie
CJ Ward helps Spuds sort his beloved Elsie!
• Buying guide
Kawasaki's sensual S2 350 two-stroke
• Showstopper
Kawasaki's Z1B polished to perfection
Useful links
Search for previous articles and issues
Subscribe to Classic Motorcycle Mechanics
Classic Motorcycle Mechanics – Running, riding and repairing Japanese and European classics
Digital subscription to Classic Motorcycle Mechanics
---
Advert

Enjoy more Classic Motorcycle Mechanics reading in the monthly magazine. Click here to subscribe.
---