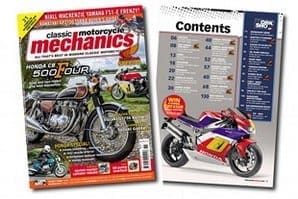 • Editor's intro
Bertie sets the scene
• Archive
The Battle of Assen recalled… Chili versus Foggy!
• 1997 Honda VFR750F-V
Our man Moss on why this bike is all you'll ever need
• News
Cool columnists, nice news and fun things
• Calendar
Remember, remember to ride in November
• Feedback
We've actually been praised this month!
• Show us yours
From cafe-racing Genesis to a Beezer with bits from the Far East on
• Suzuki Goose
Scoop rides Suzuki's surprisingly game bird – the Goose!

• Honda homage
David Silver's amazing Honda museum
• Honda CB500 Four road and race
From Clark Kent to a Seventies Superman: Niall Mackenzie rides
• 1973 Suzuki GT750 Kettle
Or 'water bottle' Down Under
• Reader's special Suzuki Goose
One Goose plucked and restored to perfection
• Honda GL1000 Gold Wing
Original Gold Wing models recalled in MIRA Files
• Honda NSR500R
The Rothmans race-replica triple rebooted for modern times
• Next month
Find out who's joining the CMM team next month!
WORKSHOP
• Workshop news
New metal bits and Pip Higham!
• Master cylinders
Honda Hornet's brakes overhauled
• Suzuki TS125/RV125
Stan Stephens rebuilds this classic motor
• Oil pump rebuild
Scoop saves his bacon with these workshop skills
• Paint prep
Mark Haycock prepares a tank for paint
• Yamaha RD350R
Idiot editor takes delivery of boxes of bits
• Honda RC42
Steve Cooper learns to love a Honda
• Fizzy – Niall Mackenzie
The Old Trout is on the home stretch with his FS1-E
• Project top gun
We think we've found a GPz900R
• Kawasaki GPz750 Turbo
Steve Cooper's final buying guide on the turbo Eighties bikes
• Recommission rules
Steve Cooper on how to reboot an old boot
• Q&A
Your questions… our experts answer!
Useful links
Search for previous articles and issues
Subscribe to Classic Motorcycle Mechanics
Classic Motorcycle Mechanics – Running, riding and repairing Japanese and European classics
Digital subscription to Classic Motorcycle Mechanics
---
Advert

Enjoy more Classic Motorcycle Mechanics reading in the monthly magazine. Click here to subscribe.
---