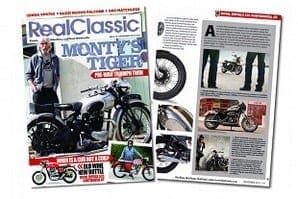 • Editor's intro
Bertie sets the scene
• Archive
It's the Wollongong Wild One – Wayne Gardner – what a gent!
•Triumph Daytona 900
A Triumph for Hinckley? Chris Moss adjudicates
• News
What's happening out there on the modern classic scene
• Calendar
By February please let the nights be lighter and brighter
• Feedback
Your monthly chance to give us what for. And boy, do you!

• Show us yours
We love seeing your riding tackle, out
• Honda NX650 Dominator
An emerging classic? asks Mark Williams. We think so
• Yamaha AS3
Scoop smiles on another Yammy of Yesteryear
• 1987
Fierce storms, the Genesis and Rick Astley. We know which of the three we would pick
• Honda NS400/500R
Niall Mackenzie and JB ride a pair of Hondas NS-Rs, that are cheaper than the RG and RD500…
• Cagiva planet YPVS
An Italian 125 with a Powervalve heart
• Yamaha TRX850
Do you love it, or hate it? If you hate it, check out the bike below… Gorgeous
• Honda CBX1000 MIRA files
John Nutting rides and recalls the mighty Honda six and looks at a real reader's special
• Yamaha TRX900
What if Yamaha got back into the parallel-twin sports game with a TRX?
WORKSHOP
• Workshop news
The spotlight is on Aspen Fuels
• Crash damage part 3
If you've dumped it, check your brakes!
• Tank lining
Scoop replaces a tank liner on an RD
• Project bike Spa Kat
Chassis shenanigans this month

• Project bike – Suzuki Titan
Oh Scoop, what's happened now?
• Project bike – Rikuki
Oh Scoop, what have you bought now?
• Stan Stephens
Yamaha TZR250 rebuild part 2
• Project bike – Yamaha FZ750
Steve Parrish gets his frame back
• Garelli Tiger Cross
Get buying tips for the Tiger tiddler
• Barn find!
A super Suzuki GS1000
• Q&A
All problems sorted by our team
• Kawasaki Z650
A £1200 Showstopper Sprinter
Useful links
Search for previous articles and issues
Subscribe to Classic Motorcycle Mechanics
Classic Motorcycle Mechanics – Running, riding and repairing Japanese and European classics
Digital subscription to Classic Motorcycle Mechanics
---
Advert

Enjoy more Classic Motorcycle Mechanics reading in the monthly magazine. Click here to subscribe.
---