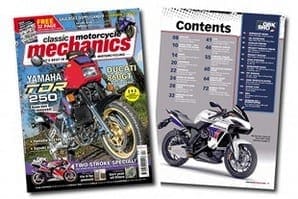 • Editor's intro
Bertie sets the scene
• Archive
The Great Escape at Daytona 1976, by Don Morley
• Quick spin – 1991 Suzuki GSX-R750M
Mossy rides the last oil-cooled Gixer
• News
News and views and things to buy: lovely!
• Calendar
If you're an April fool, here's where to go!
• Feedback
We come in for some stick – but you love us, right?
• Show us yours
Lots of lovely bikes on show – your bikes, too!

• Yamaha FZ-S600 Fazer
Mark Williams on a real Emerging Classic!
• Yamaha XJ1100 Maxim
Steve Cooper chucks his leg over a monster
• 1976
The long hot summer of biking recalled! Magic times!
• Yamaha TDR250
Jon Bentman may ruffle feathers with his take on the TDR
• Yamaha YZR500 Gauloises Replica
We get all two-stroke and Gallic with this gorgeous machine!
• Air-cooled Suzuki tour!
How to have fun abroad on quick, cool Kats!
• Ducati 860GT MIRA Files
The best of the bargain bevels reviewed by John Nutting
• Honda CX750 Turbo
If only Honda would build another one of these. Please?
WORKSHOP
• Workshop news
Three solid pages of parts and Pip!
• Oil filtration
Magic Mark looks at the funny filters
• Exhaust repair
Scoop sorts out exhausts
• Project Yamaha TZR250
Stan Stephens on how to make a 3XV race-winner
• Project Rickuki
Steve Cooper has part two of his hybrid
• Stan Stephens
The master starts a strip and build of the KR-1S!
• Workshop build
Stan again – this time on how to set up a workshop: part 1
• Pip Higham
His own, unique take on fixing things for little outlay!
• Used products rated
Steve Cooper on a number of products he can't do without
• Suzuki A100
Tips on purchasing the super Suzuki tiddler!
• Q&A
All problems sorted by our team. Honest!
• Yamaha AS1 – Showstopper
Yes it carries its patina with pride does this giant-killer!
Useful links
Search for previous articles and issues
Subscribe to Classic Motorcycle Mechanics
Classic Motorcycle Mechanics – Running, riding and repairing Japanese and European classics
Digital subscription to Classic Motorcycle Mechanics
---
Advert

Enjoy more Classic Motorcycle Mechanics reading in the monthly magazine. Click here to subscribe.
---