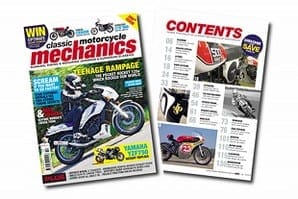 Enjoy the cover-mounted reprint of Motor Cycle Weekly. This is August 1979. Read Barry Sheene's heartache as he's pipped at the post by Kenny Roberts at the British GP as the pair come to lap a backmarker! Also in this issue, veteran scrambler Vic Eastwood decides to call it a day after injury, stunt rider Dave Taylor hits back at Sammy Miller after being labelled a "cowboy", and Japan's motorcyle exports fall by 27%.
• Calendar
Out and about with bikes in October 2012
• Dealer's special
A Honda CB250K in rather fine fettle
• Letters
Tell us what's going on in your biking world
• Show us yours
Send in pics of your bike for all to see in CMM
• Spotters guide
Low sales volume still didn't stop Kawasaki from selling its own version of the archetypal British bike
• Gizmo
Funny front ends. Stop laughing at the back
• CB racers
Honda's CB500 Four featured a bore and stroke similar to that of Hailwood's RC181, so it didn't take much for Honda RSC to prep it for racing. Phillip Tooth tells the story
• The teen machines
1983 saw a generation of new riders on 125s
• Without whom
Jim Lomas exhausts: our Czech mate
• Reader's special
A Norton Rotary? Shurely shome mishtake…?
• MIRA files
With experience of Yamaha's first reed-valve twins and their closely associated racing machines, John Nutting recalls when you could dream of riding with the bikes used by the stars
• Workshop
The saga with Mark Haycock's Yamaha RD350R engine continues as he attempts to remove a broken exhaust stud from the barrel
• Stan Stephens
The first in a series of how to tune an engine
• Services
Useful chaps who can help with your project
• Buying guide
Honda's CB500 twin: commuter and all-rounder
• Classifieds
Advertise your bike for free. Browse. Buy another
• Showstopper
Kawa Z1B: Ridden and restored along the way
Useful links
Search for previous articles and issues
Subscribe to Classic Motorcycle Mechanics
Classic Motorcycle Mechanics – Running, riding and repairing Japanese and European classics

Enjoy more Classic Motorcycle Mechanics reading in the monthly magazine.
Click here
to subscribe.