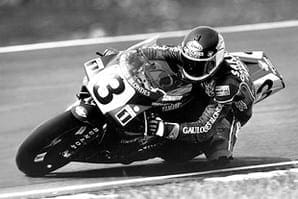 With French former world champion racer Christian Sarron as the special guest of honour, as well as a wide variety of other top attractions and entertainment, the organising team at Classic Bike Shows look set to mark the 20th running of the Carole Nash Classic Motorcycle Mechanics Show in style.
"We are delighted to be welcoming Christian to our event," said exhibition manager Nick Mowbray ahead of the October 19-20 spectacular at Stafford County Showground.
"With names of this calibre, and the fact that we expect to once again welcome numbers in the tens of thousands on both days, it proves that the show and these decades of motorcycling just continue to grow and grow in popularity."
1984 250cc world champ Sarron will be appearing at the show on both days and will be talking to visitors and participating in on-stage interviews – sharing stories from his life in competitive racing.
Sarron will also be on hand to present the prestigious Classic Bikers Club Bike of the Year award, with Classic Bike Shows' seven Best In Show winners from throughout the year competing to be crowned champion of champions.
The expert auction team from Bonhams will be hosting their regular Autumn Stafford sale, with a single owner collection of almost 100 classic Japanese motorcycles set to headline.
The collection includes numerous Hondas, ranging from the humble but design-classic Super Cub to the NR750 and everything in between, including 10 unused monkey bikes and a number of exceptionally early machines. Also on offer are a selection of early Suzukis, Kawasakis and Yamahas, a variety of later 1970s and 1980s classics, and two prototype engines – a sand cast CBX1000 and a CX500.
Ben Walker, head of the Bonhams motorcycle department, said: "The Classic Motorcycle Mechanics Show is the perfect venue at which to offer these machines."
Hundreds of trade and autojumble plots have also been taken, with vendors selling all things motorcycle from complete bikes, spares and accessories to literature and memorabilia.
And to whet the appetite even further, this year's show will see a first as gravity-defying stuntman Steve Colley is let loose in the main ring to wow crowds with his incredible display.
"This is without a doubt one of the best line-ups we have ever had for one of our shows," added Nick.
"It was in this era that my passion for motorcycling was ignited and, as a biker who began on a Fizzy, I for one cannot wait for the weekend to come around."