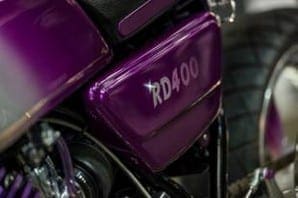 The 20th running of the show took place October 19-20 and featured a vast autojumble, over a thousand classic machines displayed, top outdoor stunts and a fascinating guest of honour.
As exhibition manager Nick Mowbray explained, all of this combined saw a near record crowd descend on the venue on Saturday: "It was another great weekend, and the first day was one of biggest I have seen in the 20 years of the show."
Among the attractions that drew the visitors were rows-upon-rows of stunning classic motorcycles, including an extremely rare Yamaha YDS1 which was awarded the Best In Show prize.
Owner Mark Cowde
ry, who only finished his restoration a week prior to the event, found information on the YDS1 hard to come by but clearly did enough to impress judges.
"Never again," said Mark, who took six painstaking years to complete the project.
"Although I am doing a 1957 YD1 next so maybe I shouldn't speak too soon."
Also victorious was Rodney Hann's Husqvarna 180 546cc which scooped the Classic Bikers Club Bike of the Year prize along with a £1000 goodie bag.
Both trophies were presented by former 250cc world champ Christian Sarron. The amiable Frenchman also conducted engaging on-stage interviews with compere Dave Craggs where he shared memories from a racing career spanning three decades.
"Christian's stories kept the large crowd spellbound," said Classic Racer magazine editor Malcolm Wheeler, who commented on how much he and those gathered around the main stage enjoyed the discussions.
As ever, the sprawling Classic Motorcycle Mechanics autojumble covered every available square inch of Staffordshire County Showground, with visitors describing it as the "Aladdin's cave of motorcycling".
And traders enjoyed a successful weekend too with thousands of motorcycle enthusiasts on the hunt for all manner of motorcycle parts, accessories, literature and memorabilia.
There were treats for off-road and stunt enthusiasts as Steve Colley wowed the crowds in the main ring and the Classic Dirtbike experience gave showgoers a veritable feast of action.
Colley's incredible antics weren't confined to the main ring however, as organising team Classic Bike Shows captured an amazing video of him showcasing his gravity defying display all over the showground.
Auction house Bonhams brought the gavel down on proceedings late on Sunday afternoon with one of the main highlights of its annual autumn sale a Moto Morini 250cc Bialbero Grand Prix Racer snapped up for just over £83,000.
Ben Walker, Bonhams' head of motorcycles, said: "With over £1.3 million raised, it was another successful Stafford which once again proves that quality always sells."
Show manager Nick added: "The success of this year's show and the superb line-up that we have managed to bring together proves that the world of classics is alive and well, and it is fantastic to see this era of motorcycles prospering."
With the Classic Motorcycle Mechanics Show moving into its third decade next October, the popularity of one of the world's premier classic motorcycling events looks set to grow and grow for many years to come.