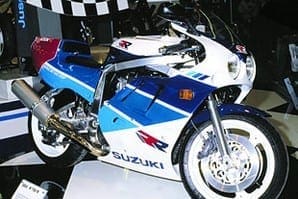 Honda's CB900F was a bike built as the basis for an AMA super bike racer. And the CB1100R that followed in 1981 was so special that its runaway race success was boring. But it was the RC30 that changed everything. Honda built one bike to race in F1, World Superbikes and endurance. One street legal bike that could do it all. And it won everything first time out. The others followed with ever more exotic, ever more expensive factory specials. This golden age lasted 15 years and then all but the Italians stopped and reverted to racers built from mass production. The legacy is a few thousand truly special bikes.
Ducati 916
The other biggest bargain in motorcycling. By rights they should be selling for RC30 prices. The word iconic is over-used, but this machine deserves the title. In flashing neon lights.
In 1994, the 916 made biking's jaw drop so fast and so hard we were spitting out teeth for a summer. No motorcycle had ever looked this good. And the 916 went as well as it looked. Okay, it helped that our man Foggy was doing the winning, but you, me and Bob down the road believed this bike was so good that we could probably win WSB on it too.
When we finally got to ride one it didn't matter that the so-called 'stump-pulling torque' wasn't quite as stumpy as expected. Or the lack of comfort rivalled upside down crucifixion. The throttle response, the noise and the way it just carried on leaning just made us want one more.
Ten years ago, they were bad buys. Most were knackered, far too many had been raced or track day'd and they were still expensive. But now they're cheap. Still tired in many cases, but cheap. And spares are plentiful and good value. Buy one now, spend a little cash on getting it right and enjoy it.
Best buys are the early bikes with the old fashioned Ducati logo. In 10 years' time a 916 will cost a fortune and you, me and Bob will be kicking ourselves for not buying a garage full.
Top speed: 160mph Engine output: 108bhp Weight: 199kg Price range: £3000-£5000
---
Honda VR1000 SP1
When Honda get angry, this is what they build. As number one manufacturer Honda expect to win. So when their works RC45 superbike racers were getting thrashed every week by some cash-strapped Italian factory, Honda built a WSB-winning twin. And then mass produced it.
Despite being a proper high-spec special, the SP-1 would cost the same as a FireBlade. Fast and furious, with none of the usual Honda supple suspension or user friendliness. The throttle was sharp, suspension harsh and comfort compromised. But the SP-1 won every world championship it entered in that first year. Point proven. Take that.
The SP-2 was a better bike – softer and easier to ride. Honda can't help themselves – user friendliness is in their DNA. But the SP-1 is the bike that matters here. Right now it's in the same place price wise as RC30s were in the mid-1990s. So what's stopping you?
Top speed: 165mph, Engine output: 120bhp Weight: 199kg Price range: £3000-£5000
---
Kawasaki ZXR750K
The bargain of the factory specials. Kawasaki's ZXR-K had adjustable suspension, an alloy fuel tank and huge flat-slide carbs that made it a little harder (but not much) to ride on the road, but easier to tune for racing. Those carbs give the ZXR a power band and make it feel faster than it really is. Only 500 were made and almost all of them were raced, so take the sales pitch with a pinch of salt.
Top speed: 158mph Engine output: 110bhp Weight: 201kg Price range: £2000-£5000
---
Suzuki GSX-R750RR
The rarest of the WSB specials is fast becoming one of the most expensive. Not because it's a great bike, but because collectors wanting to complete the set will look harder to find one of these. Only available for a year with no real race success or profile, by 1990, the standard GSX-R750L had the RR beat. There didn't seem to be much point.
Top speed: 155mph Engine output: 105bhp Weight: 187kg Price range: £8000-£15,000
---
Yamaha YZF750SP
A great bike that won three British championships, numerous WSB races and Eddie Lawson's last motorcycle victory at Daytona 1993. The SP had an alloy tank, uprated suspension, close ratio gearbox and flat slide carbs which made it harder to ride on the road than the standard YZF750, but more rewarding too. Still a few around, prices tend to hover around the £3500 mark.
Top speed: 151mph Engine output: 103bhp Weight: 202kg Price range: £3000-£4000
---
Aprilia RSV1000SP
Very rare (200 built) SP version of Aprilia's big twin. The engine, allegedly fettled by Cosworth, had a bigger bore and shorter stroke than standard. The chassis had an adjustable headstock and swing-arm pivot, while the Ohlins suspension was a grade higher than that on the RSV-R. This is a twin that likes to be revved and there aren't that many UK roads when you can unleash it properly.
Top speed: 165mph Engine output: 130bhp Weight: 190kg Price range: £8000-£10,000
---
Ducati 851
It saved Ducati and made World Superbike. Magazine road tests gushed about this all-new watercooled, fuel-injected, 8-valve twin that made 20bhp less than an RC30 but whupped its arse on a racetrack. Something to do with traction and power pulses.
The 851 looked great in a blunt, purposeful kind of way, but it cost a fortune and still refused to tick our 'buying-from-the-spec-sheet' boxes because it was heavy and slow. In theory. It took Mr Fogarty on his privateer 851 in 1992 to convince us. I was there, as it seems was everyone else. And it mattered. And I wanted an 851. Still do as it happens, but I'd ridden three examples before I was convinced.
Find a good one and it's as emotional as biking gets. The good news is bad ones can be made good with a little love and a large application of money. Take your time and bag a good one.
Top speed: 148mph Engine output: 82bhp Weight: 199kg Price range: £4000-£7000
---
Yamaha FZR750R OW01
We'd drooled over Yamaha's Genesis racer in pics from Suzuka and then we got this.
The OW01 was Genesis on the road. Titanium conrods, short stroke, big valves and 13,000rpm. EXUP – the exhaust valve that gave top end gas flow and midrange – plus huge semi flat slide carbs. Ohlins suspension and magnesium brakes plus Yamaha's latest Deltabox chassis with the sound damping removed to let the OW howl.
With 20bhp more and 9kg less than an RC30 (and £3000 more expensive) it was a missile. Below 10,000rpm it was disappointing, above that it was stunning.
Yamaha made just 500 OW01s and they're getting pricey now.
Top speed: 155mph Engine output: 113bhp Weight: 175kg Price range: £5000-£15,000
---
Yamaha YZF R7
Yamaha's last attempt to make a successful 750 in WSB. In race trim, the R7 made 175bhp and still couldn't win enough races. In road trim they were restricted to 100bhp and where an RC30 feels like a 100 horse road bike with the potential to be tuned, the R7 feels crudely restricted.
Beautiful to look at with sublime chassis and suspension technology, but not much fun to ride and still overpriced.
Top speed: 150mph Engine output: 100bhp Weight: 177kg Price range: £10,000-£15,000
---
Honda RVF750 RC45
Better than an RC30 and still the only machine that makes a 16in front wheel work better than a 17in. Not that fast, but so easy to ride. Top class Showa suspension makes it comfy for a race bike. But how can a bike with such little race success be worth three times more than a 916? RC45s were overpriced when new and are still way too expensive for what you get. But ride a good, standard one and you'll change your mind.
Top speed: 155mph Engine output: 104bhp Weight: 185kg Price range:£10,000-£15,000
? Buying a superbike
? Bike buying checklist
? Buying a sports bike
? Buying a Japanese classic